Spider-Man: No Way Home Trailer Dropped - The Loop
Play Sound

Quotes

•

Headscratchers

•

Playing With

•

Useful Notes

•

Analysis

•

Image Links

•

Haiku

• Laconic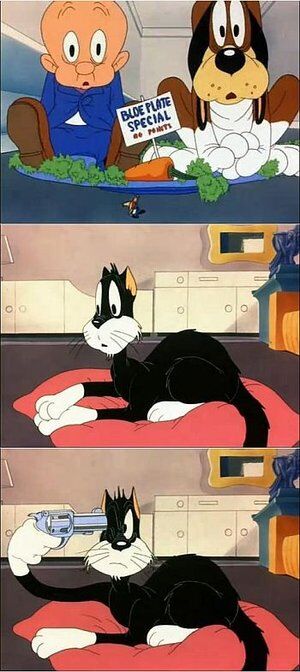 What can you do when you've seen it all? Not much except kill yourself, apparently. After all, there's nothing in the world you'd really want to see twice.
On its way to becoming a Forgotten Trope, a Seen It All Suicide occurs when a cartoon character, having seen some outrageous sight, proclaims "Now I've seen everything!" and promptly produces a pistol and shoots himself on the spot. The reason this might happen is because the character feels they have finally cracked and wish to end their lives before it gets worse. When these old cartoons are reaired nowadays, however, this joke is usually Bowdlerised out. Watch for it—if a character proclaims that he's seen it all, expect him not to show up again.
In Real Life, people sometimes say things like, "I'm ready, Jesus," if something momentous has just happened—meant to indicate that they're ready to die, but without the rather jarring effect of pulling a weapon out of thin air and actually doing the job.
A subtrope of Suicide as Comedy.
For the more serious and dramatic situation when a character decides to die because they've seen and done everything and can't see anything in their future but crushing boredom, see Nothing Left to Do But Die.
Examples of "Seen It All" Suicide include:
A random demon audience member in Yu Yu Hakusho proclaims "Somebody kill me, now I've seen everything!" after witnessing an apparent one-shot kill.
Invoked at the end of Shards of Honor. Emperor Ezar Vorbarra, expecting to be dead within the week, engages in a bit of Gallows Humor with Lord Aral Vorkosigan, who has just suggested the Minister of the Interior as a possible Regent for soon-to-be-Emperor Gregor: "So you do have something good to say for my Ministers after all. I may die now; I've heard everything." He doesn't die immediately, but after he's recruited Aral as Regent, he falls back in exhaustion, implying he's not long for the world. (In Barrayar, Ezar hangs on just long enough to see Aral confirmed as Regent, after which he finally succumbs to his long illness.)
Subverted in the first Erast Fandorin novel: this looks like the cause of the suicide on the first pages, but there is a lot more to it.
Played for drama in Haunted 2005. The Nightmare Box supposedly shows the "truth" of reality, driving people who look into it insane and eventually to suicide.
In

Wizard and Glass

, a saloon singer, while witnessing an epic Mexican Standoff, declares, "You can take me to the path at the end of the clearing, cuz now I've seen it all." She doesn't kill herself, but she does remain standing on a stool in the middle of a bar that's probably about to see a gunfight, claiming that getting shot at this point would be totally Worth It.
This one is not exactly a suicide, but pretty close. On an episode of Friends, Phoebe believes that she has been possessed by the spirit of an old woman who didn't want to pass on until she had seen everything. Later she attends a lesbian wedding, at which point she says in an old lady voice, "Well, now I've seen everything!" goes limp for a moment, and then is back to being her old self.
| | | |
| --- | --- | --- |
| |  Cartman (brightly): Well, I'm out, guys. If this is what's cool now I think I'm done. I no longer have any connection to this world. I'm going to go home and kill myself. Goodbye, friends. | |