Wiki Targeted (Entertainment)
Play Sound

YMMV •

Radar

•

Quotes

• (

Funny

•

Heartwarming

•
Awesome) •

Fridge

•

Characters

•

Fanfic Recs

•

Nightmare Fuel

•
Shout Out

•

Plot

•

Tear Jerker

•

Headscratchers

•
Trivia

• WMG •

Recap

•

Ho Yay

•

Image Links

•

Memes

•

Haiku

•

Laconic

•
Source

•

Setting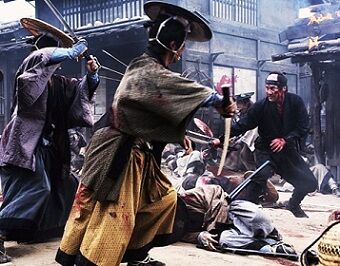 13 Assassins is a 2010 chanbara film from director Takashi Miike.
The setting is Feudal Japan, 1844. Lord Naritsugu is the younger brother of the shogun, which affords him the unchallenged right to murder, rape, torture, and mutilate on a whim. After a high-ranking official protests Naritsugu's latest outrage by publicly committing Seppuku, a conspiracy is formed within the shogun's senior council to eliminate Naritsugu before his madness plunges the entire nation into anarchy. A veteran samurai named Shinzaemon is recruited to accomplish the suicidal task, assembling a ragtag group of twelve warriors (including one enigmatic vagrant) for one last chance at an honorable death in an age of peace. They quickly transform a sleepy little village into a booby-trap laden killing gound, preparing to ambush their target before he reaches the safety of his estate. But even with surprise and skill on their side, can the small group of assassins possibly hope to prevail against Naritsugu's private army of more than 200 soldiers? In a word? Yes.
Tropes used in 13 Assassins include:
| | | |
| --- | --- | --- |
| | "I thought samurai would be fun! But you bore me. You're useless. Even more useless in great numbers." | |
Deliberate Injury Gambit: Shinzaemon's final duel with Naritsugu, resulting in a Mutual Kill. Played with in that, given Shinzaemon's stated motivations going into the battle and his obviously superior skill level, it's clear that receiving a fatal injury was an end unto itself for him, rather than a means to an end.
Driven to Suicide: Multiple instances of Seppuku, including one which kicks off the whole plot.
Due to the Dead: Naritsugu earns more bastard points by

kicking Hanbei's head like a soccer ball after Hanbei had given his life to protect Naritsugu. When Shinzaemon calls him on this, Naritsugu invites him to do the same to his own head

.
Face Death with Dignity: The samurai use this as a code of honor. Guess who didn't face his death with dignity?
Foreshadowing: Early in the film, Hirayama instructs the lesser samurai: "No sword? Use a stick. No stick? Use a rock. No rock? Fight with your fists and feet." He and his student end up using those exact tactics in the final battle.
Friendly Enemy: Shinzaemon and Hanbei were students together, and greatly respect each others' abilities.
Go Out with a Smile: Kuranaga.
Gut Punch:

The first of the deaths out of the 13

is the signal that things are about to get very, very ugly.
Improbable Aiming Skills: Kiga.

There may be a very good reason for this.

Incendiary Exponent: Stampeding bulls. On fire.
Infant Immortality: Played with in Naritsugu's "target practice" scene: his last remaining target is a little girl, but he keeps missing her.

Eventually averted.

Kick the Dog: Happens just about every time Naritsugu is on screen, including kicking the

severed head of his most loyal subordinate

.
Kill'Em All:

Only two of the thirteen survive the battle at the end of the film.

Master Swordsman: Hirayama, Shinzaemon, Kuranaga and Hanbei.
Maybe Magic, Maybe Mundane: Kiga, the thirteenth assassin, is an ex-bandit who gets kicked out of his crew for touching his boss's wife. Or so he claims. The point of view of his flashback to the event, his Unexplained Recovery moment, and the first supposition of the first twelve assassins indicate he might be a Tanuki or a Kappa. In an interview, the director also presented the possibility his appearance after the battle might be his ghost, but said that it's up to each viewer to decide what happened to him.
My Master, Right or Wrong: Hanbei knows his lord is evil but is willing to fight to the death to protect him.
Nightmare Fuel: Shinzaemon's reaction when he meets the "poor woman". But this also gives him the resolve to fulfill his mission.
Ronin: Hirayama and Sahara.
Suicide Mission: None of the samurai expect to walk away from their assassination attempt on Naritsugu. Many of them are even counting on it, seeing this as their last opportunity to find a warrior's death on the battlefield in this era of peace.
Tanuki:

Probably Kiga.

Throwing Your Sword Always Works:

Naritsugu takes out the thirteenth assassin this way. Well, it puts the guy down for the rest of the battle, at least...

Unexplained Recovery:

For all the explosions, elaborate traps and badassery, there's nothing to suggest any fantasy elements until Kiga, the 13th Assassin survives despite having a sword shot at his neck...and shows up after the battle, completely unharmed. The viewer is left wondering just who or what he is.

What Is This Feeling?: Pain, for Naritsugu.
Worthy Opponent: Hanbei and Shinzaemon view each other as such.
Your Approval Fills Me with Shame: During the assassination attempt, Naritsugu comments to Hanbei that he will use his position to start more wars because the fighting is so awesome. He also thanks Shinzaemon for giving him such an exciting day.