YMMV •

Radar

•

Quotes

• (

Funny

•

Heartwarming

•
Awesome) •

Fridge

•

Characters

•

Fanfic Recs

•

Nightmare Fuel •
Shout Out

•

Plot

•

Tear Jerker

•

Headscratchers •
Trivia • WMG •

Recap

•

Ho Yay

•

Image Links

•

Memes

•

Haiku

•

Laconic

•
Source

•

Setting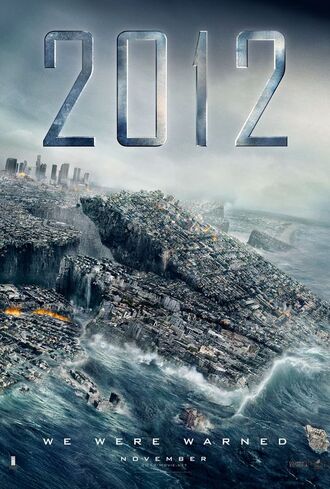 2012 is a movie based on the prediction that the world will end on December 21st, 2012. This prediction is itself based on the fact that the Mesoamerican Long Count calendar rolls over somewhere in the vicinity of 2012-12-21, in much the same way that the Gregorian calendar rolled over on 2000-01-01.
The first trailer for the movie showcased a Tibetan monk bashing a giant bell with a log on top of a mountain in the Himalayas (this is the same mountain range as Everest, keep in mind) while various shots of water rushing and rumbling can be heard. Then, all of a sudden, boom, a massive torrent of water goes over the mountains and engulfs everything.
This movie is by the same guy who did Independence Day and The Day After Tomorrow. There's probably a pattern here.
Word of God states that this is Emmerich's final disaster flick, so he tried as best as he could to pack enough Stuff Blowing Up and Monumental Damage into it to last a lifetime.
A Spin-Off TV series, tentatively called 2013 and focusing on a group of survivors, was planned. However, as ABC decided to not finance it, it is uncertain if the series will ever see the light of day.
Not to be confused with Twenty Twelve, a BBC sitcom about the committee preparing for the 2012 Olympic Games, or Rush's album 2112.
---
2012 exhibits the following tropes:
 Noah: Now that's a big plane.

Yuri: (smiling proudly) It's Russian. [1]
| | | |
| --- | --- | --- |
| |  Dara: [The scientist] might as well have gone "the electrons... are angry". Or "the light from the sun..." *sniffs* "it's gone off." | |
Excellent example with Yellowstone. It manages an explosion probably measured in gigatons without any significant blast overpressure. Trees are flattened, but it abates within a mere mile or two - helpfully before obliterating all the major characters.

Precision F-Strike: "Get in the fucking car!"
Product Placement:

Vault, Bentley, Huggies (Goodnites), and many, many other things.
At the global conference near the start, every single person is using the same Sony Vaio laptop.
A Chevron gas station makes a brief appearance, only to be blown up by a careening cement truck.

Re Cut: The Blu-ray has an alternate ending

where the ship Dr. Helmsley's father was travelling on survived the tsunami.

Redemption Equals Death:

Yuri

.
Red Herring:

A rather cruel one:

The bonding between Gordon and Tamara

.
The continual references to "big ships"

makes one think of spaceships that are going to leave Earth. Nope! They're just big boats.

Refuge in Audacity: White House. Meet Aircraft carrier.
Rousing Speech: Adrian, to get the other world leaders to agree to open the doors and let the last group of refugees in, even though it could harm their ship. And it did.
Rule of Cool: Why do they take elephants and giraffes, which ultimately are useless, on the Arks instead of cows, chickens, etc. which they could use as livestock? Because it's more visually impressive to see elephants and giraffes get airlifted by helicopters than it is cows and chickens. It's as simple as that. (You could claim that the livestock was loaded earlier, precisely because they are more important, but the visual still stands.)
Rule of Symbolism:

At the beginning of the movie, after Jackson, Noah, and Lucy sneak into the restricted area of Yellowstone, Noah asks fairly randomly "Haven't you seen the signs?" It takes place just long enough after the signs have been shown that it seems out of place and almost like a warning.
The Cristo Redentor crumbles spectacularly. See the Sistine Chapel example below.
The Arks. They even carry animals.
The Sistine Chapel crumbles and is destroyed. Guess where the ceiling splits?

The crack separates Adam's finger from God's finger.

.
Also, just afterwards,

the masses praying there are crushed by the dome when it topples from St. Peter's Square.

Jackson Curtis' son is named "Noah," and he

later rescues Ark 4 from disaster

.
At the end

the human race all goes back to Africa, where it started out in the first place.

Running Gag:

Jackson: "I'm on my way toward you/hurtling toward you as we speak!"
Jackson's daughter and her obsession with fun hats.
Played tragically by all the desperate farewell phone calls cut short by impacting disasters.

Russian Guy Suffers Most: All Russian characters who are not children or politicians

bite the dust sooner or later

.
Scenery Gorn: Most of the planet. As seen at the top of the page, Emmerich pays particular attention to the destruction of Los Angeles. From all the downtown skyscrapers toppling, massive cracks opening, and chunks of landscape sliding into the sea as seen in the poster above and trailer.
Shoot the Shaggy Dog: Gordon tries his best to be a good stepfather to Jackson's children, as well as getting on well with Jackson himself, and he manages to use his minimal flying experience to pilot several drastically different aircraft, and is never anything less than cooperative with the other characters. His reward is death.
Shout-Out:

The Poseidon Adventure gets one during a mid-sea tsunami wave...
The limo race from a disintegrating L.A. plays like an Up to Eleven version of the last chase in Twister, complete with a detour through a doomed building (rolling house vs collapsing skyscraper), the explosive crash-landing of a heavy vehicle (fuel truck on roadbed vs cement mixer into gas station), and the inevitable bit of silly "flack" glimpsed in midair (live cow vs giant donut).

Smug Snake: Yuri.
Spiritual Successor: Of The Day After Tomorrow and Independence Day, of course!
Stealth Hi Bye: Both of Jackson's kids appear to have perfected the art of teleportation. In two separate screens he explicitly tells them to stay put, and with no indication the kid have moved they abruptly appear next to him a few scenes later.
Super Drowning Skills: Played straight with

Tamara

. Justified, she got trapped in a submerged room.
Talking Is a Free Action: Characters ramble on for minutes without any noticeable difference between the time they got started and the time they finished, usually minutes later. Standouts include Adrian's speech on the Ark and Jackson getting ready to unplug the gears.
Take My Hand: About a dozen times.
Take That:

A very lazy shot at Arnold Schwarzenegger ("He's an actor - he's reading from a script!"). There is a veritable myriad of take-thats in the film, but there's so many that it's kind of hard to pinpoint them all. Western civilization? Religion? Rich people? Russians?

Take That, Critics!: A subtle one can be found in the adoration John Cusack's character's Sci Fi book gets. In the movie, the book sells barely a dozen copies because critics found its ridiculously Cosy Catastrophe view of the world to be insufferable and unrealistic, yet major characters (the president included!) find it be a source of great inspiration. Director Roland Emmerich also made The Day After Tomorrow, which was criticized for being offensively preachy and silly in the levels of Cosy Catastrophe it brought to the screen.
Tempting Fate: Many times. See Dramatic Irony.
The Cuckoolander Was Right: Charlie and his prediction of the Yellowstone Caldera erupting.
Throwaway Country: Sometimes played straight, sometimes subverted - e.g., India and China are given considerable focus beyond being nature's Chew Toy. Canada possibly fits this trope too. The world leaders conference at the beginning is held in British Columbia, and Canada is mentioned as having survivors on board one of the Arks.
Tv Tropes Will Enhance Your Life: Tropers have gone into the theater after having browsed this very site, checking out tropes to look for.
Twenty-Fifth Amendment: Floated, then immediately ripped up.
Viewer-Friendly Interface: Both played straight (the computers on the arks with 3D, real-time representations of the gears for the doors) and averted (the scientist who discovers the end is near uses Vista, and everyone else who's not an Ark operator).
What Measure Is a Mook?: Or an unnamed character.
What Measure Is a Non-Cute?: Averted hard with

Tamara

.
Your Princess Is in Another Castle: Jackson, after finding out that the ships are in China.
| | | |
| --- | --- | --- |
| |  Jackson: We're gonna need a bigger plane. | |
↑ It's technically (Soviet) Ukrainian, as only one model exists. An-225 is a one-off (essentially a stretched An-124 Ruslan) built to carry the Buran shuttle in mid-80'es. There's a lot of talks about series production (or completing the second airframe, which was never finished), but as Antonov design bureau lacks production facilities and must rely on Russian plants, which are still in a pretty bad shape, nothing has come of it as of now.