Doctor Strange in The Multiverse o Madness - The Loop
Play Sound
| | IMPORTANT: The content of this page is outdated. If you have checked or updated this page and found the content to be suitable, please remove this notice. |
| --- | --- |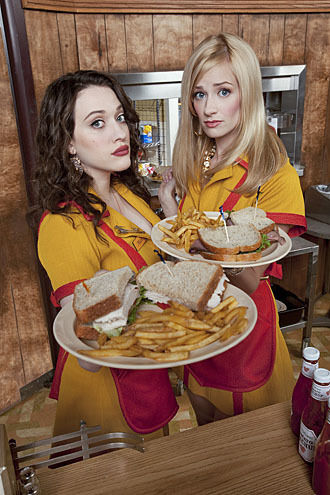 2 Broke Girls is a Sitcom airing on CBS. The story is centered around Max Black (Kat Dennings), a waitress at a local diner, and her new co-worker Caroline Channing (Beth Behrs), the daughter of a wealthy man whose bank accounts were frozen after he was found guilty of enacting a Ponzi scheme. With no money to her name, Caroline has left her usual neighborhood in search of work, which is how she ended up working at the diner with Max.
The show premiered on CBS on September 19, 2011, and since then has been picked up for another season for the 2012/2013 lineup.
Tropes used in 2 Broke Girls include:
| | | |
| --- | --- | --- |
| | Caroline: I'm not saying mob money, but I think I would have a pretty nice shop if I had mob money. | |
| | | |
| --- | --- | --- |
| | Max: When in doubt, I'm always mocking you. | |
| | | |
| --- | --- | --- |
| | Caroline: We thought you're still hot enough that men will still pay money to have sex with you. | |
| | | |
| --- | --- | --- |
| | Han Li: (with stunned look) I went to get some mayo, and it all happened so fast. | |
Han Li: You need help.
Max: No I don't.
Han Li: Everyone needs help sometimes.
(later on, after Max comes back to help Caroline.)
Caroline: I don't need any help.
Max: Everyone needs help sometimes.
In "And the Big Buttercream Breakthrough":
Caroline: You can't spell "focus" without "us"
Max: And you can't spell it without "F U", either.
(later, when two girls who run a funnel-cake stand are making snide remarks about Max and Caroline only having a small table to sell their cupcakes with)
Funnel Cake girl: See, you can't spell "funnel" without "fun"
Caroline: And you can't spell it without "F U", either.
| | | |
| --- | --- | --- |
| | Max: I have never been at a loss for words. Tampons, yes. Words, no. | |
| | | |
| --- | --- | --- |
| | | |
The money in the cupcake fund, as given at the end of each episode, doesn't always increase. In some episodes it goes down or remains flat, and is always in accord with an amount given during the episode. Doesn't always make sense, though, as it doesn't account for income they should've had.
At the end of "And the Broken Hearts", when Max pleads with the doctor, a former friend of Caroline's who has gotten her upset by rebuffing her romantically, to reconsider, he says nice things about her but stands firm because there is still too much social opprobrium attached to the Channing family name because of her father's crimes.

Redemption Quest: The cupcake business.
Relationship Reveal: Johnny has a girlfriend.
Renaissance Man: Earl.
Reset Button: The episode after Max quits her babysitting job, she takes it back in order to get a favor from Peach.
Rich Bitch: Averted. This might be expected from a character like Caroline, but she's actually a pretty nice person.
Riches to Rags: Caroline.
Romantic Two-Girl Friendship: Max and Caroline, of course.
Rule of Symbolism: The gap in the subway tunnel walkway both Caroline and Max have to jump (with the former refusing to take off her heels) in "And the Big Buttercream Breakthrough." A real New York City subway tunnel would not have one, but it clearly symbolizes both the risk Caroline took starting her life over at the diner and the risk Max takes later in the episode by

giving up her babysitting job for the business

.
Sensual Slavs: Sophie.
| | | |
| --- | --- | --- |
| | Max: You can't tell an Asian he made a mistake, he'll go out back and throw himself on a sword. | |
| | | |
| --- | --- | --- |
| | Max: Shame is overrated. Like Ke$ha | |
This line from "And the Messy Purse Smackdown":
Max to Caroline in "And the Big Buttercream Breakthrough" when she tries to force their business cards on people at the crafts fair:
| | | |
| --- | --- | --- |
| | Max: Scaring people into participating isn't business, it's Scientology. | |
Max to a customer in a 19th-century outfit writing on a typewriter in the Cold Open for the first-season finale, "And Martha Stewart Have A Ball"
| | | |
| --- | --- | --- |
| | Oh ... steampunk. That was popular for about ten seconds back in two-thousand-are-you-kidding-me? | |
Take This Job and Shove It: Max refuses to take her babysitting job back, even when Peach actually comes to the diner and begs her to, at the end of "And the Big Buttercream Breakthrough", in order to concentrate more effort on the cupcake business. She tells Caroline it's the first time she ever quit a job without another one to take its place.

However, in the next episode, "And Martha Stewart Have A Ball (Part 1)", the Reset Button is partially applied when, in order to get Chestnut out of the stable and cheer Caroline up, Max agrees to babysit for her at least once a week "for the rest of my life".

Terrified of Germs: Caroline becomes a germophobe from time to time, like when she went to a dentist office in the subway and during flu season.
Took a Level in Badass: In the thirteenth episode, "And the Secret Ingredient", the Cold Open leads to Caroline making the sarcastic comment to a customer, which is promptly lampshaded:
| | | |
| --- | --- | --- |
| | Max: Welcome to waitress, honey. We've been waiting a long time for you. | |