YMMV •

Radar

•

Quotes

• (
Funny •

Heartwarming •

Awesome) •
Fridge

•

Characters

•

Fanfic Recs

•

Nightmare Fuel

•
Shout Out

•

Plot

•

Tear Jerker

•
Headscratchers

•
Trivia

•

WMG

•

Recap

•
Ho Yay

•
Image Links

•

Memes

•

Haiku

•

Laconic

•
Source

•

Setting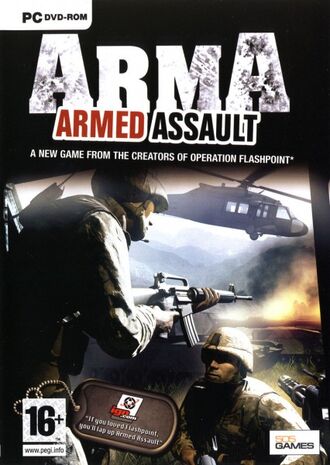 Czech game developer Bohemia Interactive Studios' Spiritual Successor to their successful and legendary Operation Flashpoint series. Unlike the original, these installments take place in Present Day and Next Sunday A.D. time frames, not the Cold War. The basic premise and game design philosophy of making a well-researched, true-to-life and unrelentingly realistic simulation of everyday military life is still there though. As is the practice of using various fairly funny (and Reference Overdosed) Ruritanias as the setting for the games' campaigns and missions.
The story behind the conception of ARMA was one of a painful birth: After finishing their work on Operation Flashpoint, the developer Bohemia Interactive Studio and publisher Codemasters had a major falling out and split ways. BIS took the rights to the engine, Codemasters got the rights to the name. BIS has since released two sequels based on this engine, ARMA: Armed Assault and ARMA II, while Codemasters developed its own "official" sequel, Operation Flashpoint: Dragon Rising. Essentially, the BIS sequels closely resemble the original, except they have much better graphics and improved gameplay, while Dragon Rising feels, well, different from the original Flashpoint, and a lot of old veterans seem to think that it suffers from New and Improved Syndrome.
Lately, the game has had a surge of popularity thanks to the DayZ mod, which requires ARMA II and ARMA II: Operation Arrowhead (or just Combined Operations for short)
Works within this series
[ARMA: Armed Assault / Combat Operations (2007): Spiritual Successor and de-facto sequel to Operation Flashpoint, developed by BIS (the original developers of Operation Flashpoint), based on their VBS engine.

Queen's Gambit: A modest expansion pack, containing a small new island and a new campaign.

Virtual Battlespace 2 (2007): Bohemia Interactive Simulations' VBS engine, and Armed Assault game based on it, were so successful and lauded as so realistic that this warranted an update to the game engine, also sold to the same real military organizations as VBS.
ARMA II (2009): The successor to Armed Assault, also a BIS production, based on the VBS2 engine.

Operation Arrowhead (release date June 29, 2010): An expansion pack set in a new country, with new locations and a new campaign.
British Armed Forces (release date August 29, 2010): DLC expansion pack and sequel to Operation Arrowhead, with British Armed Forces playable
Private Military Company (release date November 30, 2010): DLC expansion pack and sequel to British Armed Forces, with a deeper storyline and a moral choice.
Army of the Czech Republic (release date September 12, 2012): DLC expansion about, unsurprisingly, the Army of the Czech Republic. Requires both the original game and Operation Arrowhead to play.

VBS Worlds (2011): This iteration of the VBS engine was developed by BIS in partnership with Caspian Learning and is oriented towards civilian education: water purification unit maintenance, cultural sensitivity training, etc.
ARMA: Cold War Assault (2011): A free Remake (or refurbishing if you will) mega patch for the original Operation Flashpoint, released in celebration of the game's 10th anniversary by the developers. Because of the whole legal debacle with Codemasters, applying this patch to an installed copy of OFP will rename the game to ARMA : Cold War Assault. NOTE : Please don't confuse the original Operation Flashpoint with the ARMA series proper - it's only a predecessor and set in the same universe, but otherwise completely separate. The new title is there only because BIS can't release the patch under the original name of the game, since it's now owned by Codemasters.
Take On Helicopters (2011): This VBS-powered game is about piloting helicopters. It is stated to take place within the ARMA-verse.
ARMA III: Released in September 2013, this game extends the VBS engine with underwater operations (scuba diving, etc.) and other features. Set on a fictionalized version of the Greek islands of Agios Efstratios and Limnos known as Stratis and Altis. Unlike its predecessors, ARMA III has a near future setting of 2035, with fictional 6.5 ammo and an antagonistic anti-NATO alliance of China, Iran and other unspecified countries known as Canton-Protocol Strategic Alliance Treaty (CSAT).

Apex: Released in July 2016, APEX takes place on the fictional south pacific island nation of Tanoa. Apex's missions are designed around co-op play and re-playability.
For the Codemasters created follow-up and competitor, see Operation Flashpoint - Codemasters.
NOTE: Many of the tropes listed on the page of its direct predecessor also apply to this series.
The ARMA series features the following tropes:
| | | |
| --- | --- | --- |
| | Ivan Ruce: It seems pretty obvious to me that no one wants to see a Flashpoint Rising in the Green Sea Region. | |
Tank Goodness: Received a slight nerf in Operation Arrowhead, where vehicles' "health" is by component instead of as a whole - so it'll be possible to "mobility kill" or "mission kill," i.e. by damaging the treads on either side or the turret, respectively.
Universal Ammunition: Averted. Only played straight if several weapons are of the same design family and use the exact same ammo.
Unusable Enemy Equipment: Averted. Enemy Exchange Program is in full force and you can borrow any enemy equipment if you're out of your own or running low on it.
Useless Useful Stealth: When Armed Assault came out, one of the much-touted new features was the ability to use tall grass for stealthy incursions into enemy territory. Sadly, this only started properly working once the game got properly patched - until then, players had severe problems with aiming at enemies while lying in the grass and the enemy soldiers had Improbable Aiming Skills thanks to an annoying bug. Guess how that ended for most players while they were trying to be sneaky?
The Verse: The devs have recently started referring to the setting by the (somewhat more Czech-sounding) term "ARMAversum" as well as "the Armaverse". Given the continuity, OFP's setting belongs under the umbrella term as well.

The devs seem to have confirmed that their helicopter sim Take On Helicopters takes place in the Armaverse as well, with one of the characters having been a combat pilot around the time of Operation Arrowhead. Vrana Corp and ION are likely to make cameo appearances.

Video Game Cruelty Potential: Civilians frequently appear in the missions, and hurting them usually does not affect the mission. Also, in any mission with the Simple First Aid module, you can repeatedly shoot your allies with no ill effects.
| | | |
| --- | --- | --- |
| | Sykes: Cease fire goddamnit! | |
---
"ENEMY MAN. AND, MEN. TO OUR RIGHT! FROST, TARGET THAT! END OF PAGE."