Doctor Strange in The Multiverse o Madness - The Loop
Play Sound

YMMV •

Radar

•

Quotes

• (

Funny

•

Heartwarming •
Awesome) •

Fridge

•

Characters

•

Fanfic Recs

•

Nightmare Fuel

•
Shout Out

•

Plot •

Tear Jerker

•

Headscratchers •
Trivia •

WMG

•

Recap

•

Ho Yay

•

Image Links

•

Memes

•

Haiku

•

Laconic

•
Source

•

Setting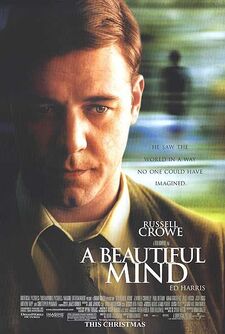 A Beautiful Mind is a 2001 American film based on the life of John Forbes Nash, a Nobel Laureate in Economics. The film was directed by Ron Howard and written by Akiva Goldsman. It was inspired by a bestselling, Pulitzer Prize-nominated 1998 book of the same name by Sylvia Nasar. The film stars Russell Crowe, along with Jennifer Connelly, Ed Harris and Paul Bettany.
The story begins in the early years of Nash's life at Princeton University as he develops his "original idea" that will revolutionize the world of mathematics. Early in the movie, Nash begins developing paranoid schizophrenia and endures delusional episodes and hallucinations while painfully watching the loss and burden his condition brings on his wife and friends.
The film was well-received by critics, grossed over $300 million worldwide, and went on to win four Academy Awards: Best Picture, Best Director, Best Adapted Screenplay, and Best Supporting Actress. It was also nominated for Best Leading Actor, Best Editing, Best Makeup, and Best Score. The film has been criticized for its inaccurate portrayal of some aspects of Nash's life. The film portrayed his hallucinations as visual and auditory, in fact they were exclusively auditory. Two: the film had Nash cured because his loving and supportive wife persuaded him to accept treatment, in fact his wife divorced him and he recovered despite or because of refusing treatment. Nasar concluded Nash's refusal to take drugs "may have been fortunate," since their side effects "would have made his gentle re-entry into the world of mathematics a near impossibility"; in the screenplay, however, just before he receives the Nobel Prize, Nash speaks of taking "newer medications."
Tropes used in A Beautiful Mind include:
| | | |
| --- | --- | --- |
| | John Nash: I don't exactly know what I am required to say in order for you to have intercourse with me. But could we assume that I said all that. I mean essentially we are talking about fluid exchange, right? So could we go just straight to the sex. | |
| | | |
| --- | --- | --- |
| | Charles: When did you last eat? You know, food. | |
Hansen: You scared?
Nash: Terrified. Mortified. Petrified. Stupefied ... by you.
| | | |
| --- | --- | --- |
| | "Gentlemen, the great John Nash." | |
Template:Academy Award Best Picture