YMMV •

Radar

•

Quotes

• (
Funny

•

Heartwarming

•

Awesome

) •
Fridge

•

Characters

•

Fanfic Recs

•

Nightmare Fuel

•
Shout Out

•

Plot

•

Tear Jerker

•
Headscratchers

•
Trivia •

WMG

•

Recap •
Ho Yay

•
Image Links

•

Memes

•

Haiku

•

Laconic

•
Source

•

Setting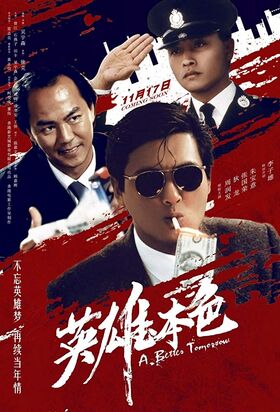 A Better Tomorrow is a 1986 action film by John Woo and produced by Tsui Hark.
The story follows two brothers on opposite sides of the law. Ti Lung plays Sung Tse Ho, a respected member of a triad whose principal operation is printing and distributing counterfeit US banknotes. Mark Gor, played by Chow Yun Fat in his breakout role, is Ho's partner in crime. Leslie Cheung plays Sung Tse Kit, Ho's brother who has joined the HKPD. Ho cares deeply for Kit and encourages his career choice, but keeps his criminal life secret from him. When a job in Taiwan goes to hell, Ho is arrested while his accomplice, a new guy by the name of Shing (played by Waise Lee) gets away. Mark, as Ho's sworn brother, is mad as hell about this, and in one of John Woo's most iconic action sequences, he takes revenge on Ho's betrayers with both guns blazing, but near the end of the shootout, one of his kneecaps is blown out.
While Ho is in prison, Shing rises in the triad ranks and takes command of the organization. Ho's father is killed by an assassin sent by Shing, and as he dies, he begs Kit to forgive his brother. Anguished and pissed off, Kit holds his brother responsible for their father's death. When Ho comes out of prison, he wants to leave the criminal life behind and finds work as a cabbie, where he comes across Mark again. Mark has been reduced to being a crippled errand boy for Shing, and wants Ho to help him get revenge, but Ho refuses. Shing then makes his offer for Ho to come back to the triad, this time without Mark. Ho refuses again, and when Mark tries to fight Shing on his own, he gets the living shit beaten out of him and is almost killed.
Meanwhile, Kit is becoming increasingly obsessed with Shing, who ordered the hit on their father. He learns of Shing's major deal, but it's a death trap that Shing has laid in retaliation for Ho's refusal. Ho finds out about this and tries to warn him, but Kit won't believe him — he's still mad at his brother and he wants to kill Shing more than anything. In the movie's final act, Ho and Mark steal the evidence tapes from the counterfeiting business and capture Shing, planning to ransom him in exchange for money and an escape boat at a pier, and Ho gives the tapes to Kit's girlfriend, who gives it to the police. Kit is captured by Shing's men at the pier, and when the converging forces meet, an explosive final shootout ensues, setting the stage for final revenge and reconciliation.
This film put John Woo on the map and kick-started the Heroic Bloodshed genre, along with codifying most of the tropes associated with it. It led to the establishment of Hong Kong's film rating system because of the film's violence. It led to a period where a lot of young people wore longcoats much like Mark (in fact, the Badass Longcoat is still known in Hong Kong as "Brother Mark's Coat"). And it would provide a springboard for Chow Yun-Fat's career as a badass action star.
It would also spawn two sequels: A Better Tomorrow II, which would see Chow Yun-Fat's return as the twin brother of Mark Gor, and A Better Tomorrow III: Love and Death in Saigon, a Prequel directed by Tsui Hark and set in Vietnam War-era Saigon in which Chow Yun-Fat reprises his role as Mark Gor.
The movie received three remakes: in 1994 from India (titled Aatish: Feel the Fire), in 2010 from South Korea, and in 2018 from China (titled A Better Tomorrow 2018).
---
A Better Tomorrow Provides Examples Of:
| | | |
| --- | --- | --- |
| | Mark: I′ve been waiting for 3 years to take this chance. I've got to show them that I'm not the best, but I want to let them know, that I'll take back what I've lost! | |