Wiki Targeted (Entertainment)
Play Sound

Quotes •

Headscratchers

•

Playing With •

Useful Notes

•

Analysis

•

Image Links

•

Haiku

•

Laconic
"Hollywood can boast partied, it indeed looked like before the evening would end the bash would have made a special little niche for itself in the annals of Hollywood high life. Before the evening was out, many of the guests were stripping totally nude and hurling themselves into the luxurious swimming pool."'

—Elizabeth Cohen, Cheryl Ladd's Husband Storms Out As She Strips At A Wild Hollywood Party, TV Picture Life, July 1979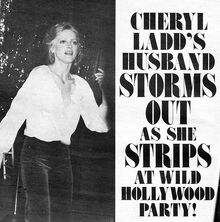 For fictional people past puberty, any wild party with both genders, teen or otherwise, is all about one thing: getting it on. This can be a good or bad thing, depending on many factors. Although one absolute in fiction is that if it's a teenage girl going, and you're her guardian, it's always a bad thing.
Part of the reason for this is simply that All Men Are Perverts and All Women Are Lustful. Incredibly common in Porn, of all things.
If it's planned and advertised as an orgy, it doesn't count.
Compare Hookers and Blow, Sex, Drugs and Rock and Roll. See also Binge Montage.
Related to All Men Are Perverts, All Women Are Lustful, Everybody Has Lots of Sex, Everybody Must Get Stoned, But Liquor Is Quicker, Everyone Is Bi, Love Is in the Air, In Vino Veritas, Skinny Dipping and Strip Poker.
Examples of A Party - Also Known as an Orgy include:
Fan Works
| | | |
| --- | --- | --- |
| |  Hedonism-bot: Everywhere I looked, there were piles of bodies... and then the explosion struck! Ah ha ha ha! Oh hoo hoo... | |
 Benson: It's almost 8 o'clock. Kill the lights!

Muscle Man: (unzipping noises) Woohoo! Skips is going to be totally surprised when he walks in and sees us totally naked!

Benson: ...it's not that kind of party, Muscle Man.