Jurassic World: Dominion Dominates Fandom Wikis - The Loop
Play Sound

Quotes •
Headscratchers

•
Playing With

•

Useful Notes

•

Analysis

•
Image Links

•

Haiku

•

Laconic
It's okay when it's in a three-way

It's not gay when it's in a three-way

With a honey in the middle there's some leeway



The area's grey in a one, two, three-way!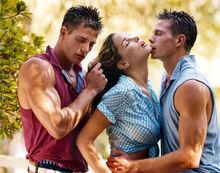 Threesomes with two girls are hot. Threesomes with two guys are manly. Note this is not gay, and no heterosexual male will see it as such even if a guy penetrates another guy. If the two guys are related, it's also not incestuous.
If there are more than two guys, the threesome becomes especially manly. Both double penetration and the lucky Perre position take this trope Up to Eleven.
Examples of A Threesome Is Manly include:
Anime
Fanfic
In Ars Longa's Star Wars fanfic, The Springsteen Trilogy, Luke first has sex with Kyp, then with Mara a lot, then with Kyp some more. Mara at first doesn't like this, but then she wants to have a threesome.
A lot of Degrassi the Next Generation fanfic focuses on threesomes involving two guys and a girl: Craig/Sean/Ash, Craig/Sean/Manny, Marco/Sean/Ellie, Jay/Sean/Alex, Jay/Sean/Manny, Peter/Riley/any girl...
Film
The Dreamers. Throw in Twin Threesome Fantasy and Twincest just for fun.
Y Tu Mama Tambien. This is all you need to know about Y Tu Mama Tambien.

Naturally,

the threesome leads to plain man-on-man sex

. The whole scene comes across as

Luisa trying to get Tenoch and Julio to accept their attraction to one another. Sadly, it doesn't work out.

In Farinelli, the titular castrated singer is shown sharing all of his flings with his brother. When he eventually falls in love, his brother joins in in bed to impregnate the woman.
Suggested by the main character in Chasing Amy to calm a quarrel between his girlfriend and his roommate.

As a result, the girlfriend dumps him and the roommate moves out.

In the movie Ten Inch Hero, Tish is dating a guy named Tadd, whose roommate/best friend Brad (yes, Tadd and Brad) is always hanging around them. At some point, the two guys proposition Tish for a threesome. Tish refuses, and later subverts this by telling them to "man up" and just admit the girl is unnecessary.
Discussed in The Beach Girls:
Ginger: We could sure use a boy or two.

Ducky: Hmm, we we could get the booze over the phone. But the boys?

Ginger: We can get them the same way.
Literature
Used straight in Shadow of the Lion.
In Without Reservation: Indigenous Erotica, an Eskimo shaman and all the other shamans concentrate their manliness in one place, unleashing Sedna's Spear Counterpart, Andes, who then makes love to her.
Lunar society in The Moon Is a Harsh Mistress is polyandrous due to a lack of women. Men refer to their wives' other husbands as simply "co-husbands" and are often brothers.
Proposed by Habib in one episode of The Thin Blue Line to resolve a romantic triangle. One man was uninterested and uncomfortable, and the other completely missed her point.
In How I Met Your Mother Barney refers to this as "A Devil's Threeway" and says that guys are forbidden from making eye contact during it.
Whose Line Is It Anyway: A game of Living Scenery ends with four men on top of each other. For Bonus Points, one of them is Richard Simmons.
Scrubs also refers to this as a "Devil's Threesome", and compares it to the "good kind" (ie: two girls, one guy), which is in turn topped only by the reveal of the "all-girl" variety.

Amusingly, the porn parody of Scrubs culminates in a threesome between J.D., Elliott and The Todd.

Undertaken in a first season episode of Californication with Hank, Charlie, and the Girl of the Week after some reluctance on Hank's part (Girl would only have sex with Charlie if Hank was involved.) The results were somewhat...messy.
In one episode of Grey's Anatomy, Meredith dreamed of having a threesome with Finn and Derek.
 It's OK to put us in a three-way

It's not gay when it's in a three-way

With a honey in the middle there's some leeway

The area's grey in a one, two, three-way
Music
"3" by Britney Spears, with its bizarre suggestion of a threesome between Peter, Paul, and Mary.

The folksingers or the Biblical figures?

"The Golden Rule / 3-Way" by The Lonely Island (the girl in the scenario is Lady Gaga). Naturally, there's plenty of lampshading about how it's "not gay when it's in a three-way."
Marilyn Manson's "(s)AINT" video cuts right to the chase, with Manson engaging in an all male threesome with two crossdressing male hookers—portrayed by his ex-bandmate, Gidget Gein, and Eric Szmanda of CSI.
Pornography
Too many to count.

For some reason, predominantly male threesomes with one girl are more common in pornography than threesomes with only one man.

Logistics. Two men can penetrate one woman in several ways. However, two women and one man have trouble actively engaging without copious amount of oral sex. That is usually not what people tune in to watch.
Video Games
In Dragon Age Origins, it is possible for a male player character to have a threesome with the pirate queen Isabela, and male party member Zevran (among other combinations; though, notably, Zevran is the only party member you can invite for a threesome with Isabela with whom you do not have to be romantically involved).
Western Animation
A Cutaway Gag in Family Guy had Peter refer to that one time he was in a threesome and the girl never showed up.