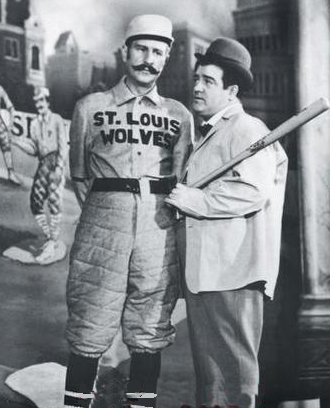 | | | |
| --- | --- | --- |
| | | |

Bud Abbott and Lou Costello were a Comedy Duo who worked together from 1935 to 1957, starting out in Burlesque theatre and expanding into radio, television and films. They're best known for their signature routine, "Baseball", in which Abbott attempts to tell Costello about a baseball team whose players have confusing nicknames like "Who" and "What". ("Who's on first?" "Yes.")
In 1940 they appeared together in a supporting role in the film One Night in the Tropics, and stole the show. The following year, they had their first star vehicle, Buck Privates. They went on to make over 30 films, remaining top-10 box office draws for the next decade.
A list of their films:
One Night in the Tropics (1940)
Buck Privates (1941)
In the Navy (1941)
Hold That Ghost (1941)
Keep 'Em Flying (1941)
Ride 'Em Cowboy (1942)
Pardon My Sarong (1942)
Who Done It? (1942)
Rio Rita (1942)
It Ain't Hay (1943)
Hit the Ice (1943)
In Society (1944)
Lost in a Harem (1944)
Abbott and Costello in Hollywood (1945)
Here Come the Co-Eds (1945)
The Naughty Nineties (1945)
Little Giant (1946)
The Time of Their Lives (1946)
Buck Privates Come Home (1947)
The Wistful Widow of Wagon Gap (1947)
Mexican Hayride (1948)
The Noose Hangs High (1948)
Abbott and Costello Meet the Killer, Boris Karloff (1949)
Africa Screams (1949)
Abbott and Costello in the Foreign Legion (1950)
Abbott and Costello Meet the Invisible Man (1951)
Comin' Round the Mountain (1951)
Lost in Alaska (1952)
Jack and the Beanstalk (1952)
Abbott and Costello Meet Captain Kidd (1952)
Abbott and Costello Go to Mars (1953)
Abbott and Costello Meet Dr. Jekyll and Mr. Hyde (1953)
Abbott and Costello Meet the Keystone Kops (1955)
Abbott and Costello Meet the Mummy (1955)
Dance with Me Henry (1956)
Not to be confused with Tony Abbott and Peter Costello, a pair of Australian politicians who served as ministers under Prime Minister John Howard at the same time.
Abbott and Costello works with their own trope pages:
Abbott and Costello provides examples of the following tropes:
Abbott: You should really go on a diet. You know what a diet is, don't you?
Costello: Sure, that's where you can eat all you want of everything you don't like.
Works which reference Abbot and Costello:
Film
| | | |
| --- | --- | --- |
| | Abbot: I hate that guy... | |
Literature
The Dragaera novel Five Hundred Years has a passing mention of a famous farce, Who Dropped Her First?, set in a bedchamber laid out (reading between the lines) like a baseball diamond.
Live-Action TV
In the "Vintage Steele" episode of Remington Steele a body is found in a vat of wine at the Costello Monastery. When Laura suggests they interview the abbot, Movie buff Steele quips "Ah...the Abbot of Costello".
In the Hercules: The Legendary Journeys episode, "Monster Child In A Promised Land," Iolaus mentions a comedy team known as Abbotus and Costellocles.
A recurring segment on

Square One Television

featured Cabot and Marshmallow. Set backstage at a Vaudeville theater, the segments show Cabot getting the better of Marshmallow through a variety of math related tricks. Always started with a suitably altered version of Costello's catch phrase.
Video Games
Mother 3 features a duo of comedians named Lou and Bud as minor characters.
Web Original
An anonymous email that has been circulating around the internet for many years casts Abbott as a tech-support operator attempting to explain to Costello that to stop his Windows PC he must click on the "Start" button.
Western Animation
Looney Tunes parodied them in three cartoons as "Babbit and Catstello". They also borrowed some of Lou's catch phrases and made them their own, like "I'm only three-and-a-half years old" and Bugs Bunny's "Gee, ain't I a stinker?"
If you didn't see some similarities between Ren and Stimpy and

Abbot and Costello

, you weren't paying close enough attention.
The Gummi Bears episode "Friar Tum" features a character named Abbot Costello.
The Futurama episode "A Pharaoh to Remember" has a reference to Abbott and Costello Meet the Mummy.
One episode of Veggie Tales featured Larry and Mr. Lunt's characters having a battle of wits, with the riddle they must solve being presented by the Abbot of Costello. The riddle itself is a parody of the Who's on First? routine.
In the Batman: The Animated Series episode "Joker's Millions", Joker named his loyal pet hyenas Bud and Lou (previously only known as Harley Quinn's "babies"). This makes sense, given Joker's appreciation of comedy. The hyenas are given the same names in Krypto the Superdog.
Real Life
In Australia, the days when Tony Abbott and Peter Costello were prominent members of the Liberal Party were a gift to political commentators across the country.