Jurassic World: Dominion Dominates Fandom Wikis - The Loop
Play Sound

YMMV •

Radar

•

Quotes • (
Funny •

Heartwarming

•

Awesome) •
Fridge •

Characters •

Fanfic Recs

•

Nightmare Fuel

•
Shout Out

•

Plot

•

Tear Jerker

•
Headscratchers •
Trivia • WMG •

Recap

•
Ho Yay

•
Image Links

•

Memes

•

Haiku

• Laconic •
Source

•

Setting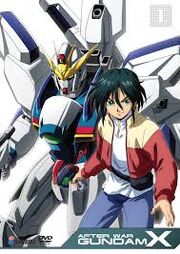 ...the Moon will always be there...

—Narrator

After War Gundam X (Kidou Shinseiki Gundam X, lit. "Mobile New Century Gundam X") is the seventh Gundam TV Series. The story follows a group of scavengers called Vultures on a hunt to protect Newtypes. The series background involves a violent war 15 years earlier that killed nearly every human, in earth and space. It was not, as some had predicted, the end of the world. Instead, the apocalypse was simply the prologue to another bloody chapter in human history. And Gundam? Gundam never changes. Despite the grim premise, Gundam X retains a shockingly optimistic tone.
While scheduled for 49 episodes, it was cut short down to 39 due to Executive Meddling. Despite this resulting in the final arc being compressed from a planned 12 episodes to a mere 3, Gundam X managed to have an entirely coherent (if rushed) ending. It's sequel manga "Under The Moonlight", has become quite popular, and appearences in the Super Robot Wars games have gained it more popularity in recent years.
---
After War Gundam X has examples of:
| | | |
| --- | --- | --- |
| |  Garrod: (thinking to himself) If this works, I'll believe in God! ... "Tiffa! I believe in God!" | |
 Shagia: Im-impossible! We're supposed to be in control of the Satellite System!

Olba: Brother!

Shagia: SHOOT THE DOUBLE X!

Olba: But it hasn't charged yet!

Shagia: I DON'T CARE!!!!!!!!
Yandere: Olba Frost may count as one of the rare male examples. Ennil El goes through a phase of this early on as well... although people don't seem to remember that as well (because the episode where she makes friends with Toniya overshadows all that).