YMMV •

Radar

•

Quotes

• (
Funny

•

Heartwarming

•

Awesome

) •
Fridge

•

Characters

•

Fanfic Recs

•

Nightmare Fuel

•
Shout Out

•

Plot

•

Tear Jerker

•
Headscratchers

•
Trivia •

WMG

•

Recap

•
Ho Yay

•
Image Links

•

Memes

•

Haiku

•

Laconic

•
Source

•

Setting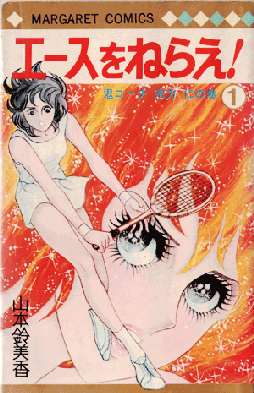 Aim for the Ace! (エースをねらえ!, Ēsu o Nerae!) is a classic Shoujo anime and manga by Sumika Yamamoto, which ran in the Margaret Magazine from 1972 to 1980. It's said to have codified many, MANY Shoujo trademarks: the "klutzy but well-intentioned heroine", the "rich bitch who's jealous of the heroine and may or may not be good deep down", the "stoic and handsome love interest with a cruel past", the "close female friends who could be easily seen as girlfriends", etc.
The story focuses on Hiromi Oka, who is an ordinary high school girl whose one wish is to be as good at tennis as the girl who is best in the school, the graceful Reika "Madame Butterfly" Ryuuzaki. Her coach Jin Munakata sees potential in her, and the rest of the series tells of her struggles and victories, on and off the court. . .
There was also: two anime series (the original from 1973-1974 and its 1977-1978 remake); a 1979 animated movie with noticeably better animation; two OAV series released between 1988 and 1990, and a J-Drama from 2004. It has been dubbed and distributed in Europe, in French, Italian and Spanish. And last but not least, the 1979 movie AND the two OAV's were directed by none other than legendary director Osamu Dezaki, ant it shows.
Gunbuster starts out as an Affectionate Parody of this series before evolving into its own thing.
Tropes used in Aim for the Ace! include: