Wiki Targeted (Entertainment)
Play Sound

YMMV •

Radar

•

Quotes

• (

Funny

•

Heartwarming

•
Awesome

) •

Fridge

•

Characters

•

Fanfic Recs

•

Nightmare Fuel

•
Shout Out

•

Plot

•

Tear Jerker

•

Headscratchers

•
Trivia •

WMG

•

Recap

•

Ho Yay

•

Image Links

•

Memes

•

Haiku

•

Laconic

•
Source

•

Setting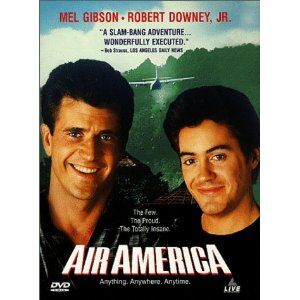 1969: After buzzing a semi-driver, radio eye-in-the-sky Billy Covington(Robert Downey, Jr.) gets stripped of his pilot's license. No sooner does this happen then he gets a job offer from Air America, a covert airlift organization operating out of Laos. Once there, he finds the company full of lunatics, with perhaps the looniest being Gene Ryack (Mel Gibson), a self-proclaimed Buddhist who runs guns on the side. He also finds out the organization is secretly a drug-smuggling operation, run by Major Lemond(Ken Jenkins) and General Soong(Burt Kwouk).
Not to be confused with Air America Radio.
Tropes used in Air America include:
| | | |
| --- | --- | --- |
| | Hey, man, I'm 42 years old, I've never figured anything out in my life! | |
Rob: Is he dead?
Gene: Well, Rob, if he's not dead, he's very, very calm.
Gene: You know, Buddha said--
Billy: Will ya stop with the whole Buddha thing? I just don't believe a real Buddhist would be in the gun-running business[...]
Gene: I didn't say I was a good Buddhist...