Wiki Targeted (Entertainment)
Play Sound

YMMV

•

Radar

•

Quotes

• (

Funny

•

Heartwarming

•
Awesome

) •

Fridge

•

Characters

•

Fanfic Recs

•

Nightmare Fuel

•
Shout Out

•

Plot

•

Tear Jerker

•

Headscratchers

•
Trivia •

WMG

•

Recap

•

Ho Yay

•

Image Links

•

Memes

•

Haiku

•

Laconic

•
Source

•

Setting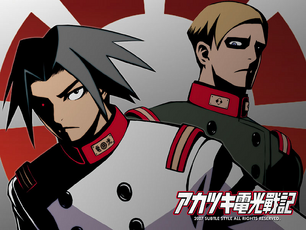 Akatsuki Blitzkampf (アカツキ電光戦記, Akatsuki Denkō Senki), also known as Akatsuki/En-Eins (アカツキ/エンアイン, Akatsuki/En-Ain) is a series of doujinshi Fighting Game developed by Subtle Style. It first released in November 2003 under the name Akatsuki Shisei Ichigō (アカツキ試製一號, lit. Akatsuki Prototype Nr. 1), prior being finalized and retitled in April 30, 2007 as Akatsuki Blitzkampf.
On September 27, 2007, Monthly Arcadia confirmed that the game would be launched as an arcade title, published by SUBTLE STYLE itself. The last update was called Akatsuki Blitzkampf Ausf. Achse and it was released on February 20, 2008 for the Sega NAOMI arcade system, then was announced on March 26, 2019 to have a PC port.  It is soon followed by the sequel known as En-Eins Perfektewelt (エヌアイン完全世界, En-Ain Kanzen Sekai) in 2010.
The game is set in a Dystopian fictional future (year 266X AD/199X BC up to 20XX BC), and involves characters that more or less resemble the German and Japanese soldiers of World War II, including Norwegian Valkyries. . . The story more or less begins with the awakening of the first game's protagonist, Akatsuki, a Japanese Super Soldier who spent decades frozen in a submarine that was sunk in the North Pole in the last wars. When he wakes up and rises from there, 50 years after the last war he fought on, he is trapped in a world that he barely recognizes and has near everyone in the cast chasing after him since his uniform, the Tactical Robe, hosts a powerful weapon: one of the mythical Blitz Motors, capable of producing unlimited electrical energy. Akatsuki, logically, does not want to get caught at all and needs to find the truth behind his survival and awakening, so he sets out in a long and hard travel through China and Japan to gather clues, unlock the secrets behind everything, and face his old and new enemies. . .
The second game, EN-Eins Perfektewelt, stars a new titular protagonist: the aforementioned EN-Eins. He's the sole surviving member of a En-Clone batch who was presumably saved by Akatsuki in the previous game off-screen; now he's set to avenge his clone brothers and fight against Gesellschaft, the antagonistic organization of the series. And around the same time, Mycale (Perfecti) (now switching host body between Kati's to Anonym Merell Rambus) has taken Gesellschaft's leadership and declaref a war against old humanity on Earth, in order to lure En-Eins out of the shadows to achieve the power of God (known as Ener-Gaia) Eins and create a new humanity under their tyranny.
Contrary to most doujin fighting games out there, Akatsuki and En-Eins' playstyle is regarded as old-school and quite reminiscent of the fighting games Capcom produced during the 90's, including parries similar to the ones seen in the Street Fighter III series.
In recent years, Akatsuki himself became somewhat popular in his own right, at least enough to be a Guest Fighter in Under Night In Birth (originally from 2012; he showed up in two Updated Rereleases from 2015 and 2020). Thank to said guest appearance, he was added as one of the 7th series representative in the Crossover fighting game Blaz Blue: Cross Tag Battle (2018-present), with him (in his canon Blitzkampf version, rather than the UNIB one) and Blitztank are the first fighters representing their home series.
---
These games provide examples of:
↑ In keeping with the Street Fighter II parallel, she splits the "Zangief" role with Wei, in that both are strength-based fighters who have their own agenda and aren't interested in the main conflict at all. Just like how Zangief wants to prove himself the strongest man alive and couldn't care less about that Shadaloo and Psycho Drive hoo-ha, Marilyn Sue doesn't give a crap about super-soldiers or world conquest and just thinks stealing the Blitz Engine would be a great career move.
↑

Not THAT salute, thankfully.