Jurassic World: Dominion Dominates Fandom Wikis - The Loop
Play Sound

YMMV •

Radar

•

Quotes

• (
Funny •

Heartwarming •

Awesome) •
Fridge •

Characters •

Fanfic Recs •

Nightmare Fuel •
Shout Out

•

Plot

•

Tear Jerker

•
Headscratchers •
Trivia • WMG •

Recap

•
Ho Yay

•
Image Links

•

Memes

•

Haiku

•

Laconic

•
Source

•

Setting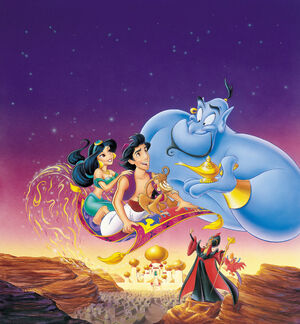 | | | |
| --- | --- | --- |
| | "You ain't never had a friend like me" | |

Aladdin is a Disney Animated Canon adaptation of the Arabian Nights tale of "Aladdin and the Wonderful Lamp", released in 1992.
Taking place in the fictional Arabian city of Agrabah, the title character, a Street Urchin always accompanied by his monkey, Abu, meets and falls in love with a fugitive Rebellious Princess, Jasmine — until he's arrested, by orders of the evil Vizier Jafar. Jafar then disguises himself and meets Aladdin in prison, convincing him to do him a task: get a magic lamp in a cave filled with treasure in which Aladdin can enter, because he is "the diamond in the rough". Aladdin and Abu enter the cave, where they meet a sentient magic carpet and are ordered not to touch anything but the lamp - but as Aladdin gets it, Abu seizes a giant ruby, causing the cave to collapse above the trio. As they awaken, Aladdin rubs the lamp - and out of it comes a comedic Genie, who is effectively a big, blue Robin Williams who can grant three wishes. Maybe now Aladdin can win Jasmine's hand in marriage...
The film was very successful (beating films like Lethal Weapon 3 and Batman Returns at the US box office), leading to two sequels, The Return of Jafar (the first one of those Disney direct-to-video sequels) and Aladdin and the King of Thieves, and also an Animated Series. All but King of Thieves replace Robin Williams with Homer Simps... no, Dan Castellaneta, because Williams didn't like his contractual demands being discarded.
Regardless, the biggest contribution this film did was to permanently establish in Western Animation the value of star power in casting voice actors. Gilbert Gottfried and John Rhys-Davies also co-star in major roles (though Rhys-Davies only turns up in King of Thieves). A theatrical adaptation (not to be confused with Aladdin - A Musical Spectacular in Disney's California Adventure) had its first official run at the 5th Avenue Theatre in Seattle, Washington from July 21st, 2011 until July 31st, 2011. It was directed and choreographed by Casey Nicholaw, who also won a Tony for his co-direction in The Book of Mormon, and elements from Howard Ashman's original idea of the film were used. One interesting casting choice was the return of Johnathan Freeman as Jafar.
Also produced at least two completely separate and distinct video games based on the first film; one by Virgin Games for the Sega Genesis, Amiga, PC and Game Boy, and one by Capcom for the Super Nintendo and Game Boy Advance. Both are really good. There was also one made by Sega for their Master System, which was more faithful to the story but it isn't quite as well-known.
The most recent part in the franchise is a live-action movie, released in 2019. It's a musical directed by Guy Ritchie and it has the following cast: Mena Massoud (Aladdin), Naomi Scott (Jasmine), Will Smith (the Genie, since Robin Williams passed away in 2014), Marwan Kenzari (Jafar), Navid Negabhan (the Sultan), Nasim Pedrad (Jasmine's Canon Foreigner maid Dalia), etc.
---
The original movie provides examples of:
Tropes A-G
 Woman: Getting into trouble early, aren't we, Aladdin?

Aladdin: Trouble? You're only in trouble if you get caught.

(The guard captain grabs him)

Aladdin: I'm in trouble!
 Beenie: Want me to sting her?

Aladdin: Buzz off!

Beenie: Fine, but remember, bee yourself.

Aladdin: Yeah right!
| | | |
| --- | --- | --- |
| |  Merchant: Please, please, come closer! [smacks into camera] Too close, a little too close! | |
Not to say Jafar doesn't have his moments too:
 The Sultan: (introducing 'Prince Ali') This is Jafar, he's delighted too...

Jafar: Ecstatic.
Genie as well, especially when he is under Jafar's control.
| | | |
| --- | --- | --- |
| |  Genie (deadpan): Jafar, Jafar, he's our man, if he can't do it... (shouts, face right up to the camera) GREAT! | |
Death Glare: Jasmine has a pretty impressive one when questioning Aladdin after the carpet ride. (Hilariously turned Up to Eleven here.
Deranged Animation: Genie's rapid shapeshifting can be rather unnerving.
Did Not Do the Research: The script appears to have been written by persons who never read the original "Aladdin" story in the Arabian Nights, relying on several generations of film adaptations instead. For example, Aladdin in the original commands two genies, one in a lamp and one in a ring, although the ring-genie is so weak compared to the lamp-genie that Aladdin forgets he has him!
Distant Prologue: Possibly. Although it's never stated how far after the movie's plots the opening scene occurs, the Lemony Narrator hints that it is quite possibly right After the End.

Aladdin and The King Of Thieves returns to the original narrator at the end, meaning that the story begins on Aladdin and Jasmine's wedding night and ends as they leave for their honeymoon.

Disney Acid Sequence: "Friend Like Me".

Perfectly justified in that Genie uses his magic to make the effects happen - everything was real, if only temporary.

Disney Princess: Princess Jasmine, duh.
Disproportionate Retribution: Aladdin steals one loaf of bread and gets an entire squadron of imperial guards out for his blood.
It's generally implied that he's done it lots of times - often enough to become a familiar face to the Head Guard Razoul.

Does Not Like Shoes: Aladdin, when he's 'dressed as a commoner'. This carries over to the first sequel but by the second sequel he's noticeably wearing shoes while still being dressed as a commoner.
Don't Touch It, You Idiot!: "Touch nothing but the lamp." Aladdin (although tempted) actually follows the advice. Abu, however...
The Door Slams You: Happens to Jafar and Iago both at once.
Dramatic Spotlight: Genie conjures several of these during the song "Friend Like Me".
Drives Like Crazy: The Sultan. He says he has a knack for the Carpet, but Carpet doesn't seem to have a knack for him.
Empathy Pet: Abu and Rajah.
Establishing Character Moment: The entire One Jump Ahead sequence is one for Aladdin, along with his subsequent display of kindness to two children.
Everyone Calls Him "Barkeep": The Genie and the Sultan.
Everyone Has Standards: Even Iago, who came up with the idea for Jafar marrying Jasmine in the first place, was squicked out by Jafar and Jasmine actually kissing.
Evil Chancellor: Jafar.
Evil Laugh: Jafar. In one scene he and Iago even try to one-up each other's laughs.
Exposition Diagram: A Type 2 when the Genie advises Aladdin to "Tell her the... TRUTH!"
Expy: Jafar is — well — Jafar from The Thief of Bagdad crossed with Zigzag from The Thief and the Cobbler. In fact, the whole movie owes a lot more debt to those two movies than anything to do with 1001 Arabian Nights...

There are also a lot of similarities to the character played by Leonard Nimoy in the

Shelly Duval

version of the story. (Although obscure, there are several other elements like the rocketing Minaret and the "give me a hand/give me the lamp" dialogue that both versions have in common.)

"Falling in Love" Montage: "A Whole New Woooorld..."
Family-Unfriendly Death: That poor thief...
Finish Dialogue in Unison: When Aladdin and Jasmine are in his hideout, they talk about their troubles and conclude in unison that they both feel "trapped".
First Kiss: Between Jasmine and Aladdin after their Magic Carpet ride, with a little help from the carpet.
Fisher King: The good sultan makes Agrabah a sunny place of wonder, Jafar a dark and dreary city of horror.
Flat What: Jafar's reaction when Iago first suggests he marry Jasmine.
Flight of Romance: The magic carpet ride.
Fog Feet: Genie off and on.
Food Slap: Princess Jasmine throws a glass of wine in Jafar's face.
Forbidden Fruit: "Touch nothing but the lamp!"
Foreign Looking Font: The title and the sign that says "Crazy Hakim's Discount Fertilizer."
Foreshadowing: Aladdin and Abu ride a non-magical carpet during the song "One Jump Ahead". Later on Aladdin rides a magic carpet several times.
Forgot About His Powers: Genie. And how...

Genie didn't forget; he was forbidden to use his powers against his current Master. "Sorry, kid... I got a new master now..." and "Al, I can't help ya - I work for Señor Psychopath now!"
Actually, he did; when Jafar wished to be a genie, Genie seemed scared and apprehensive. If he remembered that all genies are bound to a life of servitude - his entire problem throughout the movie - he would've caught on to Aladdin's plan sooner.

Forgot I Could Change the Rules: The Sultan at the end.

Though he points out in the beginning that he's using the law as a way to take care of his daughter.

Four-Fingered Hands: Used with Genie, who (in all of his forms) has four fingers while the rest of the human cast has five. His fingers are chubbier as a result, and they actually make him look more gentle.

Except for when counting on his fingers, then he has as many as needed.
The merchant at the beginning of the film also has four fingers. It's one of several hints about his true identity, but the idea didn't make the final cut. But guess who did the voice of the merchant?

Fourth Date Marriage: Jasmine and Aladdin. (Or close enough, Fourth Date Engagement - the sequels and The Animated Series indicate that they actually don't get married for quite a while afterward.)
Fourth Wall Observer: Genie.
Friend to All Living Things: Jasmine.
Genie in a Bottle: Guess.
Genre Savvy: Jasmine is insulted by the fact that she was supposed to be fooled by Aladdin's Paper-Thin Disguise.
| | | |
| --- | --- | --- |
| |  Jasmine: Did you think I was stupid? That I wouldn't figure it out?! | |
 Iago: [as Jafar is laughing maniacally] "Oh, great. He's cracked. He's gone nuts. Jafar! Jafar! Get a grip!!!"

[Jafar grabs him by the throat]

Iago: [in a choked rasp] "...good grip."
Getting Crap Past the Radar: These scenes: http://www.youtube.com/watch?v=9WHSIdama84

"Look at that, Abu! It's not every day you see a horse with two rear ends!" It seems like this insult would have made more sense without the Bowdlerization.
"Oh Al. I'm getting kinda fond of you, kid. Not that I want to pick out curtains or anything..."
"Arabian nights, like Arabian days, more often than not are hotter than hot in a lot of good ways..."
In balcony kiss after the "Whole New World" scene Jasmine quite obviously puts her tongue in Aladdin's mouth.
The Lemony Narrator offers us viewers a device that he claims to be a combination hookah-coffee maker, which also dispenses objects that bear a resemblance to French Fries. Yeahhh....

He says "also makes julienned fries" (that is, they resemble French fries because they are French fries). He probably has a potato in there just for the demonstration.

During "One Jump Ahead", Al manages to stumble into a harem.

A God Am I: Jafar.
Go-Go Enslavement: Even though Jasmine's casual outfit is almost as Stripperific as her slave outfit.
Graceful Ladies Like Purple: Jasmine wears a purple dress when she intends to announce her engagement.
Great Gazoo: Genie.
Guess Who I'm Marrying: Well, it was a "Guess who you're marrying!" situation but anyway.
Guile Hero: Aladdin. Able to use small tricks, charm, psychological manipulation, deception and agility to fool both the royal guards and Jafar.
Tropes H-M
 Aladdin: If I were as rich as you, I could afford some manners.

The Prince: I'll teach you some manners!

The prince then kicks Aladdin into the mud.
| | | |
| --- | --- | --- |
| |  And your beard. It's so... twisted... | |
Must Make Amends: After Aladdin

left behind the genie lamp, which led to Iago bringing it to Jafar, then Jafar using it to wish himself to be sultan and the world's most powerful sorcerer

, Aladdin said:
| | | |
| --- | --- | --- |
| |  "I made a mess of everything... somehow I gotta go back and set things right." | |
Tropes N-S
| | | |
| --- | --- | --- |
| |   Genie: Tell... her... the... *TRUTH!!!* | |
Stealth Pun: When Iago tells Jafar about the plan to marry the princess and then kill her and the Sultan, Jafar responds with "I love the way your foul little mind works!"[1]
Stepford Smiler: Kind of. Genie dances around, cracks jokes, and seems to have a lot of fun granting wishes...but Aladdin pokes around a little bit and discovers that Genie in fact desires freedom from his life of servitude more than anything else in the world and is miserable.
Stock Scream: A Wilhelm Scream when Genie is moving Agrabah up onto a cliff.
Street Urchin: Aladdin.
Suddenly-Suitable Suitor: Solved by the Sultan changing the law.
Suicidal Gotcha: Aladdin pretends to jump off a balcony.

And is caught by a flying device hovering at a height just far enough below the balcony for his head to disappear. Seems familiar.

Super Empowering: Jafar's wish.
Tropes T-Z
 Jasmine: It's a shame Abu had to miss this.

Aladdin: Nah, he hates fireworks, and he doesn't really like flying, either. Uh...that is, um...oh, no...
Odd that she's so shocked when Jafar reveals Aladdin's true identity.
| | | |
| --- | --- | --- |
| |   "They're after me! They're after you?!" | |
The animated sequels provide examples of:
Tropes A-M
 Genie: (as Chico Marx) Hey, that'sa no good! What this wedding needs isa theme!

Genie: (as Groucho Marx) Needs a groom too, but let's work with what we have!

Jasmine: Genie!

Genie: It was a joke! (deadpan) I do that...
Lock and Load Montage: Used hilariously in this scene
Long-Lost Relative: Aladdin and Cassim never really knew what happened to each other.
Luke, You Are My Father: Aladdin to Cassim. The Oracle shows Aladdin what his father looks like and where to find him. Cassim is convinced by Aladdin carrying a weapon he once owned and left to his young son.
Meaningful Echo: "You'd be surprised what you could live through."
Meaningful Name: Abis Mal really is the pits!
Mythology Gag: Literally. Aladdin's father and king of the Forty Thieves is named Kassim, after Ali Baba's doomed brother in the original story. On a related note, "Ali Ababwa", Aladdin's alias from the original film is Ali Baba's name with an extra "a" and "w" added in.
Tropes N-Z
Nice Job Fixing It, Villain: If Jafar had just swallowed his pride and actually treated Iago like somewhat of an equal after forcing him out of the Lamp instead of, well, ranting that Iago would have been stuck in the bazaar squacking "Polly Want A Cracker" had he not been involved, most of the movie would not have happened.
Not So Different: Aladdin and Cassim.
 Cassim: You don't understand. You don't know what it's like to have nothing, to stare up at the palace and know you deserve more, to be called 'street rat.'

Aladdin: Yes, I do.
 "Hello, and who are you?"

"I'm Thor."

"You're Thor?"

"Well it hurtth."
| | | |
| --- | --- | --- |
| |  Cassim: You killed Saluk. The Code of The Forty Thieves is crystal clear at this point... You're in. | |
Tropes used in the animated series:
Tropes A-G
| | | |
| --- | --- | --- |
| |  Iago: She's mean! She's beyond mean! She invented "mean"! | |
| | | |
| --- | --- | --- |
| |  Mirage: Chalk up another one for the forces of evil. | |
 Arabian Nights! Like Arabian Days!

More often than not

Are hotter than hot

In a lot of good ways!
Episode "Bad Moon Rising" has this gem:
| | | |
| --- | --- | --- |
| |  Genie: "And now for the ever-puzzling sawing a woman in half trick!" (proceeds to saw woman in half! Even if she is inside a box, as is tradition. Then he peeks at the result) "Yuh, let's pretend we didn't do that one." | |
Tropes H-M
| | | |
| --- | --- | --- |
| |  Mechanikles: People might ask, "Why put retractable bat wings on the head?" | |
Done for why Genie wears the golden wrist-bands that came off when Aladdin wished for his freedom:
| | | |
| --- | --- | --- |
| |  Genie: The only thing I'm a slave to is to fashion! | |
Tropes N-S
| | | |
| --- | --- | --- |
| |  Mozenrath: "I'll get him yet. I'm so close!" | |
Not to say that other villains doesn't get close to winning at times, like Mirage in Eye of the Beholder, or Mechanikles in I Never Mechanism I Didn't Like.

Neat Freak: Mechanikles, in one episode, he tries to steam clean the desert to turn the sand into glass.
Nice Hat: Abis Mal has some kind of obsession with hats, including the Sultan's hat and a magical scorpion helmet.

This may have something to do with his being bald, which he seems to have a complex about (he makes fairly frequent comments about Aladdin's hair).

Nice Job Breaking It, Hero: In "The Vapor Chase" a disguised Abis Mal sells Jasmine a bunch of powder he says is for heating but actually releases a sentient smoke monster that steals valuables when lit. Aladdin is suspiscious of the substance from the start and questions if it's safe, but as Jasmine admits later she was too stubborn to admit she might be wrong.
Nice Job Fixing It, Villain: Mirage, in "When Chaos Comes Calling".
Night of the Living Mooks: Mozenrath's mamluks.
No Celebrities Were Harmed: Amin Damoola's voice is loosely based on the Peter Sellers version of Inspector Clouseau, including his mangled pronunciation of the word 'monkey'.
No One Could Have Survived That: Stated word for word by the Genie towards Abis Maul and Mechanikles in "The Flawed Couple" but...
| | | |
| --- | --- | --- |
| |  Aladdin: If anyone could survive, it'd be those two snakes. (And they do) | |
Tropes T-Z
| | | |
| --- | --- | --- |
| |  Mozenrath: Getting in was the easy part. Your royal guards served as my escorts. | |
Tropes used in the 2019 live-action movie: