Hawkeye Is Here To Amaze - The Loop
Play Sound

YMMV

•

Radar

•

Quotes

• (

Funny

•

Heartwarming

•
Awesome

) •

Fridge

•

Characters

•

Fanfic Recs

•

Nightmare Fuel

•
Shout Out

•

Plot

•

Tear Jerker

•

Headscratchers

•
Trivia

•

WMG

•

Recap

•

Ho Yay

•

Image Links

•

Memes

•

Haiku

•

Laconic

•
Source

•

Setting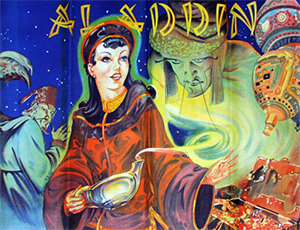 A tale of the Arabian Nights series and a Public Domain Character that has been adapted countless times, most recently popularised by the Disney version added to the Disney Animated Canon in 1992.
Like most folktales, "Aladdin" has undergone some major revisions, but the original story is as follows: Aladdin is a poor man from a Chinese city (Chinese In Name Only. The setting is completely Islamic). One day, an evil Maghreb sorcerer approaches him, claiming to be his father's brother. He gives Aladdin a ring and tricks him into entering a booby-trapped magic cave to retrieve a fancy oil lamp, but when Aladdin insists on getting out of the cave before handing over the lamp, the sorcerer flies into a rage and tosses him back down into the cave. Fortunately for Aladdin, the ring the sorcerer lent him is a Magic Ring that, when rubbed, releases a Djinni who brings him home, along with the lamp. When he gets home, Aladdin's mother starts cleaning the lamp, releasing a far more powerful Djinni who grants Aladdin his every wish.
Aladdin wishes for riches and an enormous palace, which win him the hand of the Emperor's daughter. However, the sorcerer learns of Aladdin's good fortune and plots to steal the lamp. He tricks Aladdin's wife into trading an old lamp for a new one and, not knowing about the power of the lamp, she does. The sorcerer then wishes for Aladdin's palace, along with his wife, to be moved to Maghreb.
Aladdin despairs, but all is not lost, because he still has that magic ring. While that Djinni can't simply undo the lamp Djinni's magic, he transports Aladdin to his palace where he frees his wife, rescues his castle, beats the bad guy, and gets his lamp back.
A version of the tale can be read here
---
Contains examples of: