Jurassic World: Dominion Dominates Fandom Wikis - The Loop
Play Sound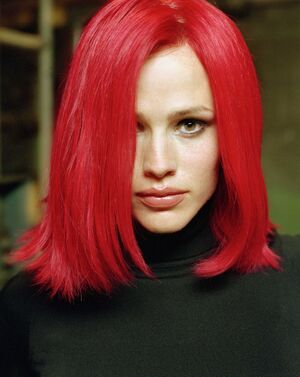 My name is Sydney Bristow. Seven years ago I was recruited by a secret branch of the CIA called SD-6. I was sworn to secrecy, but I couldn't keep it from my fiancé. And when the head of SD-6 found out, he had him killed. That's when I learned the truth: SD-6 is not part of the CIA. I've been working for the very people I thought I was fighting against.

—Sydney Bristow, opening narration
Enemy Agent: I have the antidote. However the briefcase is security coded with a secondary system wired to a remote detonator!



Jack Bristow:

As I expected.

—Alias, The Counteragent

Alias is a Cliché Storm / Troperiffic Spy Drama (2001-2006) by J.J. Abrams about Sydney Bristow (Jennifer Garner), an agent for SD-6, black-ops division of the CIA, who discovers that, whoops, it wasn't a black-ops division of the CIA so much as a faction of a powerful terrorist group called The Alliance; so she becomes a double agent. She then discovers her father, a supposed salesman, is also a double agent for the CIA. Sydney then has to divide her loyalties between a team of good men at SD-6 who simply don't know their boss is the devil, and a team of mostly good men and a few pricks at the real CIA.
Pretty much a show full of Trope Workshop:Impossible Mission episodes, with a twist — Sydney must perform her mission for the CIA, while appearing to be performing her mission for SD-6. There's also a large element of soap opera though, as she learns all kinds of secrets about her parents and their Mysterious Past.
Unusual for its willingness to embrace a fanciful Story Arc about a centuries-old prophecy. The first four seasons all featured a subtle, never explained Myth Arc about an Italian inventor with a penchant for odd drawings and fanciful words. Somehow this 15th century prophet is still relevant today. His designs have been implemented and his writings dissected. And apparently the global intelligence community has nothing better to do than go to war over every piece of technology he might have even glanced at.
Also notable for the fact that the show was ReTooled three separate times. Each time, character relationships and roles changed in fundamental ways.
One of the leaders in Wig, Dress, Accent.
Tropes used in Alias (TV series) include: