Jurassic World: Dominion Dominates Fandom Wikis - The Loop
Play Sound

YMMV •

Radar

•

Quotes

• (
Funny

•

Heartwarming

•

Awesome

) •
Fridge

•

Characters

•

Fanfic Recs

•

Nightmare Fuel •
Shout Out

•

Plot

•

Tear Jerker

•
Headscratchers

•
Trivia •

WMG

•

Recap

•
Ho Yay

•
Image Links

•

Memes

•

Haiku

•

Laconic

•
Source

•

Setting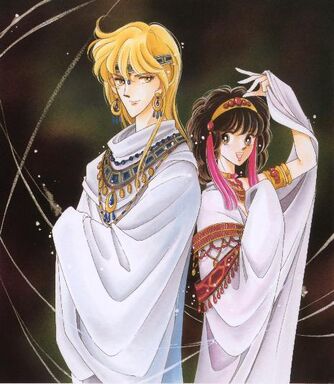 Anatolia Story (天は赤い河のほとり, Sora wa Akai Kawa no Hotori aka The Sky Is on the Banks of the Red River), also known as Red River, is a historical fantasy shōjo manga series by Chie Shinohara.
Anatolia Story is about a fifteen-year old Japanese girl named Yuri Suzuki, who is magically transported to Hattusa, the capital of the Hittite Empire in Anatolia around the year 1325BC.
Yuri was summoned by Queen Nakia who means to use her as a human sacrifice. This is because Yuri's blood is the key element needed in placing a curse upon the princes of the land so that they will perish, leaving Nakia's son Prince Juda as the sole heir to the throne. However, Yuri soon finds an ally in one of the princes that Nakia has targeted: Kail Mursili, the strongest and most beloved candidate for the Hattusan throne. Kail listens to her plea and, since Yuri is a key player in Nakia's plans and is quite cute, decides to make her pass as his concubine so they can see what to do and start fighting back against the evil Queen.
As the story progresses, Yuri not only repeatedly manages to escape Nakia's scheming, she also becomes revered as an incarnation of the goddess Ishtar, makes herself a place in this new world (plus she meet and befriends Juda, who's actually a sweet little boy who wants nothing to do with his mom's plans), and she and Kail properly fall in love.
Compare Oke no Monshou, in which a 15-year-old American girl named Carol Reed is thrown in Ancient Egypt.
---
Anatolia Story contains examples of: