Boba Fett Returns - The Loop
Play Sound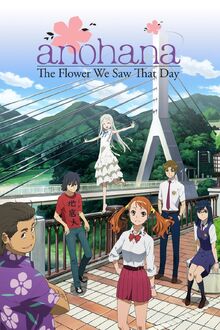 When someone close to you dies--be it a friend, a classmate, a significant other, or a family member--it strikes a chord. Things change. Close friends drift apart. Some move on, and some stay firmly rooted in the past.
Such is the case with Jinta "Jintan" Yadomi, a high school-aged Hikikomori. After the death of Meiko "Menma" Honma, Jintan and their four other friends--Naruko "Anaru" Anjo, Atsumu "Yukiatsu" Matsuyuki, Chiriko "Tsuruko" Tsurumi, and Tetsudo "Poppo" Hisakawa--begin to lose touch with each other and move on with their lives. Five years later, Menma's ghost pays him a visit, asking him to help her fulfill a wish. Just what that wish is, she doesn't completely remember, but getting the old gang back together is a start.
Ano Hi Mita Hana no Namae o Bokutachi wa Mada Shiranai. ("We Still Don't Know the Name of the Flower We Saw That Day."), also known as AnoHana for short, is a Spring 2011 Anime First series shown on NoitaminA and produced by A-1 Pictures. It has been licensed for North American release by NIS America in July 2012.
---
Ano-Hana provides examples of: