Cobra Kai Season 4 - The Loop
Play Sound

Quotes

•

Headscratchers

•

Playing With

•

Useful Notes

•

Analysis

•

Image Links •

Haiku

•

Laconic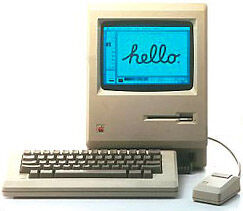 | | | |
| --- | --- | --- |
| |  *BONG!* "Welcome to Macintosh. | |

Traditionally, the Apple "Mac" Macintosh computer has been known for desktop publishing, Photoshop, audio and video editing, networking, and high prices, not gaming.[1] But despite this it has a gaming history, including a small number of original titles, most famously Myst and Marathon. Another ironic moment is that, due to being based on the popular Motorola 68000 CPU, widely used at the time in various video game platforms, the Mac had a long history as an authoring platform for console games in the eight-bit and 16-bit era.
The Mac was a revolutionary computer, with its Xerox Alto-inspired graphical user interface,[2] and Apple marketing executives were worried that it would be seen as a toy. So the only games developed for it prior to its release in January 1984 were a 600-byte Puzzle Game and a real-time board game by an Apple programmer that went intentionally underpromoted. After the launch, games were ported over from other systems, but there were only a few unique titles.
Several companies stepped forward to fill the gap. Silicon Beach's Enchanted Scepters and Dark Castle demonstrated the Mac's mouse-based input and multimedia capabilities, respectively. ICOM Simulations created the first fully mouse-driven Adventure Game in Deja Vu, followed by Shadowgate and two other "MacVentures". In the 1990s, Bungie gave Mac users a reason to be proud with Marathon and Myth. Halo would've been their next Mac title, but Microsoft bought them out and turned it into a launch title for the X Box. Other major developers included Ambrosia (Escape Velocity) and Casady & Greene (Crystal Quest, Glider). Still another Mac debut, Cyan's Hyper Card-based Myst, went on to reign as the all-time best-selling PC game for nearly a decade.
The Mac hardware went from the 68k CPU family to the PowerPC, and Mac OS went from Classic to X, but it remained a system of third-party ports from those who were willing. And as the "wintel" platform caught up with the Mac's technical sophistication, porting became more difficult and fewer were willing.
Things took a startling change in the mid-2000s. In 2006, the Mac went to the same 80x86 CPU as the IBM Personal Computer, even allowing it to run Windows without the need for an x86 emulator, and thus the vast majority of computer games (i.e. other than what was already available for Mac OS). This made porting easier, but still not a piece of cake; the Mac OS still uses different Application Programming Interfaces, such as OpenGL, in place of DirectX. It also used a different, more sophisticated BIOS called EFI in place of the outdated IBM PC BIOS that PCs were stuck with until Microsoft updated Windows Vista and 7. An upside of the transition was the sudden prominence of the Hackintosh, a standard PC running Mac OS X (versions 10.4 and up); though technically not allowed under Apple's EULA, Hackintoshing opens up a lot of flexibility that Apple doesn't offer on the low end, and there's even a book out there on how to do it.
Much like earlier 80x86 competitors to Windows such as Linux, native game ports have mostly died away as a result, replaced with the common CPU architecture's ability to use various types of emulation to run Windows games at a decent speed or simply reboot into Windows using the Boot Camp bootloader software. In particular, a commercial enhancement of Wine called Cider is bundled into most current Mac game "ports", so native Mac games have been reduced from those ported by third parties to those originally written by Multi Platform Mac developers, like Blizzard, id, and (in a recent surprise) Valve, bringing Steam to the Mac.
Named after the McIntosh apple, which you can find in the produce section of a grocery store near you. No relation to a Mac(kintosh) coat, Mac(aroni) and Cheese, a McDonald's Big Mac (though you won't believe how often this crops up in jokes in both fandom and hater circles alike), Big Macintosh, a blue dog named Mac, someone who has a blue imaginary friend or somebody on the street yelling "Hey, mac!" to you.
---
Specifications
"Old-World" Macs
Macs are generally classified into three eras: Old-World, New-World and Intel. Old-World Macs use the Toolbox BIOS, a proprietary BIOS only capable of loading Mac OS, and they had most of their graphical instructions stored in-BIOS. Later "Old-World" Macs are actually hybrids, they have both Open Firmware (albeit an early implementation) and Toolbox BIOS stored on ROM. The thing that sets these hybrids apart from New-World Macs is that while hybrids store both BIOS's on ROM, New-World Macs only store Open Firmware on ROM, but they are capable of loading the Toolbox off the hard disk into RAM and chainloading Toolbox from there.
Black & White Macs, 1984-90
The Macs of Dark Castle and the ICOM MacVentures.
Processors
CPU: Motorola 68000, 8 Mhz.
GPU: None. Somewhat ironic, but for all the graphical sophistication of its interface the Mac's entire graphical subsystem consisted of a simple DMA video controller, based on just two discrete logic chips, with all graphics drawn in software.
The machine's entire chipset fit into just 10 chips (6 programmable logic devices, two custom chips for the clock and floppy drive, an 8530 dual serial port and a 6522 VIA to handle interrupts), a tiny number in 1983 considering most desktop PCs were still being built out of discrete TTL chips (which required dozens of individual chips to do the same thing). Burrell Smith wanted to put the entire machine's guts into one big chip called the "Integrated Burrell Machine", but they couldn't get the chip debugged in time and had to fall back on Smith's original PLD-based design. Apple eventually got it working for the Macintosh SE and Classic, though.
Memory
128 KB for the original "thin" Mac, which almost killed the machine — the design team was really challenged to do anything with such a tiny amount, because graphical software required more memory than the old-fashioned character-based one, and applications' constant loading and unloading of the unused software pieces slowed the machine to a crawl, as it didn't have a HDD, just a 400K floppy!
The first major update of the system, the "fat" Mac, upped the memory amount to 512 KB. Later models increased it further, to 4 MB.
Display
Sound
Eight-bit mono PCM (software).
128K: 1.0-3.3
512K: 1.1-4.1
512Ke: 1.1-6.0.8
Plus: 1.1-7.5.5
Classic: 6.0.7-7.5.5
Color 68k Macs, 1987-94
The Macs of Myst and Marathon. This class also includes the oddball SE/30 and Macintosh Classic II, which were both Mac II-class machines (based on the Mac IIx and the LC II, respectively) that just happened to be in the classic "toaster" Mac's form factor.
CPU: Motorola 68020, 68030, or 68040, 16-40 Mhz.
GPU: Still 100% software; add-on boards with "QuickDraw accelerators" became available around 1990, but they were expensive and mainly intended for professional users.
Memory
Display
Up to 1152×870 resolution.
Up to 24-bit color.
The SE/30 and Classic II used the same 512x342 monochrome screen as the original Macs. However, there were add-ons for the SE/30 that made it just as capable as a full-size Mac II, and even made it possible to display grayscale video on the internal monitor.
Sound
Mac II: 2.0-7.5.5
Quadra: 7.1-8.1
Beige Power Macs, 1994-98
The machines that introduced the PowerPC CPU to the world. Also the era when the Mac adopted PC-originated technologies.
CPU: PowerPC 601, 603, 603e, 604, 604e, 604ev "Mach 5", or 750 (called "G3"), 60-366 MHz. The 603/604 series Power Macs are unofficially upgradable to G3 chips of up to 400 MHz using third party upgrade kits, while the G3 Power Macs are unofficially upgradable to G4 chips of up to 1.2 GHz using third party upgrade kits.
GPU: Either software-driven onboard video, Apple video cards, or PCI cards. Beige G3 Power Macs had onboard 3D acceleration and support for up to 1280x1024 thanks to an integrated ATI Rage II+, Rage Pro Or Rage Pro Turbo chipset, depending on motherboard revision.
Memory
8-384 MB, unofficially up to 1.5 GB.

The "PowerSurge" machines (the 7500-9500 and their follow-ons) used an oddball transitional memory standard, the "fast-page DIMM". These were available in sizes up to 128 MB; the 7500 and 8500 had 8 DIMM slots, and the 9500 has 12, making their maximum RAM 1 GB and 1.5 GB, respective—both huge numbers for consumer machines in 1995.
The Beige G3s switched from fast-page RAM to the then-new (but far easier to get) PC100 SDRAM. RAM modules must be double-sided or the computer will exhibit memory-related issues like not reporting all the RAM installed or randomly crashing on boot. All-in-one and Desktop models require low-profile RAM. Also, good luck hunting down three double-sided 512MB modules that work with the system to achieve 1.5GB of RAM, as not all of them work- why the other wiki states that the maximum most people settle with is 768MB of RAM, while Apple themselves states the limit at an extremely conservative 384MB.

The PowerSurge machines could handle up to 4 MB of Video RAM, using an on-board, Apple-designed frame buffer chip. The Beige G3 upgraded to an ATI Rage GPU, which came with 2MB onboard; another 4MB can be added via a SGRAM module.
All of these machines accept PCI video cards, though getting one working in a PowerSurge is tricky because of the old BIOS.
Display
640x480 with 16-bit color on internal video.
Up to 1152x870 with Apple video cards. 16-bit color with PDS card, 24-bit with AV card.[3]
Up to 1280x1024 and up to 24-bit color with PCI cards.
Beige G3s can achieve 1280x1024 at 24-bit color using the onboard video if a 4MB video SGRAM upgrade module is present.
Sound
601 models: 7.1.2 - 9.1
603/604: 7.5.3 - 9.1 (9.2.2 can be force-installed using third-party software); 604 models can run OS X up to 10.4.11 using third-party installation software.
G3: Classic 8.1 - 9.2.2, or OS X up to 10.2.8. Can run OS X up to 10.4.11 using third-party installation software, and up to 10.5.8 using third party software if an unofficial G4 upgrade card, enough RAM, and either a PCI graphics card with 3D acceleration or the 4MB SGRAM video memory expansion module is installed.

"New-World" Macs
Starting with the iMac, Macs have fully embraced the industry-standard Open Firmware BIOS instead of its homegrown Toolbox BIOS (while Open Firmware existed as early as the Power Mac era, the implementation on those is somewhat kludgey and they co-existed with the Toolbox BIOS on ROM). However, on early New-World Macs, it is possible to have Open Firmware load the Toolbox BIOS from the hard disk into RAM and chainload it, a technology known as ROM-in-RAM, and is actually necessary for running Mac OS 9 as a stopgap solution while Mac OS X was still being developed. This feature was removed from later G4 Macs and is absent from G5 Macs.
Translucent iMac
The iconic Mac of the Unreal / Quake era. Starting with its direct ancestor, the Power Mac G3 family, Apple dumped the homegrown chipsets of the Beige PCI era and went with a solution based around a Motorola "north bridge" and ATI GPUs; this saved money and actually increased performance.
CPU: PowerPC 7xx (called "G3" as the third-generation PowerPC,) 233-700 Mhz.
GPU: ATI Rage II/Pro/128.
Memory
32 MB to 1 GB.
2-16 MB video memory.
Display
Up to 1024×768 with built-in monitor, up to 1600×1200 on an external monitor.
Up to 24-bit color.
Sound
Classic OS 8 or 9.
OS X up to 10.3.9–10.4.11
"New World" Power Macs, 1999-2005
The Mac takes a big leap forward with OS X, and dumps all the remaining legacy Mac standards (and whatever legacy PC standard it also had), but remains in its own world with the PowerPC processor. G3 and early G4 models came in shells with aesthetics similar to iMacs in that they have a rounded, semitransparent shell, later G4s dropped the transparency altogether, and the G5 ditched the plastic casing for an aluminum body, which was brought forward to the Mac Pro era.
Processors
CPU: PowerPC 7xx ("G3"), 74xx ("G4"), or 970 ("G5"), 300 MHz-2.7 GHz.
GPU: PCI or AGP graphics cards: ATI Xclaim, Rage, or Radeon, or NVIDIA GeForce.
Memory
64 MB to 8 GB.
4-512 MB video memory.
Display
G3, early G4: Up to 1600×1200.
Later G4, G5: Single or dual link DVI, 1920×1200 or 2560×1600.
24-bit color.
Sound
Classic Mac OS 8.5-9.2.2
OS X up to 10.5.8

Intel Macs
Starting mid-2005, Apple ditched Motorola's Power architecture for Intel's x86/x86-64 after Motorola failed to deliver a G5 Power CPU that runs cool enough to be placed on a laptop. With this move, Apple also ditched Open Firmware in favor of Intel's revolutionary EFI BIOS (which is only recently started to be embraced by the PC world). The first few generations of these Macs are only 32-bit capable, while newer generations are fully x86-64 compatible (the latter being the necessary requirement to run Mac OS X Lion, thus the 32-bit machines are only capable of upgrading to Snow Leopard).
Present-Day Mac Mini
The modern bottom-end Mac.
Processors
CPU: Intel Sandy Bridge (Second Generation) Core i5, 2.3-2.5 GHz, or Sandy Bridge (Second Generation) Core i7, 2.0 GHz. The Core i5 2.5 GHz machine can be sized up to a Core i7 2.7 GHz CPU to the tune of an additional US$100 if buying from the Apple online store.
GPU: Intel HD Graphics 3000 (Graphics Memory scalable from 288MB to 512MB depending on system RAM) using shared memory on i5 2.3 and i7 2.0 Mac Minis, or ATI Radeon HD 6630M with dedicated 256MB for i5 2.5 and i7 2.7 Mac Minis.
Memory
2-8 GB, unofficially scalable up to 16GB. Graphics shared memory starts at 288MB at 2GB, scales to 512MB at 8GB on Intel HD Graphics 3000. The ATI Radeon HD 6630M models has 256MB of dedicated graphics memory.
Display
Single via either HDMI or DisplayPort, or dual link HDMI+DisplayPort. Can drive two monitors at 1920x1080 independently.
24-bit color.
Sound
24-bit 5.1 channel surround.
2010 Mac Pro
The latest top-of-the-line Macintosh, guaranteed to burn a hole in your pocket and your savings account, too.
Processors
CPU:[4]

Entry level: Single Intel Nehalem quad-core Xeon processor, 2.8 GHz per core
Top of the line: Twin Intel Westmere hexa-core Xeon processor, 2.93 GHz per core

GPU: ATI Radeon HD 5770 with 1GB GDDR5 Video RAM, a second card can be added if the need to drive more than two displays arises. However, multi-GPU processing (i.e. SLI/Crossfire) is not possible due to lack of driver support, even though the hardware theoretically supports it. Again, user upgradeable at the expense of warranty.
Memory
Entry level at 3GB DDR3-1333. Official maximum is 64GB, however it is unofficially upgradeable to 128GB. If the Mac Pro ships with CPUs running below 2.66 GHz, DDR3-1066 RAM is used instead.
Display
DVI and HDMI. One card can drive two displays.
Sound
24-bit 5.1 channel surround.
---
This computer (and its colorful history) exhibits the following Tropes
---
Games
Original Titles
AMBER: Journeys Beyond

Armor Alley

Asterax

At the Carnival

Balance Of Power

Citadel: Adventure of the Crystal Keep

The Colony

Cythera

The Fool's Errand

Harry The Handsome Executive

Hidden Agenda

Lunar Rescue

Minotaur: The Labyrinths of Crete
Odyssey: The Legend of Nemesis

Pararena

Prime Target

Realmz

Sensory Overload

Shufflepuck Café
Spelunx

Spin Doctor

Trust & Betrayal
Ports: Classic Mac OS (titles / franchises with installments also OS X-compatible marked with an asterisk)
Ports: Mac OS X (Intel-only titles marked with an asterisk)