YMMV

•
Radar

•
Quotes

• (
Funny

•
Heartwarming

•
Awesome

) •
Fridge

•
Characters

•
Fanfic Recs

•
Nightmare Fuel

•
Shout Out

•
Plot

•
Tear Jerker

•
Headscratchers

•

Trivia

•

WMG

•
Recap

•
Ho Yay

•
Image Links

•
Memes

•
Haiku

•

Laconic

•
Source

•

Setting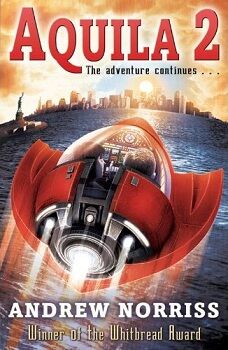 "Licat volare si super tergum aquila volat" Aquila's opening theme (Translation: "A man can fly where he will, if he rides on the back of an eagle.")
A children's TV show based off the book of the same name. Lasted from December, 1997 to December, 1998. A total 13 episodes in two seasons.
The show focuses on Tom Baxter (Ben Brooks) and Geoff Reynolds (Craig Vye), two school boys, who find a strange alien space ship, the titled Aquila, buried underground. Along with the craft they find the body of Roman Centurion who was the craft's previous owner. Upon discovery the boys fiddle around with the coloured controls which immediately respond so the boys think it's a great idea to steal the greatest scientific/historical discovery of all time for fun because, well who wouldn't?
At the start everything is in Latin (which the boys originally think is an alien language) and they need to hide a car-sized, bright red alien spaceship nearby. They later learn that they can change the language of the craft to English and it has a cloaking device so that's two problems solved. Naturally however the boys still managed to get into trouble every week with a cliff hanger at the end of each episode. The series ends with a massive cliff hanger where they find a "Battle Cruiser" on a visit to space.
---
Tropes used in Aquila include: