YMMV •

Radar

•

Quotes • (
Funny •

Heartwarming •

Awesome) •
Fridge

•

Characters •

Fanfic Recs

•

Nightmare Fuel

•
Shout Out

•

Plot

•

Tear Jerker •
Headscratchers •
Trivia

• WMG •

Recap

•
Ho Yay

•
Image Links

•

Memes

•

Haiku

• Laconic •
Source

•

Setting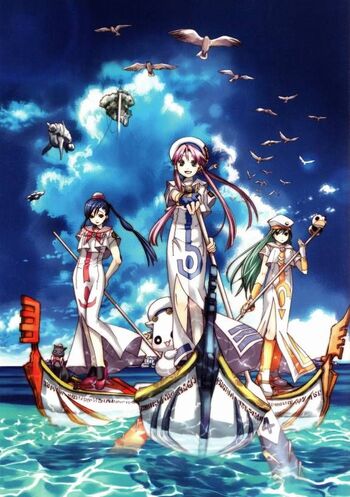 "If you get stuck in the memories of those times, you won't be able to appreciate all the fun that's happening right now. So don't be thinking "that time was fun", because you should be thinking "that time was also fun" ... Being able to find the fun that's happening right now, is the best way to enjoy the present.

—Alicia Florence

ARIA is a manga and anime series set in the 24th century, depicting the adventures of several young women who live on Aqua, the planet formerly known as Mars before it was terraformed into a water-covered paradise. They serve as gondolier tour-guides--or undines--in the city of Neo Venezia, which is an exact copy of Earth's Venice, canals and all.
The story focuses on Aria Company, the smallest gondolier tour business in the city with only two employees. It is run by Alicia Florence, who one day welcomes a new apprentice called Akari Mizunashi. Most of the plot deals with the relationship between the two girls and Akari's efforts to become a Prima, the highest rank of undine, signified by being allowed to steer a gondola without wearing gloves. Akari also befriends and trains with apprentice undines from other companies, who each get their own screen time as the series progresses.
Akari writes extensive letters describing her experiences to someone on Earth (is referred to as Manhome as a Shout-Out to the works of cult Speculative Fiction writer Cordwainer Smith). Eventually, however, it is revealed in the manga to be the readers of her blog , while in the anime it is Ai, a young girl who was a customer in the first episode.
The manga series is written by Amano Kozue and started out with the title Aqua, but was renamed Aria when the series switched publishers. Both were later adapted into an anime series with three parts, chronologically titled: The Animation, The Natural and The Origination, plus a stand-alone OVA called Arietta. The pacing is generally relaxed and easy-going, with lots of attention for the beautiful scenery of Aqua and Neo Venezia.
Most of the drama consists of friendly disputes between the various apprentice undines as they learn their trade. Akari also has a talent for surreal encounters, which pushes the story into a fantasy setting at times. The later seasons and the OVA have a tendency to become somewhat melancholic from time to time, but generally the tone of the show is light and warm.
For people who like lovely imagery of beautiful girls against a wondrous backdrop, this Slice of Life series is a nice change of pace from the action-filled and fanservicy fare of most other anime. For this reason (and others), it's often compared to another Slice-of-Life work, Yokohama Kaidashi Kikou.
---
Tropes:
↑ The Natural is explained by the director in a DVD extra: he'd felt constrained, the first season, with only 13 episodes to work with, but the second season was green-lighted for 26 episodes, which let him develop the characters more "naturally."