Wiki Targeted (Entertainment)
Play Sound

YMMV •

Radar

•

Quotes

• (

Funny

•

Heartwarming

•
Awesome

) •

Fridge

•

Characters

•

Fanfic Recs

•

Nightmare Fuel

•
Shout Out

•

Plot

•

Tear Jerker

•

Headscratchers

•
Trivia

•

WMG

•

Recap

•

Ho Yay

•

Image Links

•

Memes

•

Haiku

•

Laconic

•
Source

•

Setting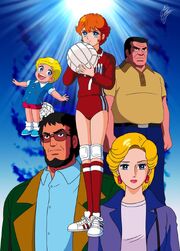 Attacker You! (アタッカーYOU! Atakkā Yū!) is a 1984 Japanese manga series by Jun Makimura and Shizuo Koizumi, published by Kodansha. It originally ran in Nakayoshi from 1985 to 1985, and had 2 volumes.
An anime series, consisting of 58 episodes of 24 minutes each, was produced by Knack Productions and broadcast by TV Tokyo from April 13, 1984 to June 21, 1985. The DVD version was released in Japan on August 20, 2004. While the Japanese considered the series merely So Okay It's Average, especially compared to a classic like Attack N°1, the Europeans absolutely fell in love with it - especially Italians, Spaniards, French, Portuguese and Poles.  
The story is about You Hazuki, a headstrong girl who lives in the Japanese countryside with her grandparents. Her father Toshihiko is a very busy and famous photographer and cameraman so he's been travelling abroads for a long time, and her mother is not really accounted for. And if there's something she's very passionate and dedicated to, is her favorite sport -- volleyball. Even when her father disappoves both of it and of her fangirling of the former volleyball star, now sports commenter Kanako Tajima... 
Suddenly, You has to move to Tokyo so she can live with her dad - and in the anime, with her new adoptive brother, a little boy named Sunny who hails from Peru. Her life becomes even more chaotic when she joins Hikawa Junior High and its volleyball team, led by the Alpha Bitch Nami Hayase and the sadistic instructor Matsugoro Daimon. And then You not only has a hard time fitting in the team itself at first, but also gets a crush on the same guy Nami loves: the handsome, kind volleyball player Shou Takiki.
But You is not giving up, nope. She's really fucking stubborn and confident, and she'll keep going on no matter what. She gets close to Shou, more or less manages to befriend Nami, and also becomes pals with an ace attacker called Eri Takigawa. The three girls decide to keep going on and become stronger, so they can become the strongest players in Japan.
There's also a Chinese-Japanese sequel named New Attacker You (続・アタッカーYOU 金メダルへの道 Zoku atakkā YOU- kin medaru e no michi), made in 2008 and distributed on DVD.  It takes place in China rather than Japan and has a You who almost had to give up on her career due to injuries, but who's called by Nami and Sho to help save a Chinese team named the Dragon Ladies that is about to be disbanded...
Tropes used in Attacker You! include: