Obi-Wan Finale - The Loop
Play Sound

YMMV •

Radar

•

Quotes

• (
Funny •

Heartwarming •

Awesome) •
Fridge •

Characters •

Fanfic Recs •

Nightmare Fuel

•
Shout Out

•

Plot

•

Tear Jerker •
Headscratchers •
Trivia • WMG •

Recap

•
Ho Yay

•
Image Links

•

Memes

•

Haiku

•

Laconic

•
Source

•

Setting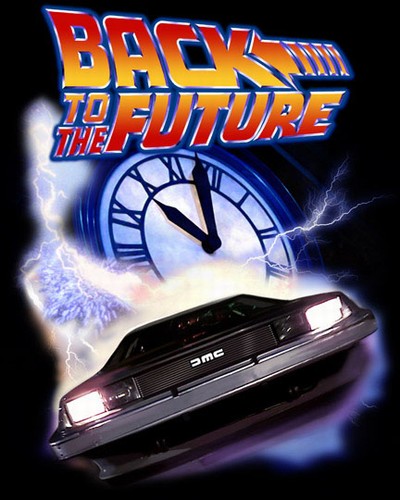 Marty McFly: "Are you telling me you built a time machine... out of a DeLorean?!"

Doc Brown: "The way I see it, if you're gonna build a time machine into a car, why not do it with some style?"

An extraordinarily successful 1980s trilogy of Time Travel Movies starring Michael J. Fox and Christopher Lloyd (with an animated Spin-Off series) which has received several homages. They combined Fish Out of Water comedy with high-stakes drama, making deft use of threatened Temporal Paradox.
In Back to the Future, Marty McFly, a teenager from 1985, accidentally sends himself to 1955 in the time machine Doc Brown built out of a DeLorean. To return home, he needs 1.21 gigawatts of power. Conveniently, a bolt of Lightning Can Do Anything has at least that much power. After initial confusion, the 1955 Doc Brown agrees to help Marty, but they soon discover another complication. Marty has inadvertently stopped his parents from marrying. Now, he has just one week to put history back on track before he and his siblings are erased from existence. He manages it, and in the process invents rock 'n' roll and skateboarding.
In Back to the Future Part II, Doc Brown takes Marty to 2015, a glittering wonderland of flying cars and 100% accurate weather forecasting (possibly via weather control), where Marty impersonates his son to keep him out of trouble. While Marty and the Doc are busy, an elderly Biff Tannen discovers the DeLorean, and uses it to go back to 1955 and give his youthful self a sports almanac with results of major games up to the year 2000. When Marty and Doc Brown return to 1985, they find it transformed into a Dystopia, ruled by a Corrupt Corporate Executive—Biff Tannen, who grew rich with the aid of the almanac. Now Marty has to return to the same 1955 school dance where he saved his parents' marriage, and Set Right What Once Went Wrong, without being seen by his past self or his parents. At the end, Doc is sent back to 1885 when a bolt of lightning, from the storm that sent Marty home in the first film, hits the DeLorean and accidentally catapults it back in time, stranding Marty in 1955... until he receives a letter by Western Union, from Doc Brown, explaining his situation after the DeLorean disappeared.
In Back to the Future Part III, Marty and the 1955 Doc exhume the DeLorean, mothballed by the 1885 Doc Brown in a closed mine. To their horror, Marty discovers 1885's Doc Brown's tombstone, learning that he was shot by Buford "Mad Dog" Tannen, Biff's ancestor. Originally told to go to his proper time and let him be, Marty instead goes back to 1885 to rescue his friend, but the fuel line is damaged in the trip. Since the DeLorean can't time travel unless it's accelerated to 88 mph, both Marty and the Doc are now trapped in 1885 (high-octane gasoline being hard to come by in those days). They only have a few days to find a way to go back to the future, before Doc Brown's appointment with death - but things get complicated when Doc Brown accidentally saves and almost immediately falls in love with school teacher Clara Clayton who was supposed to have fallen into the ravine, going against his stance on not changing history, and Marty finds himself facing a showdown with Tannen.
All three films share many running gags; similar scenes occurring in each of the time periods. These films solidified the career of Robert Zemeckis, who has gone on to make other classic films like Who Framed Roger Rabbit?, Forrest Gump, Contact and the CG films The Polar Express, Beowulf and A Christmas Carol.
An Animated Adaptation, Back to The Future The Animated Series, followed, in which Marty and Doc, along with Doc's now-wife Clara and their kids Jules and Verne, met identical Tannens and McFlys in many other time periods. Universal Studios also hosted a motion simulator ride for many years, where the guests play Doc's volunteers testing out his eight-seat DeLorean, who have to track down another time machine stolen by 1955 Biff. It has since been replaced by The Simpsons Ride, which features a cameo from Doc Brown as an act of courtesy. A cinematic rerelease happened in 2010 to celebrate the 25th anniversary, along with several spinoff products.
In June 2010, Universal and Telltale Games announced plans to develop an episodic Back to The Future Point and Click Game; the fandom rejoiced at the news that Bob Gale and Christopher Lloyd would be involved. The first episode, which begins a new chapter in the Back to the Future series, was released on PC and Mac in December 2010 to solid reviews, and subsequent episodes have been equally well received. Its plot revolves around working with a teenaged Emmett Brown to save Doc from Prohibition-era Hill Valley and how Marty's efforts accidentally create a new timeline.
A card game has also been produced by Looney Labs; essentially a slightly-simplified version of their Chrononauts time-travel card game, the players are alternate-timeline descendants of various characters from the movies, who need to change time to make 'their' universes the real one, before stopping Doc from inventing time travel in the first place and thus preventing anyone changing history again. Yes, you need to use time travel to stop time travel from being discovered. Roll with it. Adding to the confusion is that Verne Brown, who exists because of time travel, is a playable character.
Series-wide Tropes
Actor Allusion: It's funny that this isn't thought about concerning Marty, since Michael J. Fox technically time traveled six months before the first film was released.
Alliterative Name: Marty McFly, Clara Clayton, Marty McFly Jr., Marlene McFly, Maggie McFly, S. S. Strickland.
All Just a Dream: Subverted once in all three films. In each one Marty gets knocked out and comes to in a dark room being nursed to health by a woman he thinks is the mother he knows, believing his recent hardships were a nightmare. The woman inevitably reassures him in a way that tells Marty (and the audience) that it actually wasn't a dream.

Subverted in the opening of the first game, where it actually was a dream.

All There in the Script: The names of the goons from Biff and Griff's gangs, as well as Lorraine's friends.

As well as other info of the characters' backgrounds. Including Doc's mother's side of the family growing up in Hill Valley.

Almost Kiss: This happens three times in Part I, between Marty and Jennifer (though they did share a brief kiss before she went home with her dad). Towards the end of Part III, the two are finally able to kiss more definitively.
Aluminum Christmas Trees: The Delorean. Expected to be the next great car line in 1985, it soon proved a dismal failure, and it's now entirely thanks to this series that anyone remembers it.
Applied Phlebotinum: The flux capacitor makes time travel possible. Never mind figuring out how, it just does.
Artistic License Nuclear Physics: You can't run a fission reactor on pure plutonium.

You also can't run a fusion reactor on garbage (well, maybe on organic matter and/or water if you have a way to extract the hydrogen, but Doc threw a metal can in there too). It's a good thing that "Mr. Fusion" is just a brand name, and a play on "Mr. Coffee."
Although, he does pour Miller in there as well.

As Long as It Sounds Foreign: The Libyan terrorists in the first film speak vaguely Arabic-sounding gibberish. In the second film, future-Marty works for a "Mr. Fujitsu"; "Fujitsu" is the name of a Japanese company, but it's short for "Fuji Telecommunications Equipment Manufacturing",[1] not a surname.
Berserk Button: "Nobody... calls me chicken."

The variation in Part III, where he said "nobody calls me yellow."
Also, do not call Buford Tannen "Mad Dog." Just don't.
| | | |
| --- | --- | --- |
| |  "Mad Dog?! I hate that name! I hate it, you hear?! NOBODY calls me Mad Dog! 'Specially not some duded-up, egg-suckin' GUTTERTRASH!" | |
 Marty: "That's right, Doc. November 12, 1955."

Doc: "Unbelievable that old Biff could have chosen that particular date. It could mean that that point in time inherently contains some sort of cosmic significance. Almost as if it were the temporal junction point for the entire space-time continuum! On the other hand, it could just be an amazing coincidence."
Old Biff's choice of date might be justified in the fact that it was, in theory, the day everything fell apart for him due to getting owned by the school dweeb. Considering Biff's actions in 1985-A towards George and Lorraine, Biff might have been obsessing about that date for a good long while.

Actually, there is a deleted scene where in 2015, Terry (the auto mechanic who cleaned out the manure from 1955) explicitly mentions the date 11/12/55 in front of Biff. The commentary indicates this was to be the explanation behind the coincidence, but got left out due to time constraints.

Cool Car: The DeLorean. Anyone who grew up in The Eighties and enjoyed the BTTF movies will invariably hold a sort of unrequited love for them, even though in their unmodified form they're underpowered and don't handle too well. (Arguably, that's part of the joke—getting a real DeLorean up to 88 miles per hour is about as likely as getting it to travel through time.)

The Alleged Car: The films don't hide the fact that despite the cool looks the DMC-12 was a troublesome car which broke frequently.
Other examples: Biff's '46 Ford Super DeLuxe convertible, Marty's tricked-out 1985 Toyota 4x4, and Doc Brown's 1948 Packard Victoria convertible.

Cool Old Guy: Doc Brown.
Cool Shades: Doc's steel glasses at the end of Part I/start of Part II.
Cool Train: The Time-Travelling Hover-Train at the end of Part III. Currently provides the picture for that page, even!
Cue the Rain: It starts raining soon after

lightning strikes the time machine and Marty is left stranded in the past again

. Justified, of course, in that this is the same storm that played a role in sending Marty back to the future in the first film, and there were all sorts of signs of a storm brewing the whole time anyway.
The Cutie Remark: Part II, which shows an alternate timeline where Biff Tannen took over Hill Valley, provides the trope image.  
Deadpan Snarker: Marty. Doc can be it as well, but not on Marty's levels.
David Versus Goliath: George vs. Biff in the school parking lot. Or, alternatively, Marty vs. Biff and his assorted relatives.
Date Rape Averted: Invoked. Doubly subverted in Part I.
Dawson Casting: Marty, Lorraine, George, Biff, Jennifer, etc. Makes some sense in Lorraine, George, and Biff's cases, since in the first movie they had to play both their teenage selves and their adult selves.

Initially, not so much the case with Jennifer, who was played by 19-year old Claudia Wells in the first film, but then played by 26-year old Elizabeth Shue in the Sequels and that wig she wore to make her resemble Lea Thompson made her look every bit her age.
Also Doc, to stretch the trope a little. They had him get plastic surgery in the future for II so they could stop giving him wrinkle makeup. Doc's a weird case, as Christoper Lloyd was both older than his 1955 self and younger than his 1985 self in the movie.

Delayed Ripple Effect: Marty fading out of existence. Later echoed by 2015!Biff (in a deleted scene) and Doc in the Telltale game.
Deliberate Values Dissonance: In Part I, "A colored mayor? That'll be the day..."; and in Part III, "What's that writing? Nee-Kay? What is that? Some sorta injun talk or somethin'?"

Also "Tannen bragged that he killed 12 men, not counting Indians or Chinamen."

Diner Brawl: At least as far as Part I and II are concerned, every time a McFly (or two) goes to the local diner, a Tannen is sure to be there with his cronies to cause grief along for the victim.

Part III also invokes the trope, though in a bar instead of a diner, as evident when Buford walks into the bar and mistakes Marty for Seamus.

Double Vision: Used frequently and well.
Dramatic Irony: Due to the time-travel heavy plot, we get a lot of this. One notable example from Part II: In alternate 1985, it is established that Lorraine ends up marrying the obscenely rich Biff. Then in 1955, when Biff torments Lorraine, she responds that she wouldn't marry him even if he had a million dollars.
Einstein Hair: Doc. And in a way, Einstein the dog...
Everyone Went to School Together: George, Lorraine and Biff. Justified by Hill Valley being a small enough town for this to be likely.
Everything Trying to Kill You: Video games bases on the series feature enemies that are often out of place.
Everytown, America: Hill Valley.
Evil Is Petty: The Tannens and their gangs will bully anyone whenever they want.
Executive Meddling: Basically, this is the whole reason why the sequels exist in the first place - but Sid Sheinberg had insisted on certain changes to be made in the first movie.

One of Sid Sheinberg's changes, from "Professor Brown" to "Doc Brown" has become integral in Back to The Future culture. (Just how much so is suggested by Michael J. Fox's repeated bloopers in filming The Frighteners: he called the Judge character "Doc".)
Cost considerations forced a complete change in the tactic to return to 1985 in Part I, from powered by a nuclear test explosion to powered by the lightning bolt. By all accounts, it was a major improvement.

Fake American: Marty McFly—Michael J. Fox is actually Canadian.
Fake Shemp: George McFly in the sequels. Any shot of him is either a lookalike (faraway, or upside-down) or stock footage from the first film.
False Start: George with Lorraine in 1955.
Fish Out of Temporal Water: Marty, everywhen but 1985.

In a way, he was also one of these in (the alternate) 1985!

Flashback with the Other Darrin: The ending scene of Part I is also the opening scene of Part II. Since Elisabeth Shue had replaced Claudia Wells as Jennifer, the scene was refilmed for the sequel. The re-shot version is nearly identical, with the only difference being that Doc Brown now hesitates momentarily before responding to Marty asking whether he and Jennifer end up as "assholes". You'll notice that they didn't even bother to match Shue's hairstyle with Wells'. Sure, most people didn't notice at first because of the four-year lag in Real Life, but if you watch the two films back to back it can be pretty jarring.

Crispin Glover also didn't return, so in all refilmed 1955 scenes in Part II, George is always seen from behind (except one shot of recycled footage viewed through Marty's binoculars).
The Spear Carrier couple ("Who is that guy?" "That's George McFly...") also get replaced in Part II's 1955 scenes, as do most of the other 1955 extras.
Speaking of 1955 extras, the character Lester ("I think he took his wallet") was played by an unnamed extra in Part I, who could be seen crouching over Biff. Obviously, as Lester became a marginally Ascended Extra thanks to Marty's interference in Part II, he was Other Darrin'd for the sequel.

Fly At the Camera Ending: The first Back to The Future ends with the DeLorean flying up in the air, turning around, then warping through time just as it hits the camera.

The third movie ends the same way, except with the train in the place of the DeLorean.

Foreshadowing: And plenty of it.
Future Loser: Everyone at one point, notably Biff and Marty.
 Marty: "This is heavy!"

Doc: "Weight has nothing to do with it!"
Then, in the actual future and to the writer's credit, the audience could get the meanings of most of them:
 "What's the matter, McFly? You got no scrote?"

"Hey McFly, you bojo, those boards don't work on water!"

"Hilldale, nothing but a breeding ground for tranks, lobos, and zipheads."

"Don't drive tranq'd, low-res scuzzball!"
Gang of Bullies: Biff, his ancestors, and his successors lead a small group of thugs.
Generation Xerox: Many examples.
GASP: Doc Brown. Doubles as an Actor Allusion for Christopher Lloyd who has done it in several other movies.
Hair Today, Gone Tomorrow: Subverted in Part I, double subverted in Part III.
Hero Stole My Skateboard: ...or hoverboard. At least Marty gives them back afterwards.

"Keep it. I got a Pit Bull now!"

Hey, It's That Place!: Courthouse Square, on the Universal Backlot, has been in dozens of productions.
Hidden Depths: A recurring theme.

Part I gives us George, who starts out as a nerdy loser. Marty is surprised to find that George was very creative as a teenager, and EVERYONE is shocked that George has it in him to stand up to Biff.
Played straight in Part III, where we find that the eccentric Doc Brown is quite charming when around his love interest, and is a pretty good dancer to boot. Lampshaded by Marty:
| | | |
| --- | --- | --- |
| |  Marty: The Doc can dance?? | |
| | | |
| --- | --- | --- |
| |  Old Man Peabody: "Take that, you mutated son of a bitch!" | |
Another exception: In Part III, the ravine the train is supposed to cross over is originally called "Shonash Ravine" but was supposedly called "Clayton Ravine" after Clara fell in it (which Marty and Doc stopped from happening). After the train crashes into the ravine and Marty goes home at the end, the DeLorean rolls along the tracks and past a sign that says "Eastwood Ravine." Marty was going by Clint Eastwood in 1885, so "Clint Eastwood" fell into the ravine instead. This is supported: in the Telltale game, if Marty looks at Edna Strickland's newspapers enough, he finds a headline: "Clint Eastwood plunges to death on runaway train."

In the Blood: The Tannens.
Intergenerational Friendship: Marty and Doc.

Word of God explains that the friendship started when Marty was around 13–14 years old. After being told for years that Doc Brown was a dangerous, crackpot, lunatic, he snuck into Doc's lab to see for himself and instead was fascinated by what he saw in there and thought Doc's inventions were cool. Doc found him and was happy Marty thought he was "cool and accepted him for what he was". Doc then gave Marty a part-time job helping out with experiments, helping in the lab, and feeding Einstein. Read for yourself here.

It Will Never Catch On: Amongst other examples: "Ronald Reagan? The actor?" in Part I; "Clint Eastwood? What kinda stupid name is that for a cowboy?" in Part III.

Part III: "Run for fun? What the hell kinda fun is that?"

It Runs on Nonsensoleum: It's never really explained how the Mr. Fusion device Doc adds to the DeLorean from 2015 is able to generate the requisite 1.21 gigawatts of energy - not to mention undergo nuclear fusion - using an aluminum can and some other bits of garbage.
Jerkass/JerkJock: Biff Tannen, as well as his whole family line.
Just Eat Gilligan: A lot of complex plots and quick thinking have to be used; the simple solution cannot because it might cause a Temporal Paradox, although eventually both Marty and Doc choose Screw the Rules, I'm Doing What's Right instead. Part of the adventure is the lengths the characters have to go to in order to preserve the timeline(s).
The Key Is Behind the Lock: Marty gets locked in a car trunk, along with the keys to the trunk.
Lady Drunk: Lorraine, at the start of the first film and during the 1985-A scenes of the second film.

Also in episode 3 of the Telltale game.

Large Ham: Christopher Lloyd in spades.

Most versions of Biff to a certain degree, but none moreso than his future offspring Griff.

The Law of Conservation of Detail: The first twenty minutes or so of Part I, as well as 2015 McFly house portion of Part II.
A Little Something We Call "Rock and Roll": The Johnny B. Goode scene in Parts I and II.
Look Behind You!: Works on most Tannens, although Griff's got some really neat cybernetic implants. He almost seems a bit surprised when he looks back and finds that his hand's caught Marty's fist.
Mad Scientist: Emmett Brown is the poster child for this trope, but only when he's inventing or planning; because of great writing it's just one facet of his character. He can also be quite lucid and/or calm.
Malaproper: Biff Tannen: "Make like a tree and get out of here!"

Lampshaded by, none other than the Biff Tannen from 2015: "You sound like a damn fool when you say it wrong!"
In the now-closed theme park ride, 1955 Biff uses marbles to trip up the security staff coming after him and gleefully quips "Have a nice trip, see you next winter!" As he runs off, one of the fallen men says "It's 'see you next fall'!"
Biff thinks pointing out his malapropisms is about as funny as a screen door on a battleship!
Buford Tannen in Part III is also prone to this:
 Buford: (to Marty) "Eight o'clock Monday, runt. If you ain't here, I'll hunt you and shoot you down like a duck."

Gang Member: "It's dog, Buford. Shoot him down like a dog."
| | | |
| --- | --- | --- |
| |  "I think he took his wallet!" | |
Don't forget Red the Bum, who calls Marty a "crazy drunk driver" towards the end of Part I, and a "crazy drunk pedestrian" in the alternate 1985 in Part II.

Stable Time Loop: Interestingly, according to Word of God, as a general rule of thumb, the past is never 'already altered' (hence the inclusion of You Already Changed the Past below). So officially, if it seems like a time traveler has become the cause of something that already existed, he has merely replaced that cause, possibly using information gained from the result of a cause that now never happened. So originally, Clint Eastwood and Chuck Berry were truly original, Goldie came up with the idea to run for mayor himself, there wasn't a strange sequence of events at the 1955 school dance (let alone two), and Doc Brown was killed by Libyans. Then Marty happened.
Stealth Joke: A stock De Lorean DMC-12 only got about 130 horsepower. It would go 0-60 in about a day and a half. That, of course, is before you dump a fusion reactor in the back seat, with the requisite lead shielding to keep everyone inside from dying of a radiation overdose, easily doubling the weight of the car. So the notion that the car ever got up to 88 is hilarious.
Stock Sound Effects: BTTF loves Castle Thunder, especially in the first two installments. It appears literally dozens of times, mixed in different ways, during the big Clock Tower Finale.
Take That: Biff Tannen and the Tannen family are named after then-Universal Studios executive Ned Tanen, who gave the Bobs a hard time during the making of their previous movie I Wanna Hold Your Hand.
Technicolor Science: The lightning bolt.
Techno Babble: Lampshaded. "English, Doc!"
Temporal Paradox: Perhaps the most tropeworthy ontological example is how there are four DeLoreans present in Hill Valley on November 12, 1955 - the one that Marty traveled back in time with in Part I, the one 2015 Biff traveled back in time with in Part II, the one Marty and Doc traveled back with also in Part II, and the one taking The Slow Path sealed up in the mine shaft shown in Part III.

Averted in that each time the DeLorean makes a trip through time, a new timeline is created, one whose primary difference begins with the appearance of the car itself. This perfectly preserves the Law of Conservation of Matter. Calculating all the trips made in the entire series, there are about nine timelines, with Doc and Marty occupying the ninth one by the third film's end.
The old Biff of 2015 was going back in time to 1955 and changed the history, however when he went to the future from 1955 to 2015 he is still in the normal 2015. He should have landed in a 2015 that is controlled by himself, while Marty and Brown should have been stuck in the normal 2015.

That Was Not a Dream: "Mom? Mom, is that you?"
Theme Naming: Doc's dogs are named after famous scientists.
Theme Tune Cameo: "The Power of Love" in all three movies.
Time Travel (of course)
Time Travel for Fun and Profit: Doc is the former, Marty and Biff seem to be the latter.

Though Marty quickly gives up on the latter after Doc catches him red-handed and sermonizes him.

Title Drop (quite frequently)
Two-Part Trilogy: Marty's "chicken" problem was added for the sequels, as well as nemesis Douglas "Flea" Needles.

Justified in that the second and third part were originally intended to be a single movie, titled Paradox.

Unfamiliar Ceiling: In every film, Marty wakes up with his mother (or great grandmother) ministering to him.
Vague Age: Doc's age in 1955 and 1985 is never mentioned in the films. The novel places him at 35 and 65 (born 1920), but the animated series suggests a 1922 birthdate.

The Game shows Doc as a teenager around Marty's age in 1931. Assuming he was actually 17, that would mean he was born in 1914, making him 41 in 1955, 71 in 1985, possibly 72 when Marty catches up to him in Part III (he spent several months living in 1885), in his early 80s by the end of Part III (to give his children time to grow up) and mid-to-late 80s in the game (he mentions at least one of his sons is a teenager). Officer Parker also mentions that he let an "80-year-old suspect" get away.

Of course, he also got himself some surgery in the future that made him 20 or so years younger, physically.

Villain Decay: Actually invoked with Biff. In the first film, he goes from being George McFly's bullying co-worker to the family's submissive mechanic, all because of George's punch in the 1950s. He Got Worse in the sequel but went back to being subservient by the end of the third movie.
Part I
| | | |
| --- | --- | --- |
| |  Marty: "Time circuits, on. Flux capacitor....fluxing." | |
| | | |
| --- | --- | --- |
| |  1955!Doc: "Suddenly the future's looking a whole lot better!" | |
 Strickland: "No McFly has ever amounted to anything in the history of Hill Valley!"

Marty: "Yeah, well, history is about to change."
Lorraine says to her children at the dinner the following, all of which she ends up doing to "Calvin Klein":
| | | |
| --- | --- | --- |
| |  Audition Judge: "Hold it, fellas. I'm afraid you're just too darn loud." | |
| | | |
| --- | --- | --- |
| |  Biff: "You want it, you know you want it, and you know you want me to give it to you." | |
During the scene where Marty and George are going over the plan of how they're going to get George with Lorraine we have this exchange while George is doing his family's laundry:
 Marty: "Because George *voice begins to stutter* Nice girls get angry when not nice guys take advantage of them."

George: Hoh! You mean you're going to touch her on her- *holding a bra in his hand*
 Marty: "What if I go back to the future and I end up bein' — gay?"

Doc: "Why shouldn't you be happy?"
| | | |
| --- | --- | --- |
| |  Lorraine: "I don't know what it is, but when I kiss you, it's like I'm kissing my brother." | |
| | | |
| --- | --- | --- |
| |  Doc: "If my calculations are correct, when this baby hits eighty-eight miles per hour...you're gonna see some serious shit." | |
Part II
| | | |
| --- | --- | --- |
| |  Lorraine-A: "You were the one who wanted me to get these, these.....things!" | |
| | | |
| --- | --- | --- |
| |  From the Actual DVD Commentary: "No, kids, that's not CPR." | |
| | | |
| --- | --- | --- |
| | | |
 Doc: "Something inconspicuous!"

Cut to Marty wearing a not-so-inconspicuous leather jacket, hat, and shades.
| | | |
| --- | --- | --- |
| |  Biff: "I OWN the police!" | |
 Marty: "Let's land on him, we'll cripple his car."

Doc: "Marty, he's in a '46 Ford; we're in a DeLorean. He'd rip through us like we were tinfoil."
Absolutely Truth in Television: DeLoreans feature a fiberglass body overlaid with relatively thin sheet metal (which would sometimes crack during manufacturing). Some of the crash tests show an unbelievable amount of crumpling when hitting a solid wall, so the Doc is quite accurate with his observation.
Cars were generally made a lot more durable before the modern safety systems like automatic brakes and air bags were invented. Nowadays cars are designed to crumple on impact to absorb some of the kinetic energy and rely on the bags to protect the passengers, when back in the 1950's they tried to simply endure such hits.

It would be more accurate to credit the reduction in brute strength in car bodies to computerized engineering aids, that allow the designers to accurately simulate the loads any given piece will experience. Before widespread computer use in design, rough estimates with extremely generous margins (on the order of 200-300%) were used. The notion that a car should try to absorb an impact to protect its passengers, rather than survive as intact as possible (with mixed results) also didn't exist when the '46 was built.
 Doc: (after Marty realises that he's responsible for Biff's actions) "Well, it's all in the past."

Marty: "You mean the future."

Doc: "Whatever!"
There's another one, in the middle of the movie:
| | | |
| --- | --- | --- |
| |  "While we were in the future, Biff got the sports book, stole the time machine, went back in time and gave the book to himself at some point in the past." | |
 1955!Doc: "No! It can't be; I just sent you back to the future!"

Marty: "No, I know; you did send me back to the future. But I'm back - I'm back from the future."

1955!Doc: "Great Scott!" (faint)
Part III
 Train Engineer: "Is this a hold-up?"

Doc: "It's a science experiment!"
For Want of a Nail: A non-standard example for a time-travel story; the fuel line being punctured by rough terrain leads to the complex plot of getting the DeLorean up to time-travel velocity. One would think that packing an extra can of gasoline for a trip to pre-petroleum times would be a no-brainer, but 1955 Doc is not as Genre Savvy about time travel as his 1985 counterpart.

The Doc didn't intend to go to 1885; he was in the DeLorean when it was struck by lightning and sent him back.
People do get confused into thinking it was the Indians because Marty pulls an arrow out of the bodywork immediately before noticing the dripping fuel under the car.

Funny Background Event: When Doc and Clara return in the time machine train, Doc in the foreground tells Marty and Jennifer to make their future a good one. In the background, for whatever reason, the child playing Verne points to his crotch. It's been hypothesized that the child actor was trying to signal to someone (possibly director Zemeckis) that he needed to pee.

Marty complains that Clint Eastwood never wore such a ridiculous getup, and Doc doesn't know who that is. They have this conversation in front of a drive-in theater, with a poster for Revenge of the Creature, Eastwood's first film.

Gilligan Cut: "We may have to blast!" BOOM!

This little gem from trying to find where to get the car up to 88
| | | |
| --- | --- | --- |
| |   Marty: There is no bridge." | |
Cut to them standing at the unfinished bridge.
| | | |
| --- | --- | --- |
| |   Marty: "Well Doc, we can scratch that idea." | |
 Marty: "Hey, Doc! Where you goin' now? Back to the future?"

Doc: "Nope. Already been there."
| | | |
| --- | --- | --- |
| |  Doc: "It's a science experiment!" | |
| | | |
| --- | --- | --- |
| |  Doc: "I could have ended up in the Dark Ages." | |
 Marty: "You're not far off, Doc."

(indicates Doc's 1885 grave with his flashlight)
And notably avoids
| | | |
| --- | --- | --- |
| |  Marty: "If only I had more time...wait a minute, I have all the time I want; I got a time machine!" | |
He then proceeds to screw it up by

giving himself only a few extra minutes, thus allowing him to make it back to the mall parking lot just in time to see Doc get shot.

Justified Trope in that he was worried about screwing up the present timeline as badly as he had just screwed up the past (if he prevents himself from going back in time, for example, he would not exist anymore). Doc mentions the implications earlier in the film.

Time Crash: In the films, Doc was concerned that causing an unresolvable time paradox or having someone encounter his or her past self could potentially destroy the timeline. In the Telltale game, he implicitly admits that he was wrong and that time is stronger than that. Now, history, on the other hand...
What Year Is This?: In the movies, Marty looks at newspapers instead. And of course, the DeLorean has a bright digital display that tells you exactly when you are. (Exceptions occur in the Telltale games - see this trope's entry in that folder.)

Finally used by

Edna Strickland in Episode 5 of the Telltale game when she returns to 1931 after a quick jaunt into the past.

You Already Changed the Past: Although, Doc Brown's letter at the end of Part 2 sort of plays this trope straight (the only part of the Trilogy to do so), though Rule of Cool applies for obvious reasons.
↑ Fuji Tsuushinki Seizou if you're wondering, but parsed down to Fuji-Tsuu Kabushiki-Kaisha(Stock Company) nowadays
↑

Gigabyte and gigahertz likely being the most commonly known among the average computer user

↑

It's a chest that young girls used to keep in preparation for their marriage. The joke here is that Lorraine was already fantasizing about marrying the young man that she did not realize was her future son.