Boba Fett Returns - The Loop
Play Sound

YMMV •

Radar

•

Quotes

• (

Funny

•

Heartwarming

•
Awesome

) •

Fridge

•

Characters

•

Fanfic Recs

•

Nightmare Fuel

•
Shout Out

•

Plot

•

Tear Jerker

•

Headscratchers

•
Trivia

•

WMG

•

Recap

•

Ho Yay

•

Image Links

•

Memes

•

Haiku

•

Laconic

•
Source

•

Setting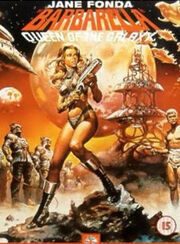 Barbarella was originally a French erotic science fiction comic book series by Jean-Claude Forest, but the title is better known, at least outside France, for the 1968 film adaptation.
It was directed by Roger Vadim, and starred his wife at the time, Jane Fonda. The film is set to the distant future, estimated to about the 40th century. Planet Earth has been united under a Republic, wars have been abolished and weapons exist only in museums. Sex has been replaced by a ritual involving pills. But Dr. Durand Durand (Milo O'Shea), a scientist, starts developing a new weapon. He and his spaceship vanish in the vicinity of uncharted planet Tau Ceti. Barbarella is sent to retrieve him. The local culture introduces her both to various horrors and to the joys of real sex. She has to face the evil Black Queen (Anita Pallenberg) of the city SoGo, the so-called City of Night.
When first released, Barbarella was a critical and commercial failure. However, it later became a cult film (as a Guilty Pleasure).
Tropes used in Barbarella include: