YMMV •

Radar

•

Quotes

• (

Funny •

Heartwarming •
Awesome) •

Fridge

•

Characters •

Fanfic Recs •

Nightmare Fuel •
Shout Out

•

Plot

•

Tear Jerker •

Headscratchers •
Trivia • WMG •

Recap

•

Ho Yay •

Image Links

•

Memes

•

Haiku • Laconic •
Source

•

Setting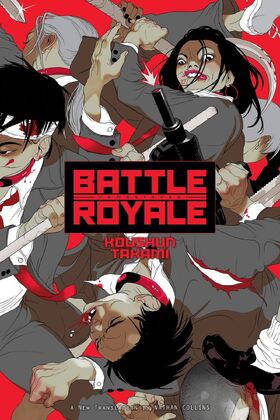 | | | |
| --- | --- | --- |
| | What we went through...all those deaths must never lose their importance. We don't have much, but what we have has to work. Never forget...never cheapen their deaths by pushing the memory away. Even the worst of them deserved better. | |

In the Greater East Asia Republic (a fascist alternate-timeline Japan), one class of high school students is chosen at random every six months, kidnapped, and placed in an isolated area with no chance of escape. The students are then given one weapon each and, under the threat of death, forced to kill each other until only one student is left alive. This is a once-controversial but now regularly recurring military experiment (since 1947) known only as "the Program". Battle Royale describes the ordeals and struggles of the 'contestants' in one such class, centering on the attempts of aspiring rock musician and orphaned teenager Shuya Nanahara to escape the Program.
Originally a novel by Koushun Takami, Battle Royale was adapted into a live-action movie and a Doorstopper manga series (it has over 3000 pages). The plots of these adaptations have minor differences, but with the same general events occurring. An American remake was announced in 2006, but has been stuck in Development Hell for reasons that should be fairly obvious.
One of the main themes of this book/manga/movie is the fear and hatred of the young. Some Japanese government officials completely missed this and blamed Battle Royale for the sharp rise in teenage delinquency in Japan.
Definitely not to be confused with Battle Royale With Cheese. However the term has been used to refer to The Hunger Games—a book series with a similar premise to Battle Royale—in a derogatory manner by those who feel the later series was a rip off (the author of The Hunger Games maintains she knew nothing of Battle Royale when she wrote her books).
Tropes used in Battle Royale include:
| | | |
| --- | --- | --- |
| | She might have been dead before [she hit the ground]. Physically, several seconds earlier. Emotionally, several years earlier. | |
Lighthouse Point: At one point a bunch of the girls get holed up in a lighthouse.
Loads and Loads of Characters: A whopping total of forty-two students are press-ganged into The Program. A few of them are killed off immediately and without being developed (moreso in the movie version), but the rest get their own chapters (usually involving a flashback to their days at school). The second film is the same, but kills off many more straight away so as to only focus on half a dozen or so main characters.
Lonely Piano Piece: Shiori Kitano plays "Memories" in the second film, the scene cutting between her abuse of her late father in the past, and as she is now in the present.
Made of Plasticine: The manga version is extremely graphic. Kegfuls of blood are spilled, brains are frequently blown out, one character is disembowelled, and another is torn in half when she hits the ground after she jumps off a lighthouse. According to some, even blows the infamous Elfen Lied out of the water. Two examples:

When

Shinji Mimura dies, he is machine gunned, causing his stomach to split open and his intestines to fall out of his body. He puts them back in with duct tape, has the bottom half of his foot blown off, jumps through a window, has a clip from an ingram emptied into him, is still alive enough to aim at Kiriyama, who shoots him through the throat, and we learn later he was alive enough to carve a message into a truck with a stick.

Kazuo Kiriyama, shot through the arm, cuts into his arm and sellotapes a tendon onto his arm so his finger works, later, jumps out of car at high speed, jumps out of a second car while it's in mid-air after being shotgunned. Is shot in the stomach at close range by a shotgun (his bullet proof jacket protects him). Is shot through the cheek and out the back of his head, has his eye put out by a wooden spear head, and is finally killed by a bullet through the throat, though it takes him a while to die.

Martial Pacifist: Hiroki Sugimura.
Mega Manning: Kazuo Kiriyama in the manga adaptation. He's a genius who can perform flawlessly anything he's seen (or read about) once, and he employs this fully in his fight against Hiroki Sugimura (an accomplished Kenpo master).
The Messiah: Shuya. Heck, the guy is so innocent and wonderful, he actually manages to convert and save the souls of several crazy / bad people by giving them emotional speeches (before they die, of course).
Mood Whiplash: Niida's extremely brutal attack on Chigusa and her equally violent defense, followed by her gut-wrenchingly tragic death scene moments later.
More Dakka: In the movie, Kiriyama dispatches quite a few people with the Uzi he takes from the first group that ambushes him. That is not to say that he doesn't use other weapons.
No Export for You: Toei insists that the movie be given a full theatrical run with promotion as if it were a major Hollywood picture rather than allowing it to be released to video. No one in America was willing to accept that deal... that is, until Anchor Bay Films took up the challenge late in 2010, with plans to release the 3D version of the first film theatrically in 2011. See here for more details.

So far that hasn't panned out either, but the tropes FINALLY subverted by a DVD release in March 2012 to capitalize on the publicity surrounding the similarly-themed Hunger Games movie.

No Indoor Voice: There is barely a single word that Takuma Aoi in the second film doesn't shout at the top of his voice.
Nose Tapping: Hiroki does it.
Not with the Safety On, You Won't: Shogo Kawada bluffs a student this way at the end of his first game, then shoots him.

OC Stand-In

:

Mayumi Tendoand Fumiyo Fujiyoshi due to the characters receiving almost no characterisation whatsoever in any of the media - including the novel (they don't live long enough for that).
Most of the students in the second film.

Offhand Backhand: Kiriyama kills

Mizuho Inada

this way in the novel.
Oh Crap: Mitsuko's facial expression says it all when, in the movie, she slashes Kiriyama across the chest, only to discover that he's wearing a bulletproof vest...
Ojou: Several prominent examples of the first type, with Noriko in the film moreorless making this a Discussed Trope with her monologue to Kawada. Kotohiki certainly fits this trope, especially in the novel.
One-Scene Wonder: Almost anyone except the core half dozen may count depending on your preferences. Two are universally agreed upon though, one is Chigusa, who is definitely one of the best known characters despite having only two significant scenes, and they're consecutive. The other is Yukie Utsumi for the Lighthouse scene.
Please Kill Me If It Satisfies You: In the novel and manga, Yoshimi, after learning that Yoji intends to kill her, tells Yoji that he can kill her. Yoji, in shock, does not kill her.
Power of Rock: While never actually having rocked out during the program, Shuya's reputation as an amateur rocker is what every character associates with his idealism of love and hope.

In the novel, this also takes the form of several shout-outs to Bruce Springsteen, particularly Born To Run.
Discussed with these words, when Shuya says that the Power of Rock could make the country croumble down.

Pragmatic Adaptation: Despite the many criticisms of the film version for cutting things out of the novel, the one thing just about everybody is agreed upon is that removing the political commentary was a good thing. Sadly, the sequel went in the other direction, though how badly that went down does ironically show what a good idea the treatment of politics in the original film was.
Psycho for Hire: Kazuo Kiriyama, in the movie.
Punch Clock Villain: Kitano in the film is an apathetic man going through a middle-age crisis, having realised how unhappy he is in life. Nonetheless, he's being paid to organise the mutual massacre of his own students.
Rasputinian Death:

Kiriyama and Shinji

are the best examples, though others borderline this.
Real Life Relative: Noriko Nakagawa and Shiori Kitano are respectively portrayed by sisters Aki and Ai Maeda in the films.
Recut: Both films had an extended version made. The first's extra scenes includes a flashback to Mitsuko's past and a scene of the class playing basketball, shown in pieces throughout the film. The second film added extra characterisation to the main students and Shuya's group. The first film was also cut back so that it would pass the censors' requirements for under 15s to see it, as was the director's original intention.
Red Shirt: The vast majority of students receive at least some characterisation (at least in the novel and manga). Tendo and Fujiyoshi receive almost none even in those versions. In both films, almost everyone save the core eight or so and a couple of One Scene Wonders are this.
Sawed-Off Shotgun: Shogo Kawada uses a sawed-off M31 Remington shotgun in the novel and manga, and a Franchi SPAS-12 combat shotgun in the movie.
Say It with Hearts: Various characters in the manga (obviously). Used for a variety of effects, from the very creepy to the heartwarmingly sincere.
Screaming Warrior: Mitsuko, during her Last Stand in the movie.
Shout-Out:

Shiroiwa, the small town the class are from, is Japanese for Castle Rock (a homage to both Stephen King and Lord of the Flies).
There are several homages to George Orwell's Nineteen Eighty-Four in the book.
There is a disturbing scene in the manga (Niida's attack on Chigusa) that the creator admitted was a Shout-Out to Deliverance.
While

driving a car

, Shogo hands Shuya a gun, asking him not to go Marvin on him. In the Giffenized version, that is.
In the manga,

Hirono's death

is a clear Shout-Out to An Occurence At Owl Creek Bridge.
Kinpatsu Sakamochi is a spoof of the character Kinpachi Sakamoto from the Japanese drama Year 3 Class B Kinpachi-sensei. Also, the students in the book, manga and film are Year 3 Class B.

Slasher Smile: Mitsuko, oh so often, with the start of her encounter with Megumi being the best example.

The first female winner shown at the beginning of the movie has one of these too.
In the movie, Kiriyama pulls this off a few times.

Split Personality: Mitsuko basically has two sides to her. One is a child desperate for love, the other is a deranged, cynical killer.
Soundtrack Dissonance: Beautiful classical music is played over the 6 hourly announcements in the movie, a torturing counterpoint to the chaos and death taking place on the island.

Also in the movie,

Mitsuko's

death is to the tune of Bach's Air on the G String. It's Asuka's death in End of Evangelion all over again.

Stupid Sacrifice: Shintaro in the second film accidentally pulls this - not only does his death accomplish nothing, it gets Kazumi killed because he's her partner.

And let's not forget Riki's final rugby dive.

Supporting Leader: Shogo is this to Shuya and Noriko, especially in the film. Consider that he's the one with the dark and brooding past, he's the one with a grudge against the Program, and he's the one who knows how to stop it. He does it deliberately though, because he's not interested in his own survival, just wanting revenge and to understand what happened with Keiko. He's happy to let the others take the credit. Consider just how much Shuya and Noriko would actually accomplish (answer: nothing) without Shogo's help and you'll see how he fits.
Talking Is a Free Action: Played aggravatingly straight in the second film with almost every main character. We're talking several hundred soldiers storming a fortress in a heated and violent battle, all of whom suddenly have a coffee break to allow a character to make a Final Speech lasting several minutes. Then, 10 minutes later, it happens again for an even longer speech.
Technical Pacifist: Sugimura subverts it; While he refuses to take Shuya's gun because "that's not my way," he's genuinely dedicated to only using his ample martial arts abilities in self defense, because he worries that if he genuinely beats someone up, he'll enjoy it.
Teens Are Monsters: Or they are forced to be, by Complete Monster adults.

Adults are no better as they start this sick game in first place. Let's just say Humans Are the Real Monsters.

The main question asked of the movie is a large part of the point of the story. 'Could you kill your best friend?' In a lot of ways it doesn't matter that the protagonists are teens, it's about human nature in general.

There Can Be Only One: The object of the Program.
Together in Death:

Sugimura and Kotohiki

in the manga. Ogawa and Yamamoto in all versions, along with

Kawada and Keiko

.

To a lesser extent, any couple who died together (

namely Yoshimi and Youji and Sakura and Kazuhiko

), because, well, even if they're together before The Program, it obviously couldn't last past the game.
Non-romantic example: the

girls' of the lighthouse

"funeral", so they could be friends again in death.

Tomato in the Mirror: Quite possibly an audience/reader reaction, given the chances of inadvertently finding yourself wondering if you could do it, how well you'd do, etc. Of course, the question of whether or not you could kill your best friend is the entire point.
Tomboy and Girly Girl: Yumiko Kusaka and Yukiko Kitano, respectively, in the novel.
Too Dumb to Live: Toshinori Oda in the film only, who is shot with an Uzi by Kazuo but survives because of his awesome Bulletproof Vest. A fact he screams at the top of his voice the second he realises he's still alive. Cue Kazuo leaping off a small building beside him, wakizashi in hand.

He's less obviously stupid in the book and manga, but still pretty stupid—in the manga, he fakes a death rattle so Kazuo will come close to him and check if he's dead, allowing Oda to stab him with his hidden kitchen knife.

Kazuo doesn't fall for this moronic ruse

.

Tsundere: Chigusa, by Sugimura's account. She's more the original version, though, where as you get to know her she warms up considerably.
Triang Relations: There's a few of these:

Type 5 with Chigusa, who loves Hiroki, who secretly loves Kotohiki. Chigusa does find out when she flat out asks Hiroki if he loves her, but she's dying when she asks so, while clearly upsetting to her, it's the least of her concerns at the time. Also qualifies as a heartwarming I Want My Beloved to Be Happy moment, since she'd clearly already worked it out and was just hoping he really did love her. In the novel, when Hiroki admits that he does have crush, Takako comments that he'd better not say her (i.e. "You know better than to say it just to try to make me happy in my last moments.").
Type 4 is seen with Shuya, Noriko and Kuninobu; Noriko and Shuya are the Official Couple, with Kuninobu also very obviously crushing on Noriko. While Shuya's feelings for Noriko are left slightly ambiguous, this appears to be due to not wanting to go after the girl his best friend was crazy about so soon after his death. That she has feelings for him though she can't hold in, even if she does apparently feel a bit guilty about it.
Type 4 also occurs with Utsumi, Shuya and Noriko, as Utsumi secretly has feelings for Shuya which she tries to tell him (when he's barely conscious though so not the best time) but appears to realise he doesn't see her the same way. Admittedly we don't know for sure where she would have gone with her feelings given

she and her friends massacre each other moments after their conversation

The Vamp: Mitsuko's strategy mainly involves gaining people's trust and getting them while their guard is down.
The Voiceless: Kiriyama in the film, he doesn't say a single word despite being the main antagonist.
When She Smiles: Hirono, at least in the manga. When she smiled from the heart, Shuya realized that she actually wasn't such a bad person after all. Especially noticeable in this page.
Wide-Eyed Idealist: Shuya and Yuichiro, though Yuichiro actually made some headway; His refusal to think of Mitsuko as a bad person genuinely touched her to the point that she had a complete mental breakdown when he was shot.
With This Herring: A few of the weapons given out at the start. Including a megaphone, a pair of binoculars, a shamisen, and a squeaky toy hammer.
Wounded Gazelle Gambit. Mitsuko in all three versions, though the victim changes. In the novel and manga, it's Hiroki, who has captured her and intends killing her in revenge for Chigusa. A combination of her crocodile tears and his martial pacifism allow her to escape. In the film she pulls it on Hirono, though it doesn't actually work as Hirono knows her too well. Mitsuko still kills her though.
The Voice: An extremely interesting case that makes a sub-plot stretching across both films more effective. In the first film, we don't see Shiori Kitano, the teacher's daughter, we only hear her voice on the phone. In the second film, she's a main character. What adds more to this is that Kitano (senior) sees Noriko as his surrogate daughter as Shiori hates him. Noriko and Shiori are played by real life sisters, Aki and Ai Maeda (respectively).
Yamato Nadeshiko: Noriko in the film version is actually a very good example of this, and not a Mary Sue as she is often perceived as being. It's most apparent just after her dream sequence, where she tells Kawada how she was expected to just leave school, find a man, be a housewife and live a normal, boring life. Now however, with all this, she realises that even if she does somehow survive (and remember that her protector, Shuya, is missing at this point) then nothing will ever be the same again.
You Don't Want to Die a Virgin, Do You?: Niida in all three versions tries to persuade Chigusa of this. Unfortunately, he doesn't take "no" for an answer and becomes a bit more forceful. Yukie also acknowledges that she never would have found the courage to make moves on Shuya if not for the whole "surrounded by students trying to kill me" thing.
Zen Survivor: Shogo Kawada, of the previous Program.