YMMV •

Radar

•

Quotes

• (
Funny •

Heartwarming •

Awesome) •
Fridge •

Characters

•

Fanfic Recs •

Nightmare Fuel •
Shout Out

•

Plot

•

Tear Jerker •
Headscratchers •
Trivia • WMG •

Recap

•
Ho Yay

•
Image Links

•

Memes

•

Haiku

•

Laconic

•
Source

•

Setting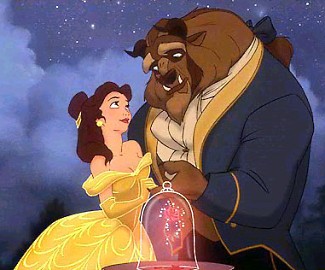 "Tale as old as time
True as it can be
Barely even friends
Then somebody bends
Unexpectedly
Just a little change
Small, to say the least
Both a little scared
Neither one prepared
Beauty and the Beast"

Entry #30 in the Disney Animated Canon, from 1991.
This retelling of the old fairy tale Beauty and The Beast has Homages to Jean Cocteau's 1947 film, but in its tone and divergences from both versions it becomes its own, so to speak, beast. Belle is a bookish lass in a French village who lives with her genial dad Maurice, who tinkers with various inventions. She would be a total outcast if not for her loveliness (it's in the name, after all), and the brutish Gaston wants her as an almost literal trophy wife — even though she sees him for the Jerk Jock he is.
When Maurice doesn't return from a trip to a fair, Belle searches for and finds him in the forest-hidden palace of a monster who imprisoned him when he sought shelter there. She offers herself in his place and the monster accepts. "The Beast" is actually a cursed human prince (due to arrogant selfishness) who hopes her love will break the enchantment on him and his many servants, who were transformed into living furniture, crockery, and so forth. With time limited (an enchanted rose serves as an hourglass — and it is beginning to wilt), he must tame his temper, she must learn to see the goodness beneath his exterior... and once that has been accomplished, together they must face the murderous wrath of Gaston.
Immediately embraced by critics and audiences, with the last complete lyric work of Howard Ashman to Alan Menken's score, this was the first animated feature to earn an Oscar nomination for Best Picture, a feat that would not be duplicated again until 2010 with the nomination of Up (which also had the luxury of an expanded nominee list of 10, as opposed to Beauty cracking a list of five). It was adapted into a stage musical in 1994, spawned two Direct to Video midquels by decade's end, is featured in the Kingdom Hearts video games (with Beast and Belle kicking ass), and with Belle as one of the official Disney Princesses, the merchandise just keeps on coming.
See Beauty and the Beast: The Enchanted Christmas for the first direct-to-video follow-up.
Beauty and the Beast was added to the National Film Registry in 2002.
In 2017, Disney released a live action version starring Emma Watson as Belle.
Tropes used in Beauty and the Beast (1991 film) include:
Tropes A-G
Gaston: LeFou, I'm afraid I've been thinking...
LeFou: A dangerous pastime-
Gaston: -I know!
Artistic License: In the DVD Commentary, the guys telling it admit that all the dancing items in "Be Our Guest" throws the logic of the movie through a loop, but it was worth it for that number.

In addition, one scene for the Gaston musical number has Gaston firing three rounds simultaneously from his Blunderbuss towards a loaded barrel to allow his posse to have free drinks. In reality, that would be impossible since the Blunderbuss is a one-shot weapon and can only fire one round before requiring a lengthy cleaning and maintenance period to resume firing.

Ascended Extra: In the stage musical, the feather duster and the wardrobe are given bigger roles, more developed personalities. They are also named Babette and Madame de la Grande Bouche, respectively - which is odd, because in the direct-to-video sequel, the feather duster is named Fifi.
Ascended Fangirl: Belle reads romantic adventure stories about far-off places and magic spells while wishing for adventure in the great wide somewhere.
Ash Face: Cogsworth in the "Be Our Guest" number.
Ax Crazy: Gaston during the final showdown with the Beast.
Backstab Backfire: Gaston is spared by the Beast, and then stabs him in the back before falling off the ledge. However, production materials indicated that his actions were originally intended to be closer to Taking You with Me.
Back from the Dead: Gaston's knife wound actually did mortally wound Beast at the end, but luckily reversing the spell revived him as well as making him human again. Or maybe it's Only Mostly Dead, with The Power of Love simply resolving the balance.
Badass: The Beast — who else can handle a pack of hungry wolves and get away with only a scratch?
Badass Baritone/Guttural Growler: The Beast again — the thing is pretty odd if we consider that Robby Benson's real voice is more like a tenor (the production crew mixed Benson's lines with the growls of various wild animals). This is mentioned by Benson himself in a making-of special; his natural speaking voice is closer to the Beast's baritone, but directors have constantly asked him to pitch it higher because they think a Tenor Boy would make a better Love Interests. It's actually kind of a shock when he speaks candidly.
Badass Cape: Beast's cape.
Badass Damsel: Belle. When the wolves came after her, she beat a wolf off her horse with just one swing of a stick, and tried to fight back before the Beast rescued her.
Bad Boss: Gaston is a warped variation. Even though he is shown to be a complete jerk in the village, and makes no effort to hide it going by his villain song, the villagers actually genuinely love him and don't follow him out of fear.

Actually, it's not really surprising that a handsome, strong, wealthy man like Gaston would be the hero of a small farming community in the late 1700s. It's just that the common folk don't see past that pretty exterior to the brutish, vain, egotistical bully beneath.

Bar Brawl: There's one in the tavern during "Gaston," but it breaks back up amiably after doing its part to show off how awesome Gaston is.
Barefoot Cartoon Animal: The Beast; due to the size and shape of his legs and feet, he literally cannot wear shoes.
Battle in the Rain: The climax.
Beast and Beauty: Belle has to see past the Beast's monstrous appearance and find that there is some good in him, but the Beast isn't held to these same requirements because Belle being just as beautiful on the inside as she is on the outside means that he doesn't really have a lot to discover; it's kind of a given with stories that use this trope.
Beast Man: Duh!
Beautiful All Along: The prince. Although when he changed back, that wasn't good enough for Belle, and she had to see into his eyes that he was the same person she fell in love with.
Beauty Equals Goodness: Beauty comes across as more of a neutral force here. Belle is a good person, the Beast became what he is as karmic punishment for selfishness (only becoming handsome again when he's redeemed), and the corrupt asylum director Monsieur D'Arque is very sickly looking. The "beautiful enchantress", on the other hand, is morally dubious, and Gaston is handsome but wicked. In fact, Gaston essentially takes advantage of this trope when he convinces the villagers to kill the ugly, monstrous Beast.
Beauty to Beast: The Prince.
Beneath the Mask: Gaston is not as nice as he seems to be (see Villain with Good Publicity below.)

Likewise the Beast isn't as bad as he appears.

Beta Couple: Lumiere and Babette in the musical.

Also Cogsworth and the wardrobe, though it's less obvious. As a possible Gamma Couple, Mrs Potts and Maurice are shown standing together at the end while Belle and the Prince dance.

Big Bad: Gaston takes this role.
Big Damn Heroes: The Beast when he rescues Belle from the wolves.

Also, the servants of the castle fight off Gaston's mob.

Big Damn Kiss: A truly EPIC one just after the Beast's transformation.
Big Eater: Gaston, who apparently puts away five dozen eggs a day. At breakfast.
Big "What?": Three, one being a Crowning Moment of Funny, while the others as outlined under Tear Jerker and I Want My Beloved to Be Happy.
Bilingual Bonus: "LeFou" can either mean "the jester" or "the madman" in French. "Lumiere" means "light".

In the stage adaptation, "Madame de la Grande Bouche" roughly translates into "Madame of the Big Mouth".
The Latin motto on the stained-glass window at the beginning translates to "He conquers, who conquers himself." It foreshadows Beast's character development.

Bitch in Sheep's Clothing: Gaston.
Blue Eyes: Both the Beast and Gaston have them but are slightly different shades. The Beast's are a clear blue while Gaston's are more icy. Also, his blue eyes are the only human feature the Beast retains.

Word of God states that the Beast's eyes were very specifically designed to give the impression that he was actually a man trapped inside the form of the beast in order to get the audience to sympathize with him early on. This is why there's such a great focus on them throughout the film.

Boisterous Bruiser: Gaston, but he's an evil one.
Book Dumb: Gaston.
| | | |
| --- | --- | --- |
| | Gaston: (about Belle's book) How can you read this? There's no pictures! | |
It's funnier when you remember that there actually are pictures in that book. He just didn't bother to flip through the pages long enough to spot any.
Weirdly, he seems to gain a bigger vocabulary during his song, saying words like "expectorating". Yet he doesn't know "primeval"?

Book Ends: The stained glass windows of the castle.
Bookworm: Belle.
Brainless Beauty: The female villagers might or might not qualify, but the Bimbettes (the blonde triplets who fawn over Gaston) certainly qualify as such.
Brainy Brunette: Belle.
Bruiser with a Soft Center: The Beast.
Bungling Inventor: Belle's father.
Busby Berkeley Number: "Be Our Guest", which crosses over with Disney Acid Sequence.
Butt Monkey: Cogsworth and LeFou.

LeFou also qualifies as an Iron Butt Monkey. During the battle at the castle, Cogsworth pokes him in the butt with a large pair of scissors, and a couple scenes later he's right back to pillaging and plundering.

Carpet of Virility: Gaston.
| | | |
| --- | --- | --- |
| | "And every last inch of me's covered with hair!" | |
Beast: I'll break down the door!
Luminere: Master, I could be wrong, but that may not be the best way to win the girl's affection.
The Beast can get pretty snarky too.
Luminere: Voila! You look so...so...
Beast: ...Stupid.
Belle, particularly around Gaston.
Cogsworth can also snark sometimes. "Flowers, chocolates, promises you don't intend to keep" and his reaction to Lumiere and Mrs. Potts welcoming Maurice are some notable examples.

Death's Hourglass: The glassed rose. Overlaps with The Tragic Rose.
Deconstruction: Gaston is arguably a Deconstruction of the God Mode Sue. Being simply better at anything than anyone else and being far too aware of it, Gaston has clearly given himself the privilege to do whatever he wants, regardless of the morality of his actions (that everyone sucks up to him and does what he tells them, as is appropriate for Mary Sues, doesn't help). At best, his ego has rendered him incapable of seeing the error of his ways; at worst, he's well aware of how utterly evil he can be, but simply doesn't care...because no one elevates himself over petty morality like Gaston.

This also makes Gaston a deconstruction of the type of hero that appears in Grimm's fairy tales: handsome and adventurous hunter/woodsman, loved son in both his world and his own mind out to court his fair maiden, who, as far as he thinks, should be owed him and fall into his arms. He encounters monsters and never bothers to think they're anything but evil, since the original stories weren't inclined to have that belief as well. Even his jerkassness is a characteristic of Grimm's heroes, who were often known to do sadistic things to defeat their enemies, and were occasionally Designated Heroes. However, the movie shows the inherent wickedness these qualities brought together in the wrong way could create, totally without catering to Values Dissonance.
Likewise the Beast is a deconstruction of the character from the original tale who was kind and gentlemanly despite his monstrous appearance. Here the loss of his humanity as well as the impossible nature of his task only serve to drive him deeper into depression and seclusion. He utterly gives up hope of ever breaking the spell and begins to give into his beastly urges, stops wearing clothes, hunting for his food, and becoming fiercely territorial. If Belle hadn't come along exactly when she did, he would have never broken the spell and become an animal completely.

Decoy Protagonist: Belle. Early on we are shown her situation and her dreams and are made to sympathize with her and her situation. Once the Beast rescues her and shows his true colors the story focuses on him trying to woo Belle to break the spell and Belle shifts over into the Deuteragonist.

Disc One Final Boss: The Beast. He takes Belle's father prisoner and later takes her as his prisoner instead, but when he rescues Belle he becomes The Protagonist. Immediately after this scene we see Gaston cross the Moral Event Horizon and become the true villain of the story.

Defrosting Ice Prince: The Beast's Character Development makes him evolving into this.
Denied Food as Punishment: "If she doesn't eat with me, then she doesn't eat at all!" Of course, there is actually very little effort put into enforcing that proclamation.
LeFou: In a spitting match nobody spits like Gaston.
Gaston: I'm especially good at expectorating!
Despair Event Horizon: After The Beast lets Belle go, he howls in anguish and frustration, not expecting that she'll ever come back. He's even perfectly willing to let Gaston kill him until Belle comes back, but then...

The narration in the beginning explains that he crossed it years ago when he gave up all hope of ever becoming human again, which is why his heartbreak at releasing Belle is all the greater.

Did You Actually Believe?: Gaston implements this perfectly when facing off against Beast, sneering and mocking him:
| | | |
| --- | --- | --- |
| | Gaston: Were you in love with her, Beast?! Did you honestly think she'd want you when she could have someone like me?! | |
Dirty Coward: Gaston resorts to dirty fighting in his battle against the Beast, mocking Beast while he was too depressed to defend himself, then pleading for his life when he finds himself at Beast's mercy. Beast finally lets him go... only for Gaston to literally stab him In the Back.
Disney Acid Sequence: "Be Our Guest" - although Disney has been much more acidic than that.
Disney Death: The Beast. Possibly justified due to the fact that he was under a magical spell and Belle reversed it.
Disney Princess: Belle.
Disney Villain Death: Gaston has one of the most effective.

The 2002 DVD commentary confirmed his death, and mentioned that the skulls seen in both his pupils as he falls were intended to confirm his death.

Does This Remind You of Anything?: Maurice "reaching inside" Cogsworth early in the film.

When the castle is invaded by the mob, one of the townsfolk grabs Babette and starts ripping out her feathers as she shrieks and struggles. Lumiere saves her in an angry boyfriend fashion. Yeah.

Draco in Leather Pants: Gaston is one in-universe. He's a controlling and arrogant egomaniac, but he's so charismatic that the people love him, and as seen in his Villain Song his negative traits are spun as virtues ("in a wrestling match, nobody bites like Gaston!")
Drowning My Sorrows: Averted; Gaston is so angry at being rejected he refuses alcohol.
Dumb Blonde: Three of them! They're all foils to Belle from the village. In the script and end credits, they're all named Bimbette.
Easter Egg: Pausing during the part of Gaston's death scene where his face is closest to the camera will allow you to see the skulls the animators painted into his pupils for that scene, just in case you weren't sure he'd died.

Also, in the first song, where Belle sings in the town, she sits by a fountain. As she reads the book (described earlier, as an adventure with a prince in disguise, it sounds just like Beauty and the Beast), she flips to a page, with a picture. Look closely, and you will see that she is in the bottom right, the beast in the middle left, and the prince's castle in the middle.
The first stained glass window seen in the prologue has the Latin phrase 'vincit qui se vincit', which means (in a subtle prefiguring of the arc of the whole story) 'He conquers who conquers himself'.
Caricatures of the directors, Kirk Wise and Gary Trousdale, can be seen in the scene where Belle is given the book as a gift. As she is leaving the store three men are seen pretending to not look through the window and then they sing, "Look there she goes. The girl who's so peculiar. I wonder if she's feeling well." They are the two men on the outside of the large blonde man.
Among the trophy heads on Gaston's tavern is what appears to be a frog's head, visible in the shot as Gaston spits. A bald eagle can be seen while he jumps onto his chair during his song.
The original "cute" character of the movie was a music box, which was supposed to be a musical version of Dopey from Snow White and The Seven Dwarfs. But when the character Chip's role was expanded, the music box idea was scrapped. However the music box can be seen for a brief moment on a table next to Lumière just before the fight between the enchanted objects and the villagers in the Beast's castle.
Almost all of the gargoyles and statues seen in the West Wing are previous designs for the Beast.

Egomaniac Hunter: Gaston.
The Eleven O'Clock Number: "The Mob Song".
Emerging From the Shadows: Belle asks Beast to step into the light, and she (and the audience) sees his face properly.
Emotional Bruiser: Beast becomes this thanks to Belle.
Establishing Character Moment: In the span of thirty seconds from the beginning of his introduction, Gaston shows off being an egotistical macho hunter with eyes only for Belle and is determined to marry her, believing she'll fall for him without hesitation.
Even Evil Has Standards: Subverted: When the Asylum Warden learns from Gaston that he wants to incarcerate an innocent, non-dangerous, harmless crackpot in order to blackmail his daughter into marrying him, he initially seems to react with disgust towards Gaston's plan ("Oh... that is so despicable"), only to immediately declare after chuckling that he actually likes that plan ("Hehehehe...! I LOVE IT!")
Even the Guys Want Him: Gaston, apparently (LeFou: "You can ask any Tom, Dick, or Stanley,/ And they'll tell you whose team they'd prefer to be on!").
Everyone Calls Him "Barkeep": The Beast/Prince's name is never revealed (See No Name Given below.)

Wikipedia says a CD-ROM gives his name as Prince Adam.

Evil Counterpart: Gaston to the Beast. The Beast may not be very good looking, but he's revealed to be daring, heroic and protective. Gaston on the other hand, is handsome but extremely ruthless and brutish.
Evil Sounds Deep: Monsieur D'Arque and Gaston himself. Subverted in the Beast's growl.
Exact Words: "All right, old man! We'll help you out." Just before they toss Maurice out of the tavern.
Expressive Ears: The Beast has these.
Expy: Human!Chip looks almost exactly like Cody from The Rescuers Down Under, which premiered the year before this movie.

The smoke seen during the transformation of the Beast to the Prince is actually real smoke, not animated. It was originally used in The Black Cauldron and was re-used for Beauty and the Beast.
The dance between Belle and her Prince in the finale is actually reused animation of the dance between Princess Aurora and Prince Phillip in Sleeping Beauty. The original Sleeping Beauty pair had been drawn over to become the new Beauty and the Beast pair, and this was done because they were running out of time during the production of the movie.
Also, is it just us, or does Gaston look like some strange version of Brom Bones from The Adventures of Ichabod and Mr. Toad?

Eyes Never Lie: That's how Belle realizes the prince is really Beast.
Face Palm: The Beast does a serious version of this immediately after causing Belle to flee terrified from the West Wing, and even looks as if he's going to break into tears.

Belle also does a double-handed serious version of this the moment she becomes Beast's prisoner.

The Fair Folk: The Enchantress at the beginning, who decides to teach the Prince a lesson about hospitality.
"Falling in Love" Montage: The aptly titled "Something There". Crosses over into Heartwarming Moments as the poor Beast is just trying so hard for her.
Feet First Introduction: The Beast remains in silhouette until the dungeon scene, when Belle asks him to come into the light. This trope then occurs (with a brief cutaway to Belle's face up close and horrified).
The Fighting Narcissist: Gaston is an unusually manly example. Then again, he does have a long ponytail and does a rather effeminate pose when he sings about his skills in decorating.
Follow the Leader: Between this and The Little Mermaid, almost all Western animated features, Disney or not, that followed until Toy Story came along 4 years later were fairy tale musicals (the big exception being The Lion King, which wasn't Fairy Tale-based).
Foreshadowing: During the Crowd Song "Belle", LeFou says, "No beast alive stands a chance against you, and no girl for that matter." We all know how well it went when he went for the prize beast and the prize girl.

The bit with her book in the opening song, showing an image of the castle, the beast, and herself in the story, with a plot that is essentially that of the movie, can also count as this.

For the Evulz: Corrupt asylum owner Monsieur D'Arque's response when Gaston asks him to imprison Belle's father Maurice just to coerce Belle into marrying Gaston.
| | | |
| --- | --- | --- |
| | Monsieur D'Arque: Oh, that is despicable...[[[Evil Laugh]]]...I love it! | |
Made even better when you realise that he's Frollo.
Initially Gaston wants to kill the Beast because he "loves" Belle. Then seeing how much fiendish joy he tortures him (the Beast) with, it's implied he enjoys doing these things in general.

Fourth Date Marriage: An interesting subversion. Throughout the film, the seasons change, leaving the time Belle spends in the castle with the Beast indeterminable from weeks to months prior to their marriage. In addition, it is not shown that they actually got married during the film, although it is heavily implied that they did some time after.
Freeze-Frame Bonus: The aforementioned Easter Egg.
Friend to All Children: Belle.
Frothy Mugs of Water: Averted, as Disney was never for this trope. In both the movie and the Broadway play, the beverage in the tavern is referred to as "beer". "The wine's been poured" for Belle in "Be Our Guest". Come on, it's France.

But it was spoofed in the DVD Commentary, when the guys insisted that the beer was root beer.

Funny Background Event: During "Belle", look closely while Belle is at the fountain with the sheep. A woman is washing her laundry, looks around, and leaves in apparent annoyance.
GASP: Belle does a quick one and turns away when she first sees Beast.
Genre Blind: One would think as big of a reader as Belle would know not to explore forbidden areas of the castle where she's prisoner, enter the master bedroom, and try to touch the ominously glowing rose in a glass case.

Alternatively a case of Wrong Genre Savvy, as she could have believed she was the imprisoned damsel who had to find the magic rose to free herself.

Gentle Giant: The Beast, himself (mostly in the film's second half) and in an excellent use of Primal Stance (see below) the kinder he becomes the bigger he seems to get. He's so big he could probably snap most average-sized men in half over his knee.
Get It Over With: This is the Beast's reaction to Gaston attempting to kill him, when he thinks Belle has left him forever.
Get Out!: The Beast to Belle after she ventures into the West Wing. And he gives a much colder delivery to Gaston after utterly destroying him and revealing him as the coward he truly is in the finale.
Getting Crap Past the Radar:

Remember Maurice's curiosity concerning Cogsworth's... pendulum? (And Cogsworth's indignant reaction to his prodding?)
Gaston's reaction when saying that there's "no pictures" inside of Belle's book indicates that he might have been looking for... ahem, pictures of a suggestive kind.
Gaston mentioning that every last inch of him is covered in hair, accompanied by a wink to the camera.
The feather duster/maid is picked up, held upside down, and has her feathers ripped out during the end fight scene. As an adult, you realize that the feathers are her 'skirt'... Also, the shrieks she makes as she's being yanked at and how she's rescued by her very angry boyfriend.
Gaston's attempt to propose to Belle. Good grief, especially the end, when he's menacingly advancing towards her, pushing furniture out of the way, and leaning in to kiss her. Admittedly he's still convinced she's just playing hard to get, but it's very worrying. His attempts to force himself on her while thinking she's playing hard to get arguably make it worse, not to mention the look in his eyes when he's told that Belle is in a dungeon.
And then there's Lumiere and the featherduster. The two are clearly necking behind the curtains when Belle first leaves her room and she tells him very coquettishly that she's "Been burned by [him] before", and in the subtitles at the very end it says that Lumiere gives a "lusty laugh" when she walks past him with a very... suggestive look in her eyes for a Disney character.
The Wardrobe also tells Belle, with an embarrassed laugh, that she's "got her drawers open". Of course, it's a pun, as she's referring to the actual drawers, but considering that "drawers" is slang for underpants, and her reaction, it's not difficult to imagine the human analogue.
For some reason after the song "Something There", Mrs. Potts wants to delay answering Chip's question.
Almost anything involving the Bimbettes.
There's also a brief moment in song "Little Town (Belle)" while Belle is riding on the back of a carriage cart, and one of the merchants selling bread to one of his female customers is very clearly eyeing her very noticeably exposed cleavage. He's promptly struck on the head by his wife with a rolling pin.
Also in the same song, you have the three females (the ones is red, green, and yellow) at the water pump. The one in green moves the pump with her elbows, the yellow with her hands, but the one in red pushes it with her boobs.

The Golden Rule: Played as an underlying Aesop. What really sets him free is that he lets Belle go. No longer his prisoner, she is free to love him, thus releasing him from his own magical prison.
Goofy Print Underwear: A villager at the bar is revealed to wear some, and even Belle's father, Maurice, has a pair.
Gonk: Most of the villagers are rather cartoony looking, but special mention goes to LeFou.
Grand Romantic Gesture: Discussed by Beast, Lumiere, and Cogsworth before actually being done - when Beast gives Belle the library. Then an even deeper one when he let's Belle go.
Grass Is Greener: Belle found her life in the village terribly unfulfilling and wished for some grand adventure...
Gray Rain of Depression: During the Beast's Disney Death.
Tropes H-M
| | | |
| --- | --- | --- |
| | Crowd: We don't like what we don't understand, in fact it scares us, and this monster is mysterious at least. | |
| | | |
| --- | --- | --- |
| | Gaston: Take whatever booty you can find, but remember: the Beast is mine!. | |
Maurice: I just needed a place to stay...
Beast: I'll give you a place to stay!
I Wish It Was Real

: A number of Belle's stories sound like the movie's plot.
Jabba Table Manners: At breakfast together, Belle is visibly disturbed to see Beast snarfing at his porridge like an animal. Chip helpfully nudges him his spoon... which leads to Beast dripping the porridge into his waiting jaws. Belle offers a compromise by lifting her bowl up, and they both drink.
Jerkass --> Jerk with a Heart of Gold: Beast's Character Development. And he's also a Jerkass Woobie.

Gaston, on the other hand, is a textbook example of a Jerkass, through and through.
Cogsworth is also a Jerk with a Heart of Gold. He's pompous, grumpy and a bit rude, but he's really just as good-natured as Lumiere and he can also be very helpful. The song "Human Again" gives the impression that a lot of his attitude comes from being incredibly stressed out; he does note, when introducing himself to Belle, that he's the head of the household. This little clock is the one who keeps the place running while their master is storming around in his beast form.

Just in Time: Belle declares her love for Beast, thus enabling the spell to be broken, right before the last petal falls.
Karma Houdini:

The Enchantress. Let's not forget, she cursed a child (Chip) for the actions of his mother's employer, and the Beast was quite young himself when cursed; see Writers Cannot Do Math below. She warns him not to be fooled by appearances because "beauty is found within", but her punishment doesn't really help to dissuade him from thinking that worth comes from apperance seeing as how he lives in constant shame of his new appearance and thinks of himself as a monster. Considering the fact that if Belle hadn't come along and saved him, the Beast would have never broken the spell and would be doomed to remain a beast forever, this leads credence to the idea that the Enchantress doesn't actually care about teaching him a lesson and is setting him up to fail like this just for refusing to help the old beggar woman, which makes her come across as incredibly petty and vindictive. Despite all of that however, no one in the film ever points this out.

She cursed many children - Chip has at least four siblings, since his mother explicitly mentions his "brothers and sisters"; there are six cups in the fight scene. In addition to the teacups, some of the enchanted objects would be the children of the other servants and courtiers.
The enchantress also cursed at least one dog and, in the extended version, a cat. As the castle had a carriage, the enchantress either cursed the horses as well or something... happened... to them. Either way, this is blatant cruelty to animals who could not be held accountable for their master's behavior.

Monsieur D'Arque, the asylum owner, is clearly a sadist who loves Gaston's Evil Plan but drops out of the story after the plan backfires and is never shown to be brought to justice for his part in it.
The villagers as a whole. They gleefully take part in a violent mob against the Beast and the residents of his castle, and aside from some comical beatings from the enchanted objects, seem to escape any sort of comeuppance.

Karmic Death: Gaston stabs the Beast in the back, but he immediately loses his grip and falls off the balcony and into the same deep frightening moat that the Beast spared him from moments before.
Kindly Housekeeper: Mrs. Potts.
A Lady on Each Arm: Lumiere mentions this in the Cut Song "Human Again." The two mademoiselle are Mrs. Potts and Babette.
Lantern Jaw of Justice: Gaston has one... but he's a villain.
Large Ham: No one hams it up like Gaston.

Beast, but as he warms to Belle, this diminishes.

Letting Her Hair Down: During the wolf chase, Belle's ponytail came loose, revealing her beautiful long brown hair, but we get an even more prominent look at it when she treats Beast's wounds, and there is the first moment of tenderness between them. She also has this look towards the climax. And during the famous ballroom scene, Belle's hair is mostly down with only a small portion tied back.
Let's Get Dangerous: When the cute, whimsical, talking household items get fed up of cowering from the marauding peasants and duke it out instead, leading to several silly, yet awesome, moments. The Beast also does this upon Belle's return to the castle and utterly dominates the latter half of the fight with Gaston.
The Library of Babel: The Beast's magnificent library that he gives to Belle. *Sigh*
Lightning Bruiser: Beast. Despite his size, he's agile, fast and able to beat wolves
Lima Syndrome: Beast falling for his captive, Belle.
Loss of Identity: Word of God says that the Beast's humanity was slowly fading away and he was becoming more animal like as the years went by. The reason the floor of the West Wing is rarely seen is because its littered with the carcasses of his prey, as he'd long since given in to the urge to hunt. Word of God also says that if Belle had never arrived he would have eventually grown so distant from humanity that he would stop wearing clothes, walk only on all fours and forgotten how to speak. In fact, in a shot when Belle sneaks up to the West Wing, in the bottom left corner of the screen you can see the ribs and part of a leg of a creature Beast has hunted; it's cast in shadow so it's a bit difficult to see any detail, but the shape itself is very clear if you look closely.

The novelization of the movie outright confirms this, in the brief snippets we get to see from the Beast's perspective. He mentions that he's much more hot tempered than he ever was as a human and has trouble remembering simple things like his name, his parents, or even exactly how long he's been cursed, not to mention he's completely forgotten how to read. His greatest fear is losing his mind and becoming an animal for good.

Love At First Punch: Belle is the first person after the enchantress who confronted Beast on his treatment of others.
Love At First Sight: It's implied that the Beast fell in love the moment he saw Belle but was so angry and frustrated at his situation that he still lashed out at her.

More likely he was attracted to her because she was pretty, and assumed that was love. He only actually fell in love with her when he got to know her.
Averted in the stage musical. Beast even sings a song about what will happen if he's unable to fall in love with Belle.

Love Epiphany: The song "Something There" is all about this, but most prominent is when Belle goes behind a tree and is visibly shocked as she realizes her feelings. The Beast has a different one later on (after the ballroom scene) when he realizes what Love Hurts truly means.
Love Hurts: Goodness, the Beast's heartbreak after the uplifting ballroom scene is palpable. As she leaves, he starts sobbing and finally breaks into a primal scream of despair as Belle gallops away.
Love Redeems: Thanks to Belle, Beast becomes a kinder person.
Love Triangle: Belle, Beast and Gaston, although the latter is just him forcing this trope.
Made of Iron: LeFou. Seriously, he can get punched 10 feet and just get up and keep singing.
Magic Mirror: Beast has one that serves as his only connection to the outside world; it functions like a typical Crystal Ball would.
Manipulative Bastard: Gaston is well aware of his popularity in the village, and in the end, he uses it to turn practically the entire male population of his town into an angry mob.
Meaningful Echo: " Please let (insert person here) go! I'll do anything!" First with Belle when she takes her father's place, second when the Beast is holding Gaston over the edge of the roof, which was probably why he was spared. Interestingly, both times had people at the Beast's mercy, and both times resulted in an unusual act of kindness from him (taking up Belle's offer and letting Gaston go).
Meaningful Name:

Belle is French for "beautiful", since the original tale is French and its title in French is "La Belle et la Bête" (literally, "The Beautiful and the Beast").
In the original de Beaumont fairytale (or at least the earliest version we have), she has a different name, but we never learn it. Everyone just calls her La Belle. Her name being Belle is an improvement. (The Beast doesn't have a name there either.)
Also, "LeFou" is a phonetic pun on "the fool" (the actual translation from French to English is closer to The Madman, the Insane, The Mad, or Insanity). Likewise, Lumiere, Cogsworth, Mrs. Potts, and Chip all have names relating to the objects they became (with Chip being a reference to his state of being).
Plus, Beast's real name, 'Adam' means 'man', which he turns back into.
Monsieur D'Arque, the asylum proprietor, certainly is dark and sinister.
Gaston is most likely named after Gaston III, Count of Foix, a French nobleman who was a legendary hunter to such an extent that he literally wrote books describing the techniques of hunting that are used to this day. Pretty fitting, for a man who is known as a very skilled hunter.

The Messiah: Belle.
Mighty Roar: Beast lets out a few good ones, the most notable being when he fights the wolves, when Belle leaves and when he starts fighting back against Gaston. And when he yells (which he does a lot) animal roars are mixed into the dialog for extra oomph.
Milking the Giant Cow: Gaston has some magnificent arm gestures during the climax to emphasize his vocal inflections.
Mood Whiplash: The Beast drags Maurice off. Gaston's ridiculous (first) marriage proposal follows.

This may or may not count, but Paige O'Hara sobbed real tears while recording Belle's mourning of the Beast. Her performance was so intense that the director asked her if she was OK, upon which O'Hara immediately dropped out of character and said "Acting!"
As mentioned above, The Beast's utterly heartbreaking releasing of Belle after the impossibly romantic and uplifting ballroom scene.
The alternating scenes of the funny and happy fight of the servants with the villagers, along with Gaston's hunting pursuit.

Murder the Hypotenuse: Gaston attempts this in the film's climax. And fails epically.
My God, What Have I Done?: After the Beast scares Belle out of the west wing and the castle, he silently face-palms.

Another example is more of a "My God, What Did I Almost Do?": The look on The Beast's face screams this as he holds Gaston over the edge of the castle. The Beast has a similar reaction in the musical, when he grabs Belle's arm after catching her in the West Wing and accidentally rips her sleeve. This is what prompts her to leave the castle, while he desperately tries to apologize.
Tropes N-S
Especially considering that Belle sings that same melody during "Something There".
While in the bookshop, she mentions that the story has "Far off places, daring swordfights, magic spells, a prince in disguise." All of these could apply to her adventure.

Silk Hiding Steel: Belle reforms Beast first by standing up to him and then with more gentle affection. She's technically a captive with no authority the whole time.
Single Woman Seeks Good Man: Belle shuns the good-looking but thoroughly vain and egomaniac Gaston and prefers the Beast, who initially scares her by his monstrous looks and serious temper problems, but is brave, determined and capable of good.
Slapstick: The servants fight against the villagers was largely this, though there are one or two scenes in it that dip into frightening territory-like the scene when the Wardrobe dove off a balcony and landed on a guy was hilarious, but after a cut to Gaston looking for the Beast, we cut back to see her fighting other townsmen-and the guy she landed on is lying limp and lifeless in a crater where she landed on him, his weapon still in his hand, arms and legs sticking out of the hole and spread askew in what looks like death. Really easy to miss, as your eyes are drawn to different areas of the screen, but it's there!
Slasher Smile: "What's the matter, Beast? Too "kind and gentle" to fight back!?"

His stabbing the Beast before falling qualifies as well.

Small Name, Big Ego: Gaston. He even gets his own song about how great he is. He is still acknowledged as a skillful hunter though.
Small Town Boredom: Belle.
Smug Snake: Gaston when he storyboards his evil plans.
Snow Means Love: A whole song about them noticing their feelings have changed is in winter.
The Something Song: "The Mob Song".
Spirited Young Lady: Belle, with her literary tastes and intelligence, is a middle-class version.
Stalker with a Crush: Gaston.
| | | |
| --- | --- | --- |
| | Gaston: It's not right for a woman to read. Soon she starts getting ideas, and thinking... | |
Though it is possibly worth noting that he considers thinking a dangerous pastime for men too, even ones as masculine as himself.

Stealth Pun: Very stealthy. During the dungeon scene, Maurice screams: "No, Belle!" twice. And Belle's decision to take her father's place was a very noble one indeed.
Stepford Smiler: The villagers seem like the typical friendly chorus of many a musical, but they're shallow and all too willing to pick on anyone who's "odd". As "The Mob Song" puts it: "We don't like what we don't understand/In fact it scares us..." The musical implies that the servants are this to an extent. While they act quite upbeat and cheerful, several bits of dialogue hint that they are secretly scared that they're slowly turning into inanimate objects, perhaps forever.

It is also implied that they also may have some monstrous tendencies as well, seeing how the villain song "Gaston" has them singing praises about Gaston, and many of them were implied to be stuff that is horrible, and even when Gaston pretty much admits that he's up to no good in the final verses, they are in full support of Gaston's plan without any hint of fear or resentment. After the cheerful first couple of verses, and his cheerful rendition of the last verse, they probably thought he was joking.

Stock Scream: The infamous Wilhelm Scream can be heard during the mob's battle with the enchanted castle's residents, right after Chip saves Belle and Maurice.
Storming the Castle: It doesn't go well.
Straw Misogynist: It's not right for a woman to read--soon she starts getting ideas... and thinking.
Sweet and Sour Grapes:

Belle and the Beast both learn the lesson that appearances don't matter, and you have to judge people by their character and actions. Then their happy ending consists of the Beast going back to his beautiful princely pre-curse self.
A self that isn't chased by mobs and won't make Moral Guardians upset over certain issues when he and Belle get married.
And a self that is never actually described as "beautiful", nor do a good many people consider it to be.
Tropes T-Z
| | | |
| --- | --- | --- |
| | Beast: (to Belle) You will join me for dinner! That's not a request! | |
| | | |
| --- | --- | --- |
| | Gaston: (grabbing LeFou by the throat) I'll have Belle for my wife! Make no mistake about *THAT*!... | |
Then he loses it altogether when he realizes Belle loves The Beast, spurning Gaston once and for all.
Gaston: If I didn't know any better, I would you would have feelings for this monster.
Belle: He's no monster, Gaston! YOU are!!
"I want adventure in the great wide somewhere!
I want it more than I can tell!"
Gaston: Belle, if I didn't know any better, I'd say you had feelings for this monster.
Belle: He's no monster, Gaston. You are!