Jurassic World: Dominion Dominates Fandom Wikis - The Loop
Play Sound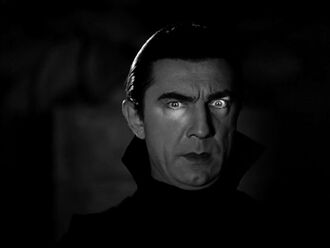 Bela Lugosi (1882-1956; born Béla Ferenc Dezső Blaskó) was a Hungarian-born stage and screen actor mostly known for his work in horror movies, in particular the title role in the 1931 version of Dracula. Following this film's success, he suffered severely from type-casting and the limitations of his heavy native accent, and spent the vast bulk of his career eking out a living in various low-budget productions, culminating (if that is the word) in his work with director Ed Wood.
He worked on several occasions with/was overshadowed by Boris Karloff. He managed to make a sort of comeback in death, however, when Martin Landau won an Oscar for his brilliant potrayal of Lugosi in Tim Burton's 1994 film Ed Wood.
Other notable or infamous movies in which he appeared: White Zombie, Murders in the Rue Morgue, The Wolf Man, Son of Frankenstein (as Ygor, generally regarded as one of his best performances), The Ghost of Frankenstein, Abbott and Costello Meet Frankenstein, Glen or Glenda and Plan 9 from Outer Space. He also had a supporting role in the classic Greta Garbo comedy Ninotchka, and many Mystery Science Theater 3000 fans will also remember him from the serial The Phantom Creeps ("Zees vill zimplify everytink!"), as well as the movie Bride of the Monster ("He tampered in God's domain").
Also rather well known for being dead.
---
Bela Lugosi is known for these tropes: