Jurassic World: Dominion Dominates Fandom Wikis - The Loop
Play Sound

Quotes

•
Headscratchers

•
Playing With

•

Useful Notes

•

Analysis

•
Image Links

•

Haiku

•

Laconic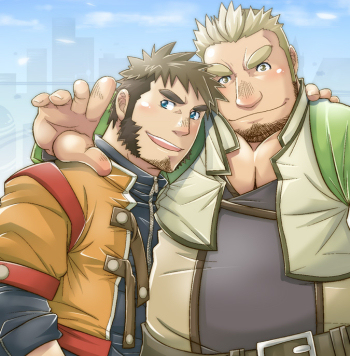 A Big Beautiful Man is noticeably chubby, and perhaps even obese, and yet considered genuinely beautiful and voluptuous for it.
This trope was more common centuries ago, when having some extra body fat meant people were seen as healthier (as opposed to typically malnourished masses), and was also a sign of affluence. People could truly be Fat and Proud. It has become more of a Forgotten Trope over time as most societies have themselves become more affluent and has access to more and healthier varieties of food. Such large-set people are not as usually considered as attractive by today's audience or in today's works, where they would more likely be considered Fat Slobs for their girth.
But while this is mostly true for women, it becomes a Double Standard with men. The sheer size of the Ugly Guy, Hot Wife page shows that Hollywood is more likely to let a fat man attract a lover with his personality and sense of humor. But per Rule of Funny, their beauty in another character's eyes is usually an Informed Attractiveness that doesn't even pretend to try to resonate with the audience.
A very notable exception is in works that appeal to gay men. Chubby men are not always considered attractive in the gay community, especially in contexts where The Twink or the Bishonen are considered the more marketable standard of beauty (ie, the majority of Western and Japanese works featuring gay men), and the rule of Hollywood Pudgy is in full force. But there is a sizable niche interest that finds them sexy and even Moe—these people are termed (for better or for worse) "chubby chasers". Among these include The Bear community, where body hair is the chief point of attractiveness, but most sexy chubbiness is also usually the order of the day.
The trope can also still be Played for Laughs when a chubby character sees himself as a Big Beautiful Man. Even then, it still often manages to come off as gay-for-oneself.
Fan Yay often gives Big Beautiful Man status to characters that were not (specifically) intended as such. This can apply to practically any chubby character. Even Santa Claus is not immune.
The Spear Counterpart of Big Beautiful Woman. Big Beautiful Man can overlap to some degree with Acrofatic, Bara, The Bear, Big Fun, The Big Guy, Fat and Proud, Hollywood Pudgy and Stout Strength. In fact, this trope overlaps with The Bear so often that some people consider them the same trope—except that technically this trope is about body fat and the other trope is about body hair.
---
The following works have featured a Big Beautiful Man
Anime and manga
Though Ivan Braginski aka Russia from Axis Powers Hetalia claims "I Am Big Boned!", fangirls love him with some chub. So much that fanarts/doujinshi in which he's slimmed down are often met with very negative reactions.

Cuba, the local Big Fun, is starting to get this rep as well.

Sig Curtis of Fullmetal Alchemist.
Gai from Shin Getter Robo VS Neo Getter Robo. The OAV version.
For some, Chouji from Naruto may grow up into this. Although looking at how he looks in Naruto Shippuden, some would argue that he already is this trope.
Comic Books
Circles has at least two of these. Marty is a chubby skunk who is at first timid about his weight, but his new roommate Taye actually finds him incredibly sexy, like a teddy bear, for which Ken derides him as a "chubby chaser". Then there's Arthur, the artistic Basement Dweller—he's a...bear (both socially and literally), now in his 40s, who helps reassure Marty that there's nothing wrong with being portly.
Watchmen: Dan Dreiberg. Once he stopped crimefighting, Dreiberg presumably stopped getting his usual exercise (read: thrashing bad guys) and put on some weight. Under that, though, he's still quite strong, and he has a pretty handsome face to go with it. The glasses don't make it any worse.

Same said for Blue Beetle Ted Kord during his chubby period (a kind of recursive tribute, since Dreiberg was based on Kord).

Bouncing Boy from Legion of Super-Heroes, especially his reboot counterpart Chuck Taine.
Cornfed from Livewires.
Literature
Live Action TV
Dave Karofsky has had a very outspoken Gay male fan base since the episode "Never Been Kissed," many of who simply prefer men of his build.
Noah's Arc: Alex sees himself this way (and Trey agrees). Additionally, like the example above, much of the fanbase does prefer a man of his build.
Web Comics
Video Games
Web Original
While That Guy With The Glasses has a lot of conventionally good-looking, slim guys (Benzaie, Doug Walker, Paw, Y Ruler Of Time, etc.), the big men like Rollo T, former contributor Lord Kat,[1] and to some, Sean Fausz, get a lot of love too.
Western Animation
Gloria the hippo's suitor Moto Moto, in Madagascar: Escape 2 Africa, is clearly intended to be one.

And it would seem that hippos as a species find chubbiness attractive, since Moto Moto and Gloria's flirting is made entirely of fat jokes.

Arguably, Nathan Explosion. At least, he's a big guy, it's not entirely muscle, and plenty of the show's Periphery Demographic find him attractive.
Stan Smith is on the chunky side, and also Rated "M" for Manly (or, rather, comedic Testosterone Poisoning).

Anastasia's boyfriend

Dimitri, the baker boy from Cinderella II.
Coop from Megas XLR
Uncle Iroh ...until he discovers that Prisons Are Gymnasiums in Book Three.
The Legend of Korra's Bolin. His girth in no way keeps him from being The Charmer.
T.J. Detweiler from Recess is a bit on the chubby side, yet among the female fans, he has the most fangirls.
Despite being a Fat Idiot and a Fat Slob, Dave the skunk from Scaredy Squirrel is one of these in an Ugly Cute sort of way. Just look at that enormous, cuddly, bushy tail of his.
Treasure Planet's Long John Silver is considered this by a good portion of the fandom, especially when being paired with Jim.
In My Little Pony Friendship Is Magic, Rarity seems to consider Donut Joe one.
Hunk in Voltron: Legendary Defender, if his ship tease with the likes of Shay, Pidge, and Romelle are anything to go by.
↑

who knows his way around a strawberry