Quotes

•
Headscratchers

•
Playing With

•

Useful Notes

•
Analysis

•
Image Links

•
Haiku

• Laconic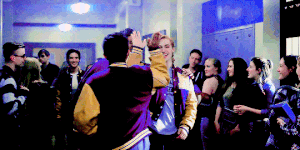 Guys want to be him, gals want to be with him.
The Big Man on Campus is the most popular guy in the High School. He is handsome, charming, a superb athlete and usually pretty smart (being booksmart is a common plus). Unlike his peers Alpha Bitch (who is usually his girlfriend until he realizes how awful she is) and the Jerk Jock (usually his friend until he realizes how awful he is) the Big Man on Campus never bullies anyone: he rules through charisma and general awesomeness rather than fear and manipulation. He'll probably grow up to become The Ace.
Which is not to say he is flawless, far from it. He is often superficially shallow and smug and might even reach Jerkass status in the way he casually treats his girlfriends—at least until he meets the Cool Loser heroine and learns the error of his ways.
The High School Hustler is often also a Big Man.
Generally this character is either the protagonist himself, or is the chief love interest in a story about a Cool Loser heroine. He rarely turns up if the story is about male outcasts (as the existence of a benign popular kid makes it harder to use jocks as villains) or about a popular girl (as those sort of stories usually give her an outsider love interest).
The Big Man on Campus is Always Male. For a 'popular but good hearted' High School female equivalent Spoiled Sweet is the trope of choice. Compare School Idol.
Examples of Big Man on Campus include:
Comics
Films
Literature
Live-Action TV
Theater
Video Games
Web Comics
Web Original
Western Animation