Jurassic World: Dominion Dominates Fandom Wikis - The Loop
Play Sound

Quotes

•
Headscratchers

•
Playing With

•

Useful Notes

•

Analysis

•
Image Links

•

Haiku

• Laconic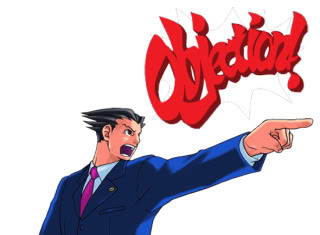 When anyone shouts a single word (repeat, one word) hard and loud (although that one word can be shouted more than once), for various reasons, as long as the reason is other than actually needing to shout. If someone is shouting because of a noisy room, someone is far away, or that someone is barking out orders, it doesn't count.
Often done for dramatic effect, actually Melodramatic effect, to the point this is rarely played straight anyway, due to the Narm potential.
If the word is someone's name, this often takes the form of a Skyward Scream.
A Sub-Trope of Chewing the Scenery.
A Super-Trope to:
Compare GASP, Say My Name, Calling Your Attacks, Metal Scream, Death Wail, Big OMG, Big "Shut Up!", Punctuated! For! Emphasis! (those three would be sub tropes, but use more than one word).
Not to be confused with Big Words.
Examples of Big Word Shout include:
Advertising
"SUUUURGE!" from one of Coca-Cola's attempts to enter the citrus soda market dominated by Mountain Dew.
"Cillit BANG!"
"POWERTHIRST!"
"SEGA!" (the Sega Scream) from commercials for the Sega Genesis and its add-ons, the Sega CD and 32X. Some commercials for Genesis ports of third party games used the scream.
Anime
Used many times in Soul Eater, with many contributions by none other than the resident ham, Black* Star. Also on a similar note "FOOL"
"BAAAAAN... KAI!" from Bleach. Japanese for "Final Release".
Magical Girl Lyrical Nanoha: TEEEEEEAAAAAAAAAA!!!
A few times in Dragonball Z. Example: after being beaten by the Androids, Arrogant Kung Fu Guy Vegeta vents his frustration by shouting "KUSOOOOOOOO!" ("SHIIIIIIIIT!") so loudly it crumbles the mountain he's standing on.
Akira: "KAAAAAANNNNNNNNAAAAAEEEEEEEEDDDDDDDAAAAAAAA!!!!!"
Neo Ranga "RANGAAAAAAAAAAAAAAAAAAAAAAAAAAAAAAAAAAAAAAA!!!!!
Gundam "GUNDAM!
Code Geass RRRRUUUUUUUURRRRRRRRRUUUUUUUUUUUUUUSHU!!!!!!!!
S-Cry-ed HAAAAAAAMMMMMMMMMMAAAAAAAAAAAAAAAHHHHHHHH!!!! *ad infinitum*

"RYUUUUUUUHOOOOU!!" "KAZUUUUMAAAAAAA!!"

One Piece: "GOMU-GOMU NOOOOOOOOOOOO......PISUTORUUUUUUUUUU!!!!!'", etc
Fairy Tail: "Karyuu no...HOUKOOOOOOOOU!" and all variations thereupon.

The English equivalent: "Fire Dragon...ROOOOOOOOOOOOOOOOOAR!"
Comic Books
Fan Fiction
Deserving "Dumbledorrrrrrrrrrrrrrrrre!"
In an Omake chapter of the first story in Noir Ange, also known as My Destiny My Fervent Plea one of the main characters gets a little too hyper: "CUUUUUUU- UUUUUUUUUUUU - UUUUUUUUUUU- UUUUUUUUUUUUU- UUUUUUUUUU- UUUUUUUUUUU- UUUUUUU- UUUUUUUUUUU-UUUUUUUUU- UUUUUUUUUU- UUUUUUUUUUUUU- UUUUUUU- UUUUUUUTE!"
Film
Live Action TV
"Marshaaaaaaallll!"
"Lillllyyyyyyyy!"
"Barneeeeeeeeyyyy!"
"Stewaaaaaarrt!"
"Naaaat-aaaaaa-lieeeee!"
"Trudyyyyyyyy!"
"Ranjiiiiiiiiit!"
"Carl-The-Bartendeeeerrrrrr!"
"Dude-from-my-bodegaaaaaaa!"
"Steam-Cleaning-Coupon-Guuuuuuuuyyyyy!"
"Moooooooooom!"


Series/Highlander "DAARRIIUUSS! DARIUS!"
Music
Sports
Latin American football casters: "¡¡¡GOOOOOOOOOOOOOOOOOOOOOOOOOOOOOOOOOOOOOOOOOOOOOOOLLLLLLLLLLLL!!!"
Korean StarCraft commentarots: "GEEEEEGEEEEEEEE!"
Theatre
Video Games
Web Comics
Web Original
Critic: "JUST...EX...PLAAAAAAAAAAAAAAAAAAAAAAAAAAAAAAIIIIIIIINNNNN!!!!!!"
*shows a nuclear blast leveling a city*
Critic: * Leans back in his chair and breathes a sigh of relief, before doing a Double Take as he looks outside to see a leveled city and emergency response teams running around.* "Er..... Sorry."
Then there's the beginning of the: "Adventures of the Kool-Aid Man" review.
| | | |
| --- | --- | --- |
| | Linkara: WHY?! Why make a comic about the Kool-Aid Man?! | |
College Humor created "Powerthirst," a spoof advertisement for a made-up energy drink. About half of the runtime of the video (and of the sequel) involves a man with steroids in his voice shouting random catchwords like a drill sergeant.
Western Animation