Wiki Targeted (Entertainment)
Play Sound

Quotes

•

Headscratchers

•

Playing With

•

Useful Notes

•

Analysis

•

Image Links •

Haiku

• Laconic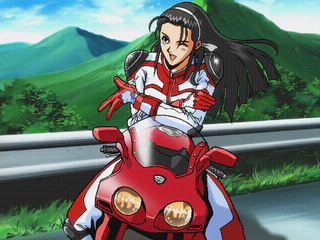 Women who operate fast vehicles are apparently attractive. Maybe it's the tight leather. Also includes car drivers and female pilots.
Compare and contrast Hood Ornament Hottie. The two are similar, but a Biker Babe actually rides the bike and often wear outfits which are a little more conducive to road safety. (Although the page image is an exception to this rule of thumb.)
May deliver a "Samus Is a Girl" reveal, if she doesn't wear her leathers skintight and does wear a full helmet.
Essentially the Distaff Counterpart to Badass Biker, in that she won't be a pushover if things get messy, although she may be less aggressively badass than he is.
Will likely induce a Hello, Nurse! effect on nearby males, and maybe some Stupid Sexy Flanders from a nearby female.
Compare Hood Ornament Hottie who is purely decorative.
Examples of Biker Babe include:
Motorcycle Riders
"Appleseed" does this with the main character, Deunan. She is seen in the Ex Machina movie riding a pink motorbike around the city of Olympus. This depiction isn't shown again in the movie, but gives an insight into her personality.
One of Cutey Honey's more prominent forms is a biker.
Being inspired by Cutey Honey, so is Angel Blade. She is a hazard to every male driver she passes by.
Natsuki Kuga from Mai-HiME
Likewise her Name's the Same Expy in the first episode of Ga-Rei Zero.
Benten, one of the Seven Gods of Good Fortune in Urusei Yatsura, is portrayed this way.
Haruka Tenou of Sailor Moon.

In the Materials Collection, JunJun is also stated to ride a bike, though all we ever see of this in the series is a rather 80's esque biker outfit.

Golden Boy has one, in one of it's more perverted episodes. She has a....strong attachment to her motorcycle.
Mai Kujaku/Valentine of Yu-Gi-Oh! after her Face Heel Turn.

She kept the bike after returning to the side of good.

Wedy, Classy Cat Burglar and Action Girl from Death Note, and Misora Naomi, in the spin-off novel Another Note.
Sherry LeBlanc of Yu-Gi-Oh! 5D's. As of Episode 75, Aki Izayoi too.
Priss from Bubblegum Crisis, and Sylvie. Motorcycle racing as lesbian flirting, anyone?
Teana, resident Gunslinger and Tsundere in Magical Girl Lyrical Nanoha Striker S, rides a Cool Bike. Not to mention, her partner (and possibly more) Subaru, who's a Jet-Skater Babe.
Haruko from FLCL.
Jun The Swan from Gatchaman, where riding her bike off a waterfall, jumping off it in midair, and landing gracefully back on it before it hits the ground is no big deal for her.
Sakaya Yumi from Mazinger Z. She is given a bike to interface with one of the robots she pilots.
Reki from Haibane Renmei.
Aoi Hidaka, the protagonist of Dancougar Nova is a Hot-Blooded Formula One racer, but she mainly rides bikes in the series.
Rex and her gang from Macross 7.
Houquet Enrose from Genesis Climber Mospeada (aka "Rook" from Robotech New Generation).
Hibari Ginza from Speed Grapher.
In Lupin III: First Contact, Fujiko is shown to be be an excellent motorcyclist (and driver in general) throughout all of the series and movies. Oftentimes, her abilities in this field are—if not key—a deciding factor in the situation.

Hilariously enough, her leather zip-up bodysuit's zipper seems to randomly change position. Sometimes it's fully zipped up; sometimes it's open enough to show off her generous cleavage.

Masayo, a one-time character in Tenchi in Tokyo who befriends Ayeka and Sasami.

She was a shooting star turned into a woman by Yugi and their squad, and had to befriend the girls to keep them from findign Tenchi. But after they learn that she's also searching for her also-humanized boyfriend, Isao, the sisters help her find him.

Celty from Durarara uses a kind of glamour to shift her horse and traditional attire into this as a modern-day version of the Headless Horseman.

also, Vorona in the novels

Natsumi from You're Under Arrest is primarily a biker, and does not take well to cars at all.
The Girl of the Episode in the 5th Episode of Goldenboy.
Aki Hinata from Keroro Gunsou combines this with Hot Mom.
Kureha from Tokko.
Non from Majokko Meg-chan.
Minai from Shikabane Hime, though she's only shown riding her bike briefly while chasing a shikabane in one episode.
Mari Katsuragi, Keima's mother from The World God Only Knows, is an ex-biker who used to be known as the snow woman of the mountain pass. Once in a while, she breaks out the old skills.
Kirima Nagi from the Boogiepop Series.
Chihiro and Megumi from Ah! My Goddess.

Also, while she doesn't ride as much as the other two, Belldandy definitely has the skills to count.

Kazuki from B Gata H Kei.
Fiery Redhead Miranda from Venus Wars is the Queen of her Battle Bike team.
Michiko from Michiko to Hatchin rides a strange scooter/motorcycle thing, and is quite adept with it: pulling all kinds of stunts like wheelies, ramp jumps and riding across rooftops.
Quorra from Tron: Legacy certainly qualifies despite the fact that she seems to favor the Light Runner over the Light Cycles.
Fiona Vulpe, motorcyclist SPECTRE assassin in the James Bond movie Thunderball.
Rather averted with the mean female bikers in Rat Race.
| | | |
| --- | --- | --- |
| | | |
Barb Wire (1996). The title character, played by Pamela Anderson, rides a motorbike. Based on a comic book. It provides the page image.

Cyclone

(1987). Teri Marshall (Heather Thomas) rides the titular motorcycle.
Pretty much every female character in Driven.
All the 'Chicks' in

Chopper Chicks In Zombietown

(1989).
Mikaela gets upgraded to this, briefly, at the start of Revenge of the Fallen. However, despite there being plenty of potential for a little girl-on-girl, given the existence of Arcee, the female Autobot trio of motorbikes, she doesn't get back on a bike after the action starts until the end of the film.
The Bride from Kill Bill - although no stunning reveal, just stalking. Still hot and creepy though.
Trinity from The Matrix Reloaded.
Rebecca, title character of the 1968 British-French film The Girl on a Motorcycle (Naked Under Leather).
Camero from Bitch Slap—in one scene,

dressed as an Elvis impersonator

.
War in Good Omens, once the Four Horsemen become the Four Bikers.
For the handful of occasions she's brought her motorcycle with her, Karrin Murphy of The Dresden Files definitely qualifies as a Biker Babe. Just don't call her that where she can hear you.
Fiona in William Gibson's Zero History
Ivy Tamwood from

The Hollows (series)

Jane Yellowrock from

Blood Cross

by Faith Hunter.
Cassiel from Undone by Rachel Cain.
Kate Redding from

To Walk the Night

by E.S. Moor.
Janet Begay form

Stormwalker

by Allyson James.
 Henry: "Look, she's straddling the motorcycle!"

Dave: "No cow was sacrificed in a greater cause."
The title character in Rose Is Rose has a tattooed, black-leather-clad Biker Babe alter ego she turns into in times of stress.
EVA from Metal Gear Solid 3, who mixes this with Badass Grandma in the 4th game.
In Full Throttle, the Vultures biker gang has a handful of female members.

including motorcycle company heiress Maureen

.
In Rumble Roses, the Heel incarnations of both Reiko and Dixie are both variations of this trope.
Rival Schools's Akira has "motorbikes" listed as one of her likes in her profile, and she's even shown driving one on a game cover. Not to mention the bodyglove biker suit and the (optional) helmet.
Maki, from the Street Fighter and Final Fight series, is a biker babe. A 'ninja' biker babe.
Claire Redfield in Resident Evil 2.
Bayonetta and her rival Jeanne drive motorcycles. They can do cool tricks with them like drive up walls and on enemies' faces.
Blue Mary Ryan from the Fatal Fury series is also a good example.

Pictured above: Although she doesn't look the part, Chizuru Kagura from King of Fighters is this as well. Kyo's cousin Aoi fits in too.

Mario Kart Wii turns Peach, Daisy and Rosalina into this if you give them Bikes.
Mitsuru from Persona 3 drives a motorbike, whereas in Persona 5 Makoto's Persona Johanna takes the shape of a motorbike.
Cheiron/Sagiitta from Sakura Wars V.
Desiree Delite in Phoenix Wright: Ace Attorney: Trials and Tribulations.

The first design sketches of T&T's younger Mia Fey had her on a motorbike, too. This didn't survive to the final product, unfortunately.

Another Haruko from AIR.
She never does it in the actual visual novel, but Arturia, the Saber from Fate/stay night, is one badass biker babe. Turns out her ability of being a supernaturally adept "rider" isn't limited to animals... Justified since in this universe, the Servants who are summoned to this world pick up via magic many skills needed to handle themselves with modern tech, which certainly includes driving.
Roxy Rocket of the DCAU tries to be this. Whether or not she succeeds is an issue to take to the forums.
The aptly named Sizzle (both for her measurements and for her love of flamethrowers) from Stunt Dawgs was built around the concept of hot women on hot bikes.
Charlie from Biker Mice From Mars.
AndrAIa from Re Boot reboots as a literal biker babe on numerous occasions, complete with leather fixings, and retains a fascination with motorcycles and hover-bikes throughout the rest of the show. This part of her nature has not gone unnoticed, and many other characters frequently ask just what it is with her and bikes.
Huntress in Batman the Brave And The Bold.
Sonic Underground has Sonic's sister Sonia.
Arcee of Transformers Prime uses a hologram of a helmeted Biker Babe in a skintight leather outfit as part of her motorcycle disguise when she's in public. This causes problems for Jack in one scene when his crush assumes that Arcee's "rider" is his girlfriend.
The villainess Rojo in the original Ben 10 series.
Despite not looking it, Yuko Goto rides a motorcycle. This was parodied in Lucky Star.
Three-time Pro Stock Motorcycle drag racing champion Angelle Sampey.
Car Drivers
RE: Cutey Honey ends with Natsuko racing down the highway in a convertible while Honey rides her motorbike beside her.
Fate of Magical Girl Lyrical Nanoha got herself a black convertible (the Cardiche) sometime during the Time Skip.
Rally Vincent from Gunsmith Cats.
Also from You're Under Arrest is Miyuki. As is Sena, Ken's twenty-year-old stepmother, who drives a custom-built roadster.
"Cherry-boy hunter" Sonoshee Mclaren, as well as Bosbos and her sister in Red Line
Reina Akikawa in Wangan Midnight who owns a tuned Nissan Skyline GT-R and drove a number of other tuned sports cars. And she's also a model and a TV Show host.
Chassis. For bonus points, it was a flying car!
Herbie Fully Loaded features Lindsay Lohan.
Jill Rivers (Tara Buckman) and Marcie Thatcher (Adrienne Barbeau), two knockout women in a black Lamborghini Countach in The Cannonball Run.

At least start with Joann Nail and Susan Flannery from the original (and superior) The Gumball Rally.

Thunderball had Fiona Volpe and her motorcycle; the remake Never Say Never Again had Fatima Blush, who led Bond on a chase in a (heavily modified) screaming mid-engined Renault 5. Volpe herself got Bond a bit anxious as a passenger in her Mustang.
Reiko Nagase was portrayed this way in the third Ridge Racer game, at the very least as more than just eye candy. Later, the trope would be shown in full with Rena Hyami, ambulance driver turned racer.
Ash, Emily and Kate from Misfile, all into street racing.
Women in auto racing are rare, but Indy Car and NASCAR driver Danica Patrick definitely fits.
Ashley Force, NHRA drag racer. Now joined by her sisters Brittany and Courtney.
Michèle Mouton, a rally driver and probably the best competitive female driver ever.
Sabine Schmitz, Nürburgring specialist, host of the German show D-Motor and once jokingly suggested as a replacement for Richard Hammond.
Pilots
Kallen's Guren in Code Geass came equipped with a motorbike-like pilot seat, for no apparent reason other than to invoke this trope. The Guren's mass-production derivative, the Akatsuki, has the same cockpit. Plenty of female pilots too.
The same goes for Faye from Cowboy Bebop and her fighter ship.
Kitori from the Area 88 TV series flies as well as any man at the base. And she lives longer than most.
Hannah Reitsch, German test pilot and combat flier.
Lily Livak, Russian air combat ace.
Kim Campbell (not to be confused with the former Canadian prime minister of the same name) not only flies A-10 Thunderbolts in combat, but managed to land one with total hydraulic failure after taking a hit over Iraq (a Crowning Moment of Awesome, regardless of what one thinks of the war itself).