YMMV •

Radar

•

Quotes

• (

Funny

•

Heartwarming

•
Awesome

) •

Fridge •

Characters

•

Fanfic Recs

•

Nightmare Fuel

•
Shout Out

•

Plot

•

Tear Jerker

•

Headscratchers

•
Trivia • WMG •

Recap

•

Ho Yay

•

Image Links

•

Memes

•

Haiku

• Laconic •
Source

•

Setting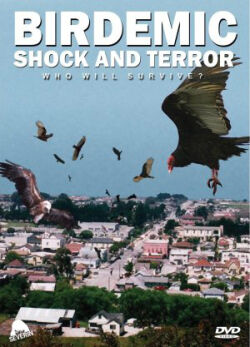 A film introduced to the wider world by Tim Heidecker and Eric Wareheim of Tim and Eric Awesome Show, Great Job!, a basic plot synopsis would be... well, all you need to know is that it starts as a terrible romantic comedy about a young couple in love and abruptly shifts at the middle to a terrible B-action movie about killer birds with a green agenda. It's sort of a homage to Alfred Hitchcock's The Birds, only really badly made.
It was shown at a couple festivals in 2008 and 2009, and then had a small theatrical run in 2010. It was released on DVD and Blu-Ray in February 2011. Since its premiere its been Snark Bait for all the usual suspects.
A sequel, Birdemic 2: The Resurrection was released in 2013.
Tropes used in Birdemic include:
Kevin: (seeing Nathalie) What were people's complaints about this movie again?
Bill: Well, that the acting, dialog, special effects, script, sound editing were all really, really terrible.
Kevin: Yeah, it is pretty great, isn't it?!
| | | |
| --- | --- | --- |
| | Whitney Moore: There's not a lot you can do to prepare yourself for something like swatting away non-existent birds with coat hangers. At that point in the shooting, I was pretty much just along for the ride. | |
In Birdemic II coat hangers will be replaced with umbrellas.

Improbable Aiming Skills: Averted. The heroes can't seem to hit birds hovering directly in front of them, with either guns or coat hangers.

Later, simultaneously averted and played straight, when the characters shoot at birds in front of a bus. Some shots hit the birds; many others miss, without damaging the bus or hurting the people inside. This means that every shot fired either hit a bird without creating an exit wound, or missed both the birds and the bus completely.
As Obscurus Lupa pointed out, Ramsey fires several times and hits nothing, but when Rod shoots once, he gets one. Ramsey had a machine gun and Rod had a pistol.

Incest Is Relative: There's hints of this in the song Hangin' Out with the Family which chronicles a family gathering where "...the brothers can't wait to hook up" and "...grandma gets to pancin', to make sure, the fellas, don't try any glancin'!"
Informed Ability: All over the place.

Perhaps the worst example is Rod who somehow invents cheap affordable solar power between scenes. He comes off not even being intelligent enough for his former salesman job.
The actress playing Nathalie is plenty attractive enough to play a model but for someone who just landed a Victoria's Secret gig no one seems to have any confidence in the future of her career.
According to Nathalie, Rod is intelligent and charming. We never see any evidence of this.

Insurmountable Waist-Height Fence: Dr Jones is guarding a bridge across two small ponds which would take only a few minutes to walk around.
Leave the Camera Running: Many times, most obviously the ending.
Mike: More drama! He parked in a space for compacts even though his car is not technically a compact.
Kevin: Make sure to get the office number of the office building or they won't know where the building is!
Bill: (as Nguyen) Hi, I'm making a film and I'd like to pay you for a full score... wow, that much, huh? Well, how about a one minute song and we pause it and loop it again? Deal!
Mike: (as Nguyen) Hi, I'm making a film and I'd like to have it open on one of those long driving shots, you know, where you follow the car from above through a nice landscape... ooh, wow, that much, huh? How about if I just shoot from inside the car with a crappy home video camera? Deal!
During the "news" segments, viewers will notice that Nguyen couldn't even afford to have the Getty Images watermark removed from the stock footage.

No Ending: The movie does not so much end as coast to a stop.
Padding: Dear God, yes. About 90 minutes of it. Including a boardroom scene that, as Joel McHale pointed out, just wouldn't stop. Also, you will eventually reach the point where every time a character enters a car your body will tense up as though your torturer has just returned with heated pliers.
Noisy Nature: The "golden eagles" and "turkey vultures" make a constant, repeating seagull cry while attacking.
Parody Retcon: Averted! Despite how ridiculously cheap the movie is, James Nyugen -insists- that it was meant to be serious all along.
Police Are Useless: The police apparently need to be called because they didn't notice the birds attacking buildings and exploding.
Product Placement:

Cameron's Pub (where the bar date with Rod and Nathalie took place) has actually received a small popularity boost from the film, and has even recently held a Birdemic Fest with James Nguyen and "Just Hanging Out" singer Damien Carter.
Also inverted with many brand logos being blurred out.

Reckless Gun Usage:
Right Through His Pants: Apparently how Natalie has sex, given how she wakes up in the hotel. Credit must be given to Rod, though, who apparently had sex wearing a tanktop, slacks, and a belt.
Rule of Cool: The hawks make divebomber sounds when attacking buildings. They also cause the buildings to explode.
Sanity Slippage: Ramsey suffers one, and "rescues" some people best left unrescued. And the audience.
Shout-Out: Several.

At one point, the characters go out on a double date to see just An Inconvenient Truth - reportedly one of James Nguyen's favorite movies of all time.
There's also several references to another one of Nguyen's favorite films, The Birds.

Both movies start out as romances then suddenly change into horror films at the halfway mark.
Both films have a dead shopkeeper with their eyes pecked out.
The male lead is named in honor of Rod Taylor, the actor who played the romantic lead in The Birds. Nathalie's name could also be a reference to the actor who played the female lead of that movie - Nathalie "Tippi" Hedren.
Both films have an environmentalism theme, though Hitchcock's ecological message was subtler by far. Hitchcock had the birds attacking whenever smoke was visible in the background. Nguyen just has random fires and smoke clouds show up.

Space Whale Aesop: If you contribute to global warming, the polar ice caps will melt, pine beetles will breed out of control, and angry, exploding animated .GIF birds will attack you.
Stalking Is Love: Most models aren't charmed by tech salesmen following them around. Granted, Bagh's bad acting makes him seem creepier than he might be, but his behavior is still odd.
Stock Footage Failure: Some of the stock footage shown on the news has a great big Getty Images watermark emblazoned across it, indicating that the movie was too cheap to just buy the footage.
Stock Sound Effects: Bicycle bells are bizarrely used as the sound effect for phones, and birds sound like World War II Japanese Zero dive bombers.
Suckiness Is Painful: James Nguyen built his own 3D rig for the sequel. If it's done with the care and quality of the first film's special effects, this trope could be literally true.
Suspiciously Similar Song: Sometimes the score will sound suspiciously like Vangelis' theme to Chariots of Fire then John Lennon's "Imagine" (shamelessly called "Imagine Peace") at the most inappropriate times.
Suspiciously Specific Denial: Unintentional example. Becky gets attacked by a bird. Nathalie empties her gun into the bird sitting on Becky's face, then runs back to the car screaming "She's dead! I didn't do anything!"
Technical Pacifist: Ramsey says he left the military because he was tired of all of the killing. Yet, as Phelous snarked, he keeps a loaded M4 and several pistols (and apparently LOTS of ammo) in his van.
The Unintelligible: Rod at times, especially when he's talking about his great inventions, slrpnls.
X Meets Y: The Birds if it was made by Strong Bad.