Wiki Targeted (Entertainment)
Play Sound

Quotes

•

Headscratchers

•

Playing With

•

Useful Notes

•

Analysis

•

Image Links

•

Haiku

• Laconic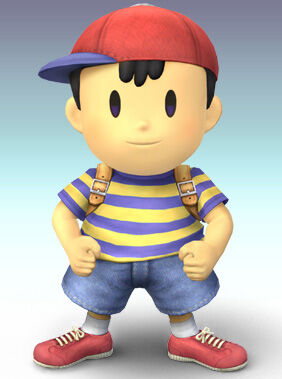 A fairly common trait amongst works with a simplistic art style is that the characters' eyes will be nothing more than a black dot on their faces. Many fans of animated works will be openly familiar with this particular trope since it shows up in both Western and Japanese animation, the latter of which is usually in the form of Super Deformed Chibis. In some cases the characters may get Skintone Sclerae or Cartoony Eyes when a shocked expression is needed.
Could end up causing Only Six Faces or in some cases, the exact opposite. Also guaranteed to show up in a Stick Figure Comic. Might be a way to add a pinch of Moe to the series.
Related to, but not to be confused with Black Eyes. See also Pie-Eyed for an old-school variant.
Examples of Black Bead Eyes include:
Toys
Every LEGO minifigure until the mid-2000s.
Professor Layton, but only for a few characters (including Layton himself).
The Mario and Luigi series uses this style for some supporting characters.

Bowser Jr, the Toads, Boos, Piantas, Lumas, etc.

Features in all of the MOTHER series games, but it's a more obvious stylistic choice in Earthbound and Mother 3.
A good variety of Pokémon have this sort of eye. Up until Generation II, a lot of humans had a style similar to this. It took a while for the other adaptations to catch up.
Many Kirby characters.
Katamari Damacy: The Prince and his many, many cousins have these.
Peacock of Skullgirls is the only character in the game to have these.

Though in reality, they're not eyes: they're her empty eye sockets.

All the livestock in the Harvest Moon games.Also the overworld sprites of characters.
The first few eyes that your sackboy gets in Little Big Planet are these. Justified in that his eyes really are only black beads or buttons. However, later on you get eyes that go beyond this, such as the cartoon eyes and the neon eyes.
The artwork for Harvest Moon 64 had the characters with this style, mixed with Super-Deformed, probably to match the games style. In-game artwork was more detailed though.
The Coconut Crew, a group of koala NPCs from Sonic Rush Adventure, had these.
The human characters on the educational website Brain POP, most notably Tim.

Also, the animal characters.

Several characters from Homestar Runner such as The Cheat, Strong Mad, Homsar, Trogdor, and most of the Old-Timey cast.
Tom from "Eddsworld".
MS Paint Adventures: Everyone in Jail Break and

Bard Quest

, almost everyone in Problem Sleuth, and pretty much everyone except the trolls in Homestuck(at least in the standard art style).
Arthur, King of Time and Space, with variants: Arthur's own eyes are heavily lidded; Nimue's have visible whites, perhaps because she's a Wide-Eyed Idealist.
Our Little Adventure, except for elves.
Some of the characters in Sakana.
In the Doctor Who fan comic The Ten Doctors (as well as other Doctor Who fan comics by the same artist), the Fifth Doctor, Jamie, Zoe, and the Eleventh Doctor[1] all have black bead eyes. Due to the art style, other characters have it from time to time—mostly when drawn in the background.
Mickey Mouse and Minnie Mouse have these in their classic designs.
Stimpy of Ren and Stimpy was given one of these as an animation error (in the "Breakfast Tips" bumper). However, John Kricfalusi thought it was funny so he left it in
Stickin' Around does this, since its art style takes after the traditional Stick Figure Comic.
The pilot of Megas XLR had Coop drawn with half outlined eyes without any color to them or even whites. The part of his eye that would have been white was the same color as his skin.
Some characters in The Flintstones, most notably Barney and Wilma.

In the earlier cartoons Barney even had empty circles for eyes. Does Barney have Prophet Eyes ?

Most of the cast of Winnie the Pooh, which consists of plush toys with actual black beads for eyes.

Also, Christopher Robin himself in any of his pre-2011 appearances.

Elroy on The Jetsons
Most of the characters in Doug, such as the title character.

Jim Jinkins also used this eye style in his other shows PB and J Otter, Stanley, Jo-Jo's Circus, and Pinky Dinky Doo for some characters.

Most of the cast of Pepper Ann
Many characters on Adventure Time, especially humanoid characters. They often change in order to show emotion, though- most commonly to Sphere Eyes, similar to the Pearls Before Swine example above.
Several minor characters in Adventures of Sonic the Hedgehog.
Certain characters in Top Cat, such as Officer Dibble.
The cast of Popeye has these.
The Cast of The Mr. Men Show may also qualify.
Any animated character that wears Eye Glasses. Some retain this when they take the glasses off:
Ike and every other person from Canada on South Park.
The cat seen in Whitmore's mansion at the very beginning of Atlantis the Lost Empire for some reason actually drawn with these type of eyes, but when we see the same cat again at the end of the film, it has the eyes of an actual cat!
Hamm the piggy bank from Toy Story. The Cars version of him has Skintone Sclerae instead.

Also by Pixar, Peach the sea star and the seagulls from Finding Nemo.
One of Ms. Nesbitt's students from Monsters, Inc. (a blue sluglike monster who bites Mike Wazowski in the arm).
Back to Toy Story, a whole lot of characters from the film. Justified, since they are toys.

Billy and his father, Harold from The Grim Adventures of Billy and Mandy.
Codename: Kids Next Door, though there are a few exceptions.
Some animals have these type of eyes.