Jurassic World: Dominion Dominates Fandom Wikis - The Loop
Play Sound

Quotes

•
Headscratchers

•
Playing With

•

Useful Notes

•

Analysis

•
Image Links

•

Haiku

•

Laconic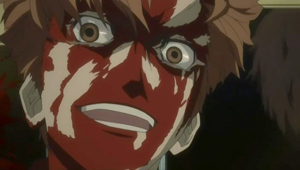 A battle for honor, a one-sided fight, getting even, or just plain killing people can be very messy affairs. In the process, the victim may have accidentally sprayed some of their blood all over their attacker and others, or the attacker may have become covered in their own blood from retaliation. Fortunately, the attacker doesn't seem to mind and will eventually walk around covered in blood as if it's no big deal. It may even result in them becoming even more excited and send them into a frenzy.
It is important to note that people who have seen them in action or immediately following may mention them to others as a figure to avoid if that character is particularly efficient or particularly insane. The Blood Knight and the Combat Sadomasochist have a high probability of invoking this, since they're both known to revel in the feeling. Japanese has a word for this state, 'chimamire,' which may say something about Japanese history.
Highly likely to show up in Gorn. Related tropes include Blood-Splattered Wedding Dress for the special day gone horribly wrong, Bring My Red Jacket for people that prefer not to show off too much and White Shirt of Death who love showing off their new iron-themed attire. See also Blood Splattered Warrior.
Not to be confused with Black Blood.
Examples of Blood Is the New Black include:
Anime and Manga
Ladd Russo and the Rail Tracer

Claire Stanfield

from Baccano invoke this increasingly over the course of the Flying Pussyfoot arc. Ladd brings it up verbally and it's why he wears white;

Claire

just manages to become so coated it's the Rail Tracer's most notable feature.
Lucy from Elfen Lied.
Shizuo Heiwajima and

Masaomi Kida

from Durarara.
Nearly every member of the cast in Highschool of the Dead has this happen at least once.
Ichigo and a few other characters in Bleach have invoked this on a couple of occasions.
Hellsing: Seras Victoria seems to acquire a coat of blood whenever her Super-Powered Evil Side kicks in. In this work, every major combatant probably qualifies at some point or another.
Saya in Blood Plus when in her Beserk Mode.
Nicholas D. Wolfwood

dies

this way in the manga. A majority of the blood is his, but still.
Comic Books
Film and Television
The title character from Carrie was covered in pig blood, the result of a heartless prank by the Alpha Bitch, and she wore it when she went on her rampage.
In the CSI episode, "Bad to the Bone", a particularly nasty murderer is caught almost immediately when he casually walks into a diner to wash his hands after beating a man to death.
One of many famous scenes in American Psycho is Patrick Bateman killing an annoying co-worker just as he finishes lecturing him about Huey Lewis and the News. Then, with his face covered in blood, he takes of the raincoat that was keeping his suit clean and casually sits down in a chair facing the co-worker's hacked-up corpse to smoke a cigar.
Mel Gibson in both Braveheart and The Patriot.
Kill Bill: O-ren Ishii covers herself in blood after killing her parent's murderer.
Sin City has red blood splattering into the faces of Devon Aioki and Mickey Rourke in two different scenes.
In the Masters of Horror episode "Cigarette Burns", Annie is covered head to toe in blood when she emerges out of the theater screen at the end.

Downplayed with Dalibor after he decapitates

the taxi driver

.
Music
The protagonist of The Birthday Massacre's song "Happy Birthday." Midway through the song, her "black and white dress" becomes a "black and red dress".
Variant: the music video for the Red Hot Chili Peppers' "Scar Tissue" has the band all bloodied and battered (which fits the injury-related title and lyrics).
Print Media
Professional Wrestling
If you want to see what this looks like in Real Life, watch the 1992 Great Muta vs. Hiroshi Hase New Japan Pro Wrestling match. To this day, Smarks measure how profusely a wrestler bleeds on the "Muta Scale".

Stone Cold Steve Austin's bloodstained screams while in the Sharpshooter in his Wrestlemania XIII match against Bret Hart made him a superstar and one of the biggest faces ever because he just wouldn't give up.
Ric Flair has been doing this since the 70's and hasn't stopped.
And then at Judgment Day 2004 JBL and Eddie Guerrero took this trope Up to Eleven.
Any Hell in a Cell match prior to 2009 was practically mandated as this.
Tabletop Games
Theater
Video Games
The "Rage" sections of Wet occur when Rubi shoots a mook at close range in a cut scene and gets blood splashed on her face, triggering Rubi-Vision.
Characters get covered in blood after virtually every fight in Dragon Age, not to mention that your progress on the map screen is marked by a literal trail of blood. (BioWare would like you to know that this game is edgy.)
In Mass Effect 3 several Krogans end up covered in so much blood it drips off them. And they like it that way.
When Ezio of Assassin's Creed II kills his first target, the man who sentenced his brothers and father to death, he stabs the guy over and over in grief-stricken rage and then screams at the shocked onlookers while covered in the target's blood. Later, calmer kills have the blood fade quickly from Ezio's hands and clothes, but it lingers in that scene to add to the emotional charge.
Web Original
Played for laughs in A Very Potter Sequel. After his transformations, Remus Lupin walks around for several scenes at a time wearing nothing but tighty-whiteys and the blood of his (animal) victims. He keeps having to come up with lame excuses as to why he's covered in blood.
| | | |
| --- | --- | --- |
| |  Lupin: Uh... it's tradition! Yes, it's tradition that every game, before the match, the Gryffindor... pee-wee Quidditch team kill a defenceless doe... and devour it! In doing so, we are able to absorb the power and ferocity... of a doe. | |
Western Animation