YMMV •

Radar

•

Quotes

• (
Funny •

Heartwarming

•

Awesome

) •
Fridge

•

Characters •

Fanfic Recs

•

Nightmare Fuel

•
Shout Out •

Plot

•

Tear Jerker

•
Headscratchers

•
Trivia •

WMG

•

Recap

•
Ho Yay

•
Image Links

•

Memes

•

Haiku

• Laconic •
Source

•

Setting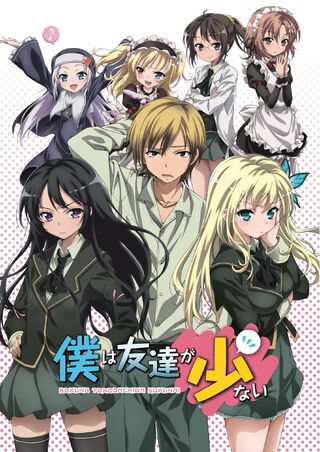 "Recruiting Friends."

—Agenda of the Neighbor's Club
Kodaka Hasegawa is a second-year transferee to a Catholic school, St. Chronica Academy, and as always, he finds it nigh-impossible to make friends due to his natural blonde hair (inherited from his late English mother) which makes him pass for a delinquent. One day, he runs into the equally solitary and very abrasive Yozora Mikazuki while she speaks to her Imaginary Friend, "Tomo-chan". They decide that the best way to improve their social situation is to found a club — Neighbors Club — to help them make friends and learn social skills.
Joining them are five others — arrogant school idol Sena Kashiwazaki, daughter of the school chairman, whose popularity with boys naturally earn other girls' ire; Yukimura Kusunoki, an extremely effeminate freshman who joins in the hopes that Kodaka teaches him how to be more manly; Rika Shiguma, a genius (and perverted) freshman; Kobato Hasegawa, Kodaka's younger sister and a second year middle-schooler with an obsession for goth culture and vampires; and Maria Takayama, a 10-year-old nun and teacher, who also serves as club advisor.
One can only hope that these seven social losers can get their act together before the club implodes from their nigh-irreconcilable eccentricities.
Boku wa Tomodachi ga Sukunai ("I Don't Have Many Friends") — also known by its canonical portmanteau name "Haganai" — is an ongoing 2009 light novel series written by Yomi Hirasaka and illustrated by Buriki (of Denpa Onna to Seishun Otoko fame), with a 2010 manga adaptation illustrated by Itachi and an anime adaption by AIC which aired as part of the Fall 2011 Anime lineup. Said anime has been picked up for North American home video release by FUNimation.
The series also inspired three spinoff mangas: Boku wa Tomodachi ga Sukunai Plus, a retelling of the story where Sena is the first girl Kodaka runs into and is a co-founder of the Club with Kate; Boku wa Tomodachi ga Sukunai Anthology, a series of one-shot stories revolving around the club; and Boku wa Tomodachi ga Sukunai Shobon!, a series of one-shots revolving around each club member and his/her relation to the Club.
This series does have many examples of:
Narration Frame: "...Kodaka suddenly jumps onto Rika, roughly embracing her and stealing her lips..."

Kodaka: "No I didn't! Also, stop making up the narration!"
| | | |
| --- | --- | --- |
| | Sena: "Like I can do this crap, dammit!" (Runs off crying) | |
Also, Rika's favorite doujin... which turns out to be graphically explicit mecha-on-mecha H-action.

Cry Cute: Frequently pulled off by the otherwise haughty Sena every time her confident aura gets shattered in the most spectacular ways (usually courtesy of Yozora's meddling).

Also, there's Kobato, every time her "vampire-loli" facade breaks (such as running naked to Kodaka because her bathwater has gone cold, and realizing that the air-conditioner was broken).
And at the end of the third Light Novel and Episode 11, Yozora herself, after she comes to school fresh from summer break with her hair cut short, and Kodaka finally realizing that she used to be "Sora", his Forgotten Childhood Friend.

Cute Little Fangs: Sena
Cuteness Proximity: Sena's somewhat prone to this, particularly
Deadpan Snarker: Stella, the Kashiwazaki family's stewardess. Kodaka and Yozora as well.
Deconstructed Trope: This series deconstructs more than a few tropes. The most noteworthy:
Deep-Immersion Gaming: Never has Monster Hunter been more awesome, and a Dating Sim more weird.
Delinquent Hair: The unwanted and misunderstood cause of Kodaka's social problems. In reality, he's a natural blonde.
Deus Angst Machina: Parodied in-universe with one of Sena's eroge games. If even one flag is missed, there will be a bad ending with a horrible massacre, such as a great white shark suddenly appearing in a public pool and eating everybody. It's even lampshaded how incomprehensible and unlikely the bad endings are.
Die for Our Ship: In-Universe comedic application at the end of Chapter 4/Episode 2. After she and Sena get a Downer Ending on a galge the latter was playing, Yozora storms out the clubroom (while Sena breaks down crying) to find and kill Akari — a video game character — thinking she spread the rumors that their protagonist was a He-Man Woman Hater, causing Yukiko, a girl she and Sena were angling for, to turn him/them down... conveniently forgetting that it was their fault for shooting down Akari's friendly overtures with the most cruel options because they deem her proactive attitude (such as taking the initiative to introduce herself to the protagonist) a sign of being a Bitch in Sheep's Clothing.
Does This Remind You of Anything?: The scene where Yozora puts lotion on Sena's back. It Makes Sense in Context.
Do Not Call Me Paul: Sena's father, Tenma, has a seemingly normal name, except it can also mean "Pegasus", and he does not like being called "Pegasus".
Double Entendre: Every line in the Ultra Mecha Wars Alpha 2 H-doujin:
| | | |
| --- | --- | --- |
| | Mecha: "Ahh! It's going to break! My DT-field is going to break!" | |
Kodaka: "How about you, Maria? Think you can pull it off?"

Maria: "Ya! Despite my appearance, I'm a longtime actor."

Kodaka: "Oh, that's a surprise."

Maria: "At one of the schools I used to go to, I was once told 'It's creepy how a kid like you always wears a fake, shallow smile' by one of my classmates!"

Kodaka: "O-Oh, is that right?"

Maria: "Ya!"
Dude Looks Like a Lady: Yukimura. Kodaka thinks he's actually a girl when they first meet and then it just gets worse when he becomes the club's maid, complete with uniform. Turns out he should have trusted his gut feeling.
Dysfunction Junction: There's a reason the seven members of the Neighbor Club don't have many friends.
Ecchi: This anime is full of fanservice
Elegant Gothic Lolita: Kobato's usual getup.
Embarrassing First Name: "Semoponume Kashiwazaki", the protagonist's name in "Tokimeite Memorial Days", is random syllables produced by Sena and Yozora bickering over the controller.
Epic Fail: The only way to describe Kodaka's attempts at being funny in Chapter 11, especially his story "I'm Scared of Manjuus".
Erotic Eating: Invoked by Rika during the Festival Episode.
Expy: Kobato shares the same name as an angelic healer of hearts, and is pretty much Kuroneko with the same short stature, tone of voice, and elegant high-class lady attitude but with blond hair, Mismatched Eyes and twintails. As a bonus, all three share the same voice actress.
Eyecatch: Featuring a logo containing a version of the series title branded on the girls' bodies, in episode order (the first six has them on their uniforms, the last six in bikinis): Yozora's right thigh, Sena's right breast, Kobato's back, Maria's forehead, the underside of Rika's left leg, Yukimura's midriff, Kobato's right hand, the center of Maria's white one-piece swimsuit, Rika's right buttcheek, Yukimura's left palm, Sena's left sideboob, and

post-haircut

Yozora's right shoulder.
Face of a Thug: Kodaka. This makes makes his classmates confuse him for a Delinquent. Even, or rather, especially by his greatest fan. He's well aware of this, and when necessary, he's perfectly capable of exploiting it.
Festival Episode: Episode 11.
Fille Fatalons: Kobato often has long nails that help to accentuate the depth of her character, usually the cute imouto little sister but with a touch of tsundere loli to her.
First-Name Basis: Kodaka towards Sena and Yozora. Sena and Yozora, not so much.
Foot Focus: Invoked by Sena's "rewards".
| | | |
| --- | --- | --- |
| | Sena: "Well, when I tell the guys in my class I'll step on them, or let them lick my shoe, they'll do everything I say." | |
Foreshadowing: Yozora doesn't like to be lumped together with bullies and thinks nicknames are for friends.

As a kid, she befriended Kodaka after she saved him from, and then joined him in fighting, a bunch of bullies.

Forgotten Childhood Friend: Yozora is implied — and ultimately confirmed — to be the "boy" who once saved Kodaka from, and ultimately joined him in fighting, a bunch of bullies when they were kids.
Friendless Background: Kodaka isn't good at making friends beyond shallow acquaintances (save for a certain boy who turns out to be Yozora herself), but the rest of the Neighbors Club is even worse.
Friendship Moment: Yozora wasn't there for it, but Sena admits to Kodaka she's secretly happy even to have Yozora calling her "Meat" because nobody's ever given her a nickname before.
Gamer Chick: Sena often stays up late playing her galges.
Girlish Pigtails: Kobato.
Girls Love Stuffed Animals: Kobato carries a patchwork rabbit around with her almost constantly.
Gory Discretion Shot: Yozora's ghost story.
Guide Dang It: Applied in-series in Chapter 16 of the manga. Sena has been getting nothing but Downer Endings on a galge she was playing five times straight. Rika explains that the galge suffers from a Game Breaking Bug where it skips a crucial Event Flag unless the player uses the protagonist's Canon Name (or at least temporarily change the name before said flag). However, Sena is a believer in "An Adventurer Is You" and refuses to let "some other guy" take the fruits of the intense friendship she made with a girl she was rooting for, so what does she do? Shatter the CD and kiss the game goodbye. Then Rika says she could've just fixed the bug. Cue Sena crying on the window in regret.

Also, in Episode 8, Sena falls prey to a nightmarish Downer Ending on a galge featuring a shark attack on the pool killing both the hero and his harem girls. According to Rika, said galge is notorious for such bloody bad endings which are very easy to trigger should the player mess up with even a single flag, earning it a "so bad it's good" reputation among gamers. Sena begs to differ, and angrily breaks the disk in half.

Hair Decorations: Sena's butterfly hair piece. Yozora also has several ribbons tied to the ends of her hair. Kobato wears a beret as part of her Elegant Gothic Lolita clothing, and Yukimura wears a flower in his hair.
Hero Worshipper: Kodaka's a stand-up guy and all, and possibly the only admirable person in the Neighbor Club, but according to Yukimura, he's also a paragon of manliness, a veritable "Man Among Men".
Hidden Depths: Almost every member of the Neighbour's Club have these. Yozora takes it Up to Eleven.
Hidden Purpose Test: The Neighbor Club's recruitment poster has a seemingly nonsensical mission statement below an awful artwork by Yozora. Turns out the statement has the words "recruiting friends" encrypted diagonally. To Kodaka's surprise, there are people who are able to read that.
I Just Want to Have Friends: The premise- but thanks to Kodaka, Yozora, Sena, Yukimura, Kobato, Maria and Rika's unusual traits, the only friends they can find are each other.
Idiosyncratic Episode Naming: Every episode uses the characters for the series' shorthand name, "Haganai" (はがない), throughout the title, followed by a popular ShiftJIS Emoticon used in Japanese Message Boards, in episode order:
00: Black Hotpot Gives Girls a Bad Smell — 闇鍋は美少女が残念な臭い[1] (;´∀`)

01: We Can't Make Any Friends — 僕達は友達が出来ない[2] (´・ω・`)

02: There's No God in the Electric World — 電脳世界は神様が居ない[3] ( ゚Д゚)

03: There Are No Flags in the Swimming Pool — 市民プールはフラグがない[4] (;´Д`)

04: Underclassmen Don't How How to Hold Back — 後輩達は遠慮がない[5] Σ(゜ロ゜;

05: Now the SAGA is Locked On in Full Battle — 今度はSAGAがガチな戦い[6] ヽ(`Д´)ノ

06: The Karaoke Box Doesn't Have Many Customers — カラオケボックスは客が少ない[7] (つд⊂)



07:

My Cell Phone Has Few Calls — 携帯電話は着信が少ない

[8]

_

— ̄, ○

08: No School Swimsuits This Time — スクール水着は出番がない[9] \(^o^)/

09: The Board Chairman's Memories are Painful — 理事長は追想が切ない[10] (-_-)

10: No One Sleeps at Training Camp — 合宿は皆が寝ない[11] ヽ(゚∀゚)ノ

11: You See, Girls Wearing Yukata are Extremely Cute — 女子は浴衣姿がな、超かわいい[12] (゚∀゚)



12: We Don't Have Many Friends

— 僕達は友達が少ない

[13]

(`・ω・´)
| | | |
| --- | --- | --- |
| | Rika: "Yes, Rika is a pervert. Rika thinks about naughty things day and night. So what about it?" | |
| | | |
| --- | --- | --- |
| | Rika: "Oh, yeah, now Rika is supposed to behave in a more refined way. Would you care for a fuck, sempai?" | |
| | | |
| --- | --- | --- |
| | Sena: "...There are two types of women. Ones that I can get along with, and all the other bitches." | |