Jurassic World: Dominion Dominates Fandom Wikis - The Loop
Play Sound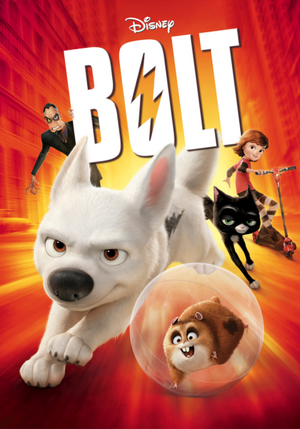 Released in 2008, Bolt is the 48th film in the Disney Animated Canon, featuring the voices of John Travolta and Miley Cyrus.
Bolt is a genetically altered dog with numerous superpowers who, alongside his 'person' Penny, fights the evil forces of Dr. Calico, who has kidnapped Penny's scientist father.
Bolt has spent most of his life on a Hollywood set, believing that his powers and adventures are real, while the crew carefully hides anything that might reveal the Truman Show Plot to the canine star. When the network executives demand the show to become more interesting, they choose a cliffhanger plot where Penny is captured by Dr. Calico—causing Bolt to escape from his trailer to try and rescue her for real (and is accidentally shipped to New York in the process). With the help of an alley cat named Mittens and an easily-excitable hamster named Rhino, he makes his way back to Hollywood and Penny, realizing along the way that his powers aren't real as well as learning what it means to be a normal dog.
The film went through several years of Troubled Production, beginning life with the title of American Dog and featuring a very different plot that still centered around a television dog that believed himself to be inside the show. Originally directed by Chris Sanders, friction after Pixar's integration into Walt Disney Animation led to Sanders being replaced and the film undergoing a significant overhaul into Bolt. The dust up led to Sanders departing Disney altogether, leading to his creation of How to Train Your Dragon for rival Dreamworks Animation. Though the final film performed modestly, easily besting Meet the Robinsons in box office and critical reception and even picking up an Oscar nomination for Best Animated Feature, Bolt was overshadowed by Pixar's mega-hit WALL-E and DreamWorks' Kung Fu Panda, as well as opening up against teen girl powerhouse Twilight. Despite this, Bolt was a much-needed success for the studio after several years of difficulty in the market it once dominated.
Tropes used in Bolt include:
| | | |
| --- | --- | --- |
| | "Hey! Look! My stomach's distended! How great is that?" | |
| | | |
| --- | --- | --- |
| | Penny's Agent: Let's put a pin in it. | |
Penny has one too; each time she takes a photo of her and Bolt, she'll look at it and say "That's a keeper!"

Cats Are Mean: Bolt sees all cats as servants of Dr. Calico early on, though eventually grows to become friends with Mittens. Mittens herself fulfills the trope at first, behaving like a Mafia don toward the local pigeons, but soon starts to drift away from it as the film progresses.

In the show within a show, all cats are the servants of Dr. Calico and are mean. The show within a show plays the trope straight.
It's addressed in a surprisingly mature way. When Bolt realizes that this trope simply isn't true (at least, not to the extent he thinks it is), it's the first major step in his Character Development. And while it's only Subtext, it's implied a few times that Mittens suffers from Fantastic Racism as a result of this perception.

Cats Are Snarkers: Mittens definitely plays this straight.
Bolt: I will Super-Bark you out of that tree!
Mittens: Go nuts. Let's see how that works out for ya.
Bolt barks
Mittens: Oh, the super-bark. Scary, scary.
| | | |
| --- | --- | --- |
| | Mittens: Slow down! You're scraping the fur off my * clang* ahhh.... | |
| | | |
| --- | --- | --- |
| | Director: If the dog believes it, then the audience believes it. | |
"We had a deal!"
"The deal's just expired."
| | | |
| --- | --- | --- |
| | Rhino: Ring, ring! Who is it? Destiny? I've been expecting your call. | |
Dr. Calico: Aliens!
[cut to Rhino sitting on a couch]
Rhino: That is totally unrealistic.
The Director: Let me ask you, Mindy from the network, what do you see here?
Mindy Parker: Uhh... the dog?
The Director: "The dog" she says. Oh, Mindy. Poor, poor Mindy.
Mindy Parker: ... am I missing something?
The Director: You're missing everything, Mindy. You see a dog. I see an animal that believes, with every fiber of his being; every fiber; that the girl he loves is in mortal danger! I see a depth of emotion on the face of that canine, the likes of which has never been captured on screen before. Never, Mindy from the network. We jump through hoops to make sure Bolt believes everything is real. It's why we don't miss marks. It's why we don't re-shoot. It's certainly why we do not allow the dog to see boom mikes... because, Mindy from the network... if the dog believes it... then the audience believes it.
Lucky Translation: "Bolt" has many meanings in Russian as well, but the most popular and widespread is "screw". Thankfully, "Volt" wonderfully goes with the existing lip sync and bears a connotation related to electricity, which sort of explains all the lightning signs.
Mama Bear:

Penny's mother punching out the agent when he tries to tell them they can use Penny's burns from the accident at the end of the film as publicity.
Bolt: If I stare at the lock really hard, it'll burst into flames and melt.
Mittens: (with a look of shock) Now I'm concerned on a number of levels.
Toilet Humour: Literal, when Mittens introduces Bolt to a toilet, implying she told him dogs drink from it.
Tranquil Fury: When Penny's agent says that they can use Penny's injuries for a publicity stunt, Penny's mother promptly tosses him out of the ambulance and calmly says "...We quit." with an expression of raw anger.
Travel Montage: "Barking at the Moon" shows Bolt, Rhino and Mittens traveling from Ohio to Las Vegas.
Triumphant Reprise: "... no home like the one you've got, 'cause that home belongs to you."
Troperrific: The entire opening is a complete spoof of Jerry Bruckheimer and Michael Bay films. There are tons of tropes and cliches in the action and the dialogue. It's hysterical.
True Companions: Only Penny and Bolt at the start, but Rhino and Mittens eventually fit in, as well. Rhino even points this out during his speech before he goes after Bolt in the last stretch to Hollywood.
Trying Not to Cry: When Mittens bitterly tells Bolt to Get Out!, she has tears welling up in her eyes, but she closes her eyes, not wanting Bolt to see that this hurts her too.
Underside Ride: This is the means by which Penny and Bolt infiltrate the lair of their show's Big Bad. It is reprised a few times throughout the film in different contexts.
Unnamed Parent: Penny's mom.
Weaksauce Weakness: Played with; see the Kryptonite Factor example.
| | | |
| --- | --- | --- |
| | Bolt: You don't know the power of Styrofoam! | |
| | | |
| --- | --- | --- |
| | Mittens: They always pick the cute ones — the ones that look like you, Bolt — but the rest of us never come back out. | |
Window Pain: Both played straight in Bolt's TV show, and subverted when he attempts to try the same thing in the real world.
Your Other Left: When Mittens is teaching Bolt how to do the dog begging face and pose.
Actor-Role Confusion: Rhino is just as oblivious to Bolt being an ordinary dog as Bolt himself is.