Spider-Man: No Way Home Trailer Dropped - The Loop
Play Sound

YMMV •

Radar

•

Quotes

• (

Funny

•

Heartwarming

•
Awesome

) •

Fridge

•

Characters

•

Fanfic Recs

•

Nightmare Fuel

•
Shout Out

•

Plot

•

Tear Jerker

•

Headscratchers

•
Trivia

•

WMG

•

Recap

•

Ho Yay

•

Image Links

•

Memes

•

Haiku

•

Laconic

•
Source

•

Setting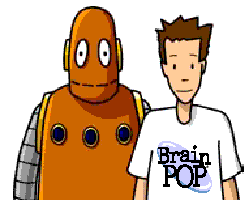 Brainpop is an educational website that uses numerous cartoon series to teach children (Grade school through high school) different concepts ranging from the Pythagorean theorem to Martin Luther King to the Urinary system.
The most prominent, and likewise popular, of these series is the "Mysteries of Life" cartoons, which follow Tim and Moby as they answer fan-mail, explaining a different educational concept with each one. Tim is a teenage boy and the main character of the series. Moby is his orange robot.
Other recurring characters are Cassie and Rita, two of Tim's friends who appear in many "Mysteries of Life" videos, along with having a series of their own. There is also Bob, a lab rat who appears in several shorts.
There is a Brainpop Jr. section, which is for younger children, and features many Expies of the main site's characters. Oh, and Moby appears there too with a slightly different personality. Moby's alternate continuities can probably be chalked up to Rule of Funny.
Oh, yeah. And it costs money.
Tropes used in BrainPop include:
Tim: Three-quarters of a cup of...motor oil?
Tim: I have to... go to the... bathroom.
(Tim runs to the bathroom, then we hear spitting sounds)
In the "Word Problems" episode, Moby said he's going to watch "Kung Fu Cowboys", leaving Tim alone. Instead, he watches "Kong Fu Cowboys"!
"I think we should use our potential energy to make kinetic energy and run!"
"Maybe that's the reason why robots aren't allowed at baseball games".
Intelligible Unintelligible: The robots speak in beeps, but humans can understand them.
Jerkass: Moby can be this sometimes.

See the Digital Etiquette episode.

Medium Blending: The early episodes made common use of oil pastels, clay animation, crayons, and colored pencils rather than cut-out animation (used for the first 3 seasons).
Once Per Episode: In each episode, Tim receives from Moby a letter asking about the episode's subject, and he reads it out loud. It was followed by him explaining information about the subject.
Shout-Out:

The bus driver in the "Back to School" video wears a Star Trek uniform.
In the "Capitalization," "Clauses," and "Multiplication" videos, Energon cubes from Transformers are mentioned.
At the beginning of the "Robots" video, Moby is seen playing with R2-D2 and C-3PO figurines.

This Is Wrong on So Many Levels: The "Problem Solving Using Tables" episode.
Vocal Evolution: Tim sounded quite different in older videos, and he talked faster because back then dial-up was common.
Whole-Episode Flashback: In the "Back to School" episode, Tim slides away many props from earlier episodes such as a breast pad from the "Period" episode, 3D glasses from the "Vision" episode, a mask from the "Skeleton" episode, a letter from the "Heart" episode, and the hat from the "Hair" episode. (Hence, this episode is from 1999).
Writing Lines: Tim does this at detention at the end of the "Daylight Saving Time" video.