YMMV

•

Radar

•

Quotes

• (
Funny

•

Heartwarming

•

Awesome

) •
Fridge •

Characters

•

Fanfic Recs

•

Nightmare Fuel

•
Shout Out

•

Plot

•

Tear Jerker

•
Headscratchers

•
Trivia •

WMG

•

Recap

•
Ho Yay

•
Image Links

•

Memes

•

Haiku

•

Laconic

•
Source

•

Setting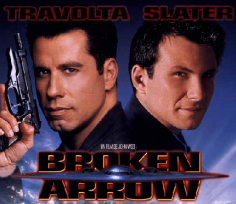 "Would you

mind

not shooting at the

thermonuclear weapons

?"

—Vic Deakins

USAF pilot Major Vic "Deak" Deakins (John Travolta) steals a nuclear weapon to ransom back to the U.S. He steals two, and detonates one underground to prove he's not afraid to detonate it. His partner Captain Riley Hale (Christian Slater) and Park Ranger Terry Carmichael (Samantha Mathis) team-up to stop Deak. The term "Broken Arrow" is US military jargon for a nuclear weapons accident. This is actually an "Empty Quiver" made to look like one.
Ignoring the Jean-Claude Van Damme Ego Trip that was Hard Target, this film was western cinema's first proper introduction to John Woo's Heroic Bloodshed genre of film, the popularity of which is cemented one year later in 1997 by Face Off, also by John Woo and starring John Travolta.
Tropes used in Broken Arrow (1996 film) include:
| | | |
| --- | --- | --- |
| |  "You probably thought I was some science nerd! I was a Navy SEAL, lady! You should see what I can do with just my thumb!" | |
| | | |
| --- | --- | --- |
| |  Vic Deakins: I just realized something. I never actually killed anyone before. I mean, I dropped bombs on Baghdad, but, uh... never face to face. [Beat] I don't know what the big deal is. I really don't. | |
Hale: I know why you did it.
Deakins: Oh really. Why did I do it?
Hale: Maybe it was because you kept getting passed over for promotion. Maybe it was because everyone was cashing in and you wanted to get in on it. I don't fucking know! You're no different than a guy shooting up a playground. You got a head full of bad wiring!
Deakins: What did you say?
Hale: I said you're fucked in the head, Deak!
| | | |
| --- | --- | --- |
| |  Deak: Yeah. Ain't it cool? | |