Spider-Man: No Way Home Trailer Dropped - The Loop
Play Sound

YMMV

•

Radar

•

Quotes

• (

Funny

•

Heartwarming

•
Awesome

) •

Fridge

•

Characters

•

Fanfic Recs

•

Nightmare Fuel

•
Shout Out

•

Plot

•

Tear Jerker

•

Headscratchers

•
Trivia

•

WMG

•

Recap

•

Ho Yay

•

Image Links

•

Memes

•

Haiku

•

Laconic

•
Source

•

Setting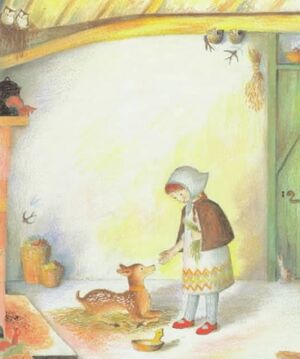 "Brother and Sister"is a Fairy Tale about a brother and a sister who escape from their Wicked Stepmother, fed up with the woman's cruelty. They don't know, however, that the lady is also a witch...
When the stepmother learns that Brother and Sister have escaped, she enchants the streams in the forest in an attempt to turn them into animals. After drinking from one of the springs, the brother is transformed into a deer. They find a cottage in the woods and decide to live there for a while. Eventually, a king and his court come to the forest to hunt, and the brother eventually ends up leading the king to the cottage.
When the king sees the sister, he falls in love with her and asks her to marry him. She agrees to come to his castle, but only if the deer (her brother) can come along too. After a while, the sister has a child with the king, which is around the time when the stepmother discovers how happy the brother and the sister are, and she and her own daughter plot to ruin their happiness again...
The first recorded version comes from Giambattista Basile's Pentamerone; the better known ones are re-told by The Brothers Grimm (as Brüderchen und Schwesterchen), and by Alexander Afanasyev (as Sister Alionushka, Brother Ivanushka). The Grimms version was included in the anime series Grimm's Fairy Tale Classics, with several modifications
See also "The Enchanted Stag".
---
Tropes used in Brother and Sister include: