Doctor Strange in The Multiverse o Madness - The Loop
Play Sound

YMMV •

Radar

•

Quotes

• (

Funny •

Heartwarming •
Awesome) •

Fridge

•

Characters •

Fanfic Recs

•

Nightmare Fuel •
Shout Out

•

Plot

•

Tear Jerker •

Headscratchers •
Trivia • WMG •

Recap

•

Ho Yay

•

Image Links

•

Memes

•

Haiku

•

Laconic

•
Source

•

Setting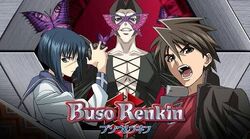 Busou Renkin (literally "Arms Alchemy") follows Hero and Ordinary High School Student Kazuki Muto, a second year student in Ginsei Axademu, who one night is killed trying to protect a mysterious girl who was being attacked by a monster. . .
However, to his surprise, he wakes up again the next day (after freaking out his friends from the school dorms), seemingly good as new.
It turns out it wasn't a dream either when the girl, Tokiko Tsumura, shows up again, informing him that she felt responsible for his death and resurrected him with the power of Alchemy. From here on Kazuki discovers his own powers and, together with Tokiko, journeys into the world of Alchemists and their Renkin as they fight the monsters known as Homunculi. No, not the Fullmetal Alchemist ones, though there is definite overlap between the series theme wise.
A manga by Nobuhiro Watsuki, the creator of Rurouni Kenshin, it was later adapted into an anime and a light novel. The series is in many ways a parody of the Shonen genre and hence often has tongue planted firmly in cheek. And when it's not being an affectionate parody, it's deconstructing various Shonen tropes, particularly the Shonen Upgrade.
Tropes used in Busou Renkin include:
| | | |
| --- | --- | --- |
| | "Somehow, I feel unbelievably frightened..." (she is looking through Gozen's eyes and seeing Papillon walking through the beach in just a mankini and a swimming cap, and shaking his booty all the way!) | |
Tai and Shi: "Our disguises are perfect! We do not look suspicious!"
Every student who sees them: "Those two look suspicious!"
| | | |
| --- | --- | --- |
| | "Oh my, it begs the question, which of us is the truly evil one" | |