Wiki Targeted (Entertainment)
Play Sound

YMMV •

Radar

•

Quotes

• (

Funny

•

Heartwarming

•
Awesome

) •

Fridge

•

Characters •

Fanfic Recs

•

Nightmare Fuel

•
Shout Out

•

Plot

•

Tear Jerker

•

Headscratchers

•
Trivia •

WMG

•

Recap

•

Ho Yay

•

Image Links

•

Memes

•

Haiku

•

Laconic

•
Source

•

Setting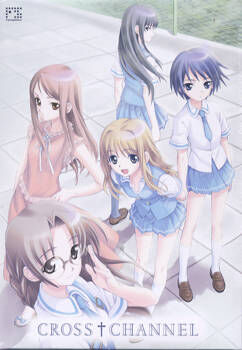 A Visual Novel created by Flying Shine in 2003. CROSS†CHANNEL is an H-game for PC with a clean version available for PlayStation 2 and PlayStation Portable called CROSS†CHANNEL ~To all people~, and a newer version with added CGs and scenarios for the Xbox 360 called CROSS†CHANNEL ~In memory of all people~. A translation for both the clean and H version is available from Amaterasu Translations.
Self proclaimed "Love Aristocrat" Taichi Kurosu attends a school called Gunjou Institute with his fellow members of the Broadcasting Club. Gunjou is a place for people who, based on an adaption exam, have an abnormally high adaptation coefficient. This means that the government has deemed them unlikely to be able to adapt into society. Taichi himself has an adaptation coefficient of over 80, which is thought to be impossible.
After a slow falling out between members, Taichi attempts to bring the fractured Broadcasting Club back together by getting them to go on a camping trip together. This trip serves to only fracture the relationships between members even more, ending up a disaster. But as the members make their way back to town, they discover that every living thing has somehow disappeared from the world, leaving only them behind. Taichi tries to convince the others to help rebuild the broadcasting antenna so as to contact other survivors.
Strangely enough, the characters were the basis for the highly popular flash game NANACA†CRASH!!
Tropes used in CROSS†CHANNEL include:
Misato: "What were the ingredients in these?"
Taichi: "Lemon and sugar and egg whites and-"
Taichi: "......my two hundred million cute little wonderful lives."
Taichi: Are you eating something delicious? This is the Gunjou Institute Broadcasting Club.
[Touko] spat out something delicious.
| | | |
| --- | --- | --- |
| | Taichi: "That's just too weird! There's no way something so big could fit in your pocket!" | |
Tomoki: Lower classes, lower income!
Taichi: Earth debris!
Tomoki: Lone survivor of the stock market crash!
Taichi: D-d-d-don't talk about my stocks!