Jurassic World: Dominion Dominates Fandom Wikis - The Loop
Play Sound

YMMV •

Radar

•

Quotes

• (
Funny •

Heartwarming

•

Awesome) •
Fridge

•

Characters

•

Fanfic Recs

•

Nightmare Fuel

•
Shout Out

•

Plot

•

Tear Jerker

•
Headscratchers

•
Trivia

•

WMG

•

Recap

•
Ho Yay

•
Image Links

•

Memes

•

Haiku

•

Laconic

•
Source

•

Setting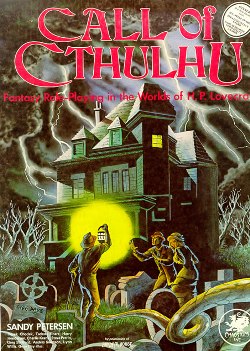 | | | |
| --- | --- | --- |
| | The most merciful thing in the world, I think, is the inability of the human mind to correlate all its contents. We live on a placid island of ignorance in the midst of black seas of infinity, and it was not meant that we should voyage far... | |
| | | |
| --- | --- | --- |
| | | |

One of the most famous Tabletop Games of all time, Call of Cthulhu combines the adventurism and teamwork of Dungeons and Dragons with the Lovecraftian Fiction setting of the Cthulhu Mythos. Your adventurers, or rather investigators, are dropped into scenarios right out of a Lovecraft story, and must keep their wits about them; the goal of every C.O.C. campaign is not so much to defeat the Enemy, but to survive Its horrendous onslaught while following the mystery out to its bitter — and usually grim — end.
Notable for introducing Sanity as a character stat — your characters actually risk having their minds blown apart, partially or completely (and sometimes even literally), by the events they encounter. As a result, the term "SAN check" has drifted out of the Cthulhu following and become a generally recognized metaphor among gaming circles. As characters learn more lore about the Cthulhu Mythos, their maximum Sanity shrinks — giving players the choice of having characters who are ignorant or crazy.
Also has variations for settings and time periods including the 1920s, Modern, Delta Green, Gaslight, Dark Ages, Roman times and space.
Do not confuse with the video game Call of Cthulhu: Dark Corners of the Earth, which is also based on the Cthulhu Mythos (specifically, on the "Raid On Innsmouth" campaign module of the RPG), a Collectible Card Game of the same name loosely based on (and licensed by) Chaosium's aforementioned RPG, a movie done in the black-and-white style of the 1920s about Cthulhu, the Youtube series Calls For Cthulhu, or the original H.P. Lovecraft short story they are all named after.
Tropes used in Call of Cthulhu include:
↑

Alternatively: "Cthulhu eats 1d6 investigators per round. No save."