YMMV •

Radar

•

Quotes

• (
Funny

•

Heartwarming

•

Awesome

) •
Fridge

•

Characters

•

Fanfic Recs

•

Nightmare Fuel

•
Shout Out

•

Plot

•

Tear Jerker

•
Headscratchers

•
Trivia

•

WMG

•

Recap

•
Ho Yay

•
Image Links

•

Memes

•

Haiku

•

Laconic

•
Source

•

Setting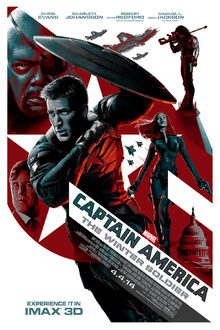 Captain America: The Winter Soldier is a 2014 American superhero film based on the Marvel Comics character Captain America, produced by Marvel Studios and distributed by Walt Disney Studios Motion Pictures. It is the sequel to 2011's Captain America: The First Avenger and the ninth film in the Marvel Cinematic Universe (MCU). It's directed by Joe and Anthony Russo and written by Stephen McFeely and Christopher Markus, it stars Chris Evans as Steve "Captain America" Rogers and also has Scarlett Johansson as Natasha "Black Widow" Romanoff, Sebastian Stan as James Buchanan Barnes aka Bucky aka the Winter Soldier, Anthony Mackie as Sam "Falcon" Wilson, Samuel L. Jackson as Nick Fury, Frank Grillo as Brock Rumlow, Robert Redford as Alexander Pierce, etc.
Opening two years after The Avengers, Captain America is still re-adapting himself to the new times he's living in while he works with S.H.I.E.L.D - more exactly with people like Nick Fury, Falcon and Black Widow. The first, however, is suddenly attacked by a mysterious and deadly masked man who's referred to solely by his codename: the Winter Soldier. As it seems that the ones after Fury's head are people from within S.H.I.E.L.D itself, Cap and his companions decide to go as far as possible with their investigation - especially when Steve personally confronts the Soldier and uncovers an extremely disturbing, painful truth surrounding him. . .
The film received a sequel two years later, Captain America: Civil War.
Tropes used in Captain America: The Winter Soldier include: