She-Hulk Trailer Dropped - The Loop
Play Sound

YMMV •

Radar

•

Quotes

• (
Funny

•

Heartwarming

•

Awesome

) •
Fridge

•

Characters •

Fanfic Recs

•

Nightmare Fuel

•
Shout Out

•

Plot

•

Tear Jerker •
Headscratchers

•
Trivia •

WMG

•

Recap

•
Ho Yay

•
Image Links

•

Memes

•

Haiku

•

Laconic

•
Source

•

Setting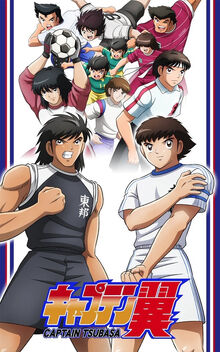 Pretty much one of the most famous and popular sport manga/anime created by Yoichi Takahashi. It was insanely popular and translated to many languages to the point where it inspired many talented players to take on football as a career, such as Alessandro del Piero, Zinedine Zidane, Francesco Totti, Alexis Sánchez and Fernando Torres. This led the Japanese football association to assist in the development of the manga/anime to promote the sport in Japan, which inspired players like Hidetoshi Nakata and Seigo Narazaki.
It's also one of the main series that, along with other sacred cows like Dragon Ball, started the manga/anime popularity boom in Europe during the late 80's and early 90's.
It started being marketed as a Shonen manga, published at Shonen Jump from the start of its run up until the early 200's. While it remains shonen at heart, however, the Road to 2002 saga and sequels have moved to Seinen magazines, as a good part of its readership is formed by adult men (and women) who grew up reading it on Shonen Jump.
The story follows Tsubasa Ozora, a boy with great sports abilities and a big dream: to win The World Cup. The story follows him through his school soccer tournament to his first steps in club football outside of Japan, and of course his big games with the Japan national team while struggling with injuries and other problems.
Other important characters include his teammates: Ryo Ishizaki, sensitive Taro Misaki and goalkeeper Ace Genzo Wakabayashi. Also, there are his rivals: most notably, Kojiro Hyuga (whose playing style is the opposite of Tsubasa, relaying more on power than on technique), Jun Misugi (a talented, ill strategist) and Hikaru Matsuyama (a calm youth from Hokkaido). Later, foreign players like Karl Heinz Schneider are introduced during the FIFA World Youth cup. Important support characters are Roberto (Tsubasa's mentor and coach) and Sanae Nakazawa (Tsubasa's cheerful and supportive eventual girlfriend).
Currently this sports classic is still ongoing, from 1981 to the present days.
Captain Tsubasa — 37 Volumes, from 1981 to 1988.
Captain Tsubasa: World Youth — 18 Volumes, from 1994 to 1997.
Captain Tsubasa: Road to 2002 — 15 Volumes, from 2001 to 2004.
Captain Tsubasa: Golden 23 — 12 Volumes, 2005 to 2008.
Captain Tsubasa: Gekitouhen in Calcio — 2 Volumes, 2009-2012.
Captain Tsubasa: Kaigai Gekitouhen En la Liga — 6 Volumes, 2010-2012.
Captain Tsubasa: Rising Sun — ongoing, from 2013 onwards.
There have also been several Animated Adaptations:
Captain Tsubasa: the classic one from 1983-1986, covering the elementary and junior high arcs. It also has four completely original OAV's and a movie based on a manga special named Holland Youth.
Shin Captain Tsubasa: a 1989-1991 OAV series (covering the U-World Cup in France)
Captain Tsubasa J: a series from 1994 (from elementary school to the beginning of WY),
Captain Tsubasa: Road to 2002: a 2001 TV series Road to 2002 (elementary, junior high and Shin arcs, plus some parts of the then-ongoing eponymous manga arc)
Captain Tsubasa 2018: a modern series with a Setting Update that ran from 2018 to 2019 (again covering the elementary and junior high arcs).
In 2002 an Spiritual Successor was released called Hungry heart. And there was a Stage Play in 2017, named Captain Tsubasa: Super Stage.
No relationship to Tsubasa Reservoir Chronicle.
---
Captain Tsubasa contains examples of the following tropes:
 Maki: Judging by your accent, you're not from here.

Hyuga: That's right.

Maki: You're so tanned I thought, at first, that you were from Okinawa.
Oddly enough, this is partly averted, of all teams, with the Mexican team. With the exception of Espadas and some few players, the rest of the Mexican players are blond or light-skinned, unlike their South American peers.

Put on a Bus: The Tachibana twins, after the second school tournament. They're either substitutes without any chance to play or are soon seriously injured whenever they get to play.
Reality Ensues: While the series still leans on the more fantastic side so to say, ever since it switched from shonen to seinen it's had a bit of this injected. i.e.

Hyuuga goes to the Juventus of the Italian League, only to find out that he's woefully underprepared and unbalanced compared to his more experienced companions. This gets him to be steamrolled fiercely in his early matches, and later plays in the second division.
Tsubasa goes to the Barcelona, but unlike in Brazil he has to play in the "satellite" team for some time. It takes him a while to find his place in the team itself.
Wakabayashi's pride starts flaring up again, and he messes up HORRIBLY in a Road to 2002 match when he refuses to follow orders from the coach and causes the Hamburg team to lose. Things go downwards in Golden 23 as he

has a fall-out with his coach

and later

has trouble with his foreigner 'seat'

, meaning that he may not be able to play in Germany for quite a while.
Tsubasa collapses early in Rising Sun and spends some days hospitalized. The reason is that he's seriously overworked and even a natural athlete like him can barely hand it.
Golden 23 invokes this trope full-speed when the new Japanese National Team coach,

Kouzou Kira

, takes a fateful decision regarding the qualifying matches for the Olympics: relaying as less as possible in international players until they actually get into the Olympics themselves. On one hand this makes their Olympic path pretty harsh as only

Wakabayashi

stays with them all the way, but on the other it gives players like Misaki and the new addition Gakuto Igawa the chance to start showing what they're made of. And despite all the problems and heartbreak, it ultimately pays off.

Remember the New Guy?: Aoi Shingo is supposed to have met Tsubasa in the past and all, but one only learns about it in his first appearance.
Ret Canon: Some scenes from the old anime series (like Tsubasa getting into the track field competition and winning, Urabe and Kishida comically 'escaping' from their family businesses to watch matches, how Misaki arrived to the Nankatsu vs. Shutetsu match, etc.) were written into short manga stories and then included in the CT series and the Captain Tsubasa Memories extra tome.
The Rival: Hyuga, Misugi, Schneider (to Wakabayashi), Santana, Natureza, etc.
Romantic False Lead: Kouji Kanda, Sanae's Stalker with a Crush.
Rule of Cool: A lot of the special techniques runs under this, especially those of the Tachibana twins and Wakashimazu.
Setting Update: Both the Road to 2002 and 2018 series feature the internet and cellphones. The 2018 one even has modern smartphones; when Misaki and Genzo meet up, Genzo uses his phone to send Tsubasa pictures of both of them, and Tsubasa shows them to his friends form his own smartphone. (In the original, he mailed them).
Self-Made Man: Espadas and his True Companions, Santana, Roberto, Natureza... yeah, this happens a lot among the Latin American players. And it's actually Truth in Television.
Sensitive Guy and Manly Man: Tsubasa and Wakabayashi, Tsubasa and Hyuga, Misugi and Matsuyama, Jito and Sanou, Takeshi and Hyuga, Gino and Shingo, Kisugi and Taki, Pierre and Napoleon, etc. In fact, every dual partnership will play with this trope to some degree.
Shipper on Deck: By the second school tournament, almost everyone in the Nankatsu team is a Sanae/Tsubasa shipper.

Even Sanae's love rival Kumi gets to join them, after she and Tsubasa sort things out

.

Let's not forget the Furano team and their support of Yoshiko/Matsuyama. Specially Oda Kazumasa, much to the ire of the most discreet Machiko.
As Hyuuga meets Maki and they start having Ship Tease, Takeshi immediately starts teasing Hyuuga about it. Amusing Injuries tend to follow.

Shorttank: Aside of Sanae, Maki Akamine.
Shout-Out: The 2018 series has one to an episode of the old one where Misaki and Wakabayashi find one another in Europe (as a Framing Device for the series' rendition of the I'm Taro Misaki side-story). In this one, they also find one another and send pictures of their meeting to Tsubasa.
Shower of Angst:

Hyuga

has one after his fight with

Willem

in Road to 2002.
Shrinking Violet: Yoshiko Fujisawa. Yuzo Morisaki is a male example... and one of the few who are not Butt Monkeys.
The Strategist: Misugi.
Street Urchin: Ricardo Espadas's Freudian Excuse is his and his friends's past as one. Doesn't keep him from being a bitter Jerkass who ends up subjected to a major Break the Haughty.
Sugar and Ice Personality: Schneider. His Sugar and Ice Personality side shows up more in relation to his deep devotion to his family and his pain upon seeing his parents in the verge of getting a divorce.

Also, the very calm and cool but also honor-bound Jun Misugi.
Arguably, El Si Pierre.

Team Dad: Roberto, Kira, Furuoya. Kitazume is a more stern example.
Team Mom: Sanae, Yayoi, Yoshiko, Machiko and Yukari. Justified since they're the assistants of their teams. Also Tsubasa's mother Natsuko, specially during the first part of the series.

Subverted with Kumi, who is an assistant too but is quite younger than Sanae and Yukari so she's more of a cute little sister to them.

Technician Versus Performer: Hyuga is the Performer, Tsubasa is the Technician. But then Tsubasa becomes the Performer to Carlos Santana's Technician.
The Worf Barrage: Hernandez, Muller, Espadas, Salinas. Always happens when the opponent's goalkeeper has a name.
Those Two Guys: Tamotsu and Takai, the two cheerleaders who were often subjected to Sanae's temper tantrums. They level up with time and reappear as assistants in the Golden 23 series
To Be a Master: Indeed.
Tomboy and Girly Girl: Machiko and Yoshiko, Sanae and Kumi, Yukari and Sanae.
Took a Level In Badass: Pretty much all of Japan's first team players in the Road to 2002 and Golden 23 series.
Training From Hell: Pretty much every player subjects himself to this.
Translation Convention: Played straight in the animated adaptations, but adverted in the manga, especially in the Road to 2002 manga series when both Tsubasa and Hyuga needs translators when they went to Spain and Italy respectively.
True Companions: The teams, especially the Japanese ones.
Trying Not to Cry: Yoshiko

when she chooses to leave without a word

, Kumi

after being rejected by Tsubasa

.
Tsundere: Sanae starts as one in the anime series, but mellows down as she becomes Older and Wiser. Her flashes of temper come more from Ishizaki's teasing than Tsubasa's obliviousness and her Shorttank personality, though. Machiko Machida seems to be more of a traditional example.

The most straight-up Tsundere is Helena, an Italian girl whom Misaki met in a filler episode of the old series. Bossy, cheerful, stubborn, blonde with pigtails, and had a crush on Misaki that she always denied.
Maki Akamine is another. Hilariously Hyuuga is more or less a Tsundere regarding her

Twice Shy: Matsuyama and Yoshiko, in the original TV series and the Road to 2002 anime.
Tyke Bomb: Santana.
Unlucky Childhood Friend: Kumi, who is in love with Tsubasa but lets him go willingly so he can have Sanae, the girl he loves.
The White Prince: Jun Misugi, El Si Pierre, Mark Owairan. The latter is a literal prince.
Victorious Childhood Friend: Sanae and Tsubasa,

who marry and are expecting twins.

. Also Misugi and Yayoi, who are confirmed to be dating though in Rising Sun Misugi becomes an Insecure Love Interest since his health is starting to decline again.
Vitriolic Best Buds: Ishizaki and Urabe.
Volleying Insults: Ishizaki and the Tachibana twins.
What Do You Mean It's Not Awesome?: The series breathes and eats this trope, with a side of You Fail Physics Forever.
Yamato Nadeshiko: Yoshiko, Yayoi, Hyuga's unnamed mother, Natsuko. Sanae grows into one in the manga, but in the first TV series and the Road to 2002 one she's more tempery so she doesn't qualify.

Considering how deferent and devoted he is to his friends and family, Taro Misaki may qualify as one of the rare male examples.