Spider-Man: No Way Home Trailer Dropped - The Loop
Play Sound

YMMV

•

Radar

•

Quotes

• (

Funny

•

Heartwarming

•
Awesome

) •

Fridge

•

Characters

•

Fanfic Recs

•

Nightmare Fuel

•
Shout Out

•

Plot

•

Tear Jerker

•

Headscratchers

•
Trivia

•

WMG

•

Recap

•

Ho Yay

•

Image Links

•

Memes

•

Haiku

•

Laconic

•
Source

•

Setting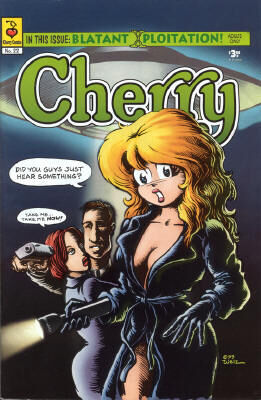 Cherry Poptart is the titular character in the Cherry Underground Comics created by Larry Welz. She currently goes solely by Cherry, due to a lawsuit from Kellogg, claiming a trademark infringement on its "Pop-Tarts" brand.
She is a Dumb Blonde who has lots of sex, sometimes in Mundane Fantastic situations, which are often parodies of popular movies, television shows and comic books, particularly Archie Comics, from which Welz derives his style. Welz also collaborates with Mark Bodé, the son of Cheech Wizard creator Vaughn Bodé. Mark draws Cherry in his father's trademark style.
---
=== Cherry Comics contains examples of:
===

Raiders"
Cherry, naturally, enjoys it.
strikingly seen in "Cherry Gets It in the End (and Mom Does Too!)" from Cherry #12, where Cherry is making moves on her boyfriend. All of the sudden, a male voice yells "CUT!" and the panel pans out to show Cherry and her friend on a set and surrounded by a film crew. The director states that there has been a couple of script changes, much to Cherry's confusion.
artist Dan DeCarlo. Drawn by Mark Bodé, Cherry resembles the style of Mark's dad, Vaughn.
about this. Needless to say, sex in cars occurs elsewhere in the series.
Michael Jackson science fiction character, found in the 3D issue. In the Eeyow story, Cherry pulls off his pants and finds no genitalia of either gender.
And has sex with him.
a vampire, a mummy and a ghost.
conversation with her boyfriend while Ellie Dee goes down on her.
amazing amount of experience in the last few minutes.
situations with both men and women.
a naive angel).
with a human, Cherry will sleep with it.
definitely lesbian and not bi).
societies...no biggie.
the girls are lusting after by virtue of being the best student in school.
dropped.
it on with each other when no guys were available. [[spoiler:In fact, through time travel, Cherry was her mother's first sexual experience ("I took your cherry!") and it seems pretty likely that Pepper returned the favor ("I taught her everything she knows!").]] This is played strictly for laughs.
The Wizard of Oz, The X-Files, The Road Warrior, and more.
"Terry Chop-Part".
"Hot Rod Boogie".
the television and having sex with Cherry.
it's a Cherry story; you'd probably already guessed that.
wander off and leave Cherry staked out naked on the ground. She even calls after them to no avail.
involves a subliminal seduction tape.
friends having sex with a teacher.
(And Mom Does Too!)" is portrayed as having a comically small penis.
someone takes a chainsaw to a wall, and the beach house catches fire.
the video game's main character by having sex with him.