She-Hulk Trailer Dropped - The Loop
Play Sound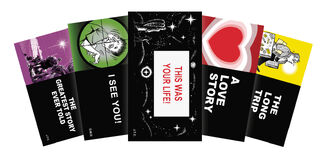 | | | |
| --- | --- | --- |
| | Look out-- Here come de judge-- Here come de judge! HAW HAW! | |

Chick Tracts is a series of short comic books that primarily exist in the form of very small printed albums - small enough to easily fit into a wallet. However, most of the tracts are also available for free at their home website Chick.com. The author calls himself Jack T.[1] Chick. This may or may not be a pseudonym.
Each tract tells a story. These stories handle all kinds of subjects, but they all have two things in common: They all have some direct or indirect connection to religion, and they all end in An Aesop about everyone needing to become a born-again Christian. Sometimes the entire story builds up to this Aesop; other times it's shoehorned in after the actual story is finished.
Villains in these stories are demons or misguided mortals. Demons range from Cthulhuish monstrosities that make the heroes facing them come across as epic fantasy heroes, to silly little imps that are mostly Played for Laughs. Mortal villains are very likely to make a Heel Faith Turn due to Easy Evangelism. Those who do not invariably end up in Hell. And so does everyone else, including those who are kind and selfless. Only a very particular kind of evangelical Christian gets to avoid eternal torture; everyone else is doomed no matter what. The tracts are all set in the same world (and thus have a lot of recurring characters). A world very different from what most people, including most Christians, are used to. In The Verse of Chick Tracts:
In other words, this setting is a very dark fantasy world, comparable to Warhammer and Warhammer 40000, although with less graphic violence (and with a bit of South Park thrown in). Unlike Games Workshop, however, the people behind chick.com seem to believe their own message. Some people insist that it must be some kind of parody. However, Jack Chick himself has given one interview where he claims to be totally serious. Honest or not, he does seem to make a lot of money from people who buy large quantities of his tracts with their own money and then hand them out free of charge to friends and random strangers in the hope that this act will eventually spare a few souls from the horrors of hell.
Meanwhile, and perhaps unsurprisingly, Chick's efforts have inspired many parodies, and he was featured as the subject of the documentary, God's Cartoonist.
Not to be confused with The Chick with huge tracts of land.
---
Tropes used in Chick Tracts include:
| | | |
| --- | --- | --- |
| |   "I hate you! And I hate your lousy birthday!" | |
| | | |
| --- | --- | --- |
| |  "Depart from me, ye cursed, into eternal fire prepared for the devil and his angels!" | |
| | | |
| --- | --- | --- |
| |   "I'm UNWANTED, UNLOVED, DISOWNED... and the doctor says I'm dying of CANCER!" | |
---