Wiki Targeted (Entertainment)
Play Sound

Quotes

•

Headscratchers

•

Playing With

•

Useful Notes

•

Analysis

•

Image Links

•

Haiku

• Laconic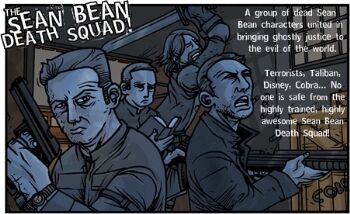 This is when an actor or actress appears in any number of movies, and there's a huge number in which their character doesn't live to see the end of the film. Of course, it doesn't have to be that; there can be a few Disney Deaths thrown in the mix, but the idea stands that these performers have a very unlucky habit of dying in loads and loads of movies. Almost inevitable if the actor is confined to villainous roles.
See also Vasquez Always Dies, when actresses that play Action Girls meet this fate, and Black Dude Dies First, when it's a black actor that gets offed more often than he likes.
See this site for a look into more actor deaths in movies and TV-series.
As a Death Trope, all Spoilers will be unmarked ahead. Beware. YOU HAVE BEEN WARNED.
Examples of Chronically-Killed Actor include:
| | | |
| --- | --- | --- |
| |  Parody Hitler: I should have known. Sean Bean... that guy is a two-legged spoiler! | |
Speaking of Game of Thrones actors, Max Von Sydow and Ian Macshane also fit the bill.

Benicio Del Toro

.
In-Universe, Mortimer from The Fantasticks. He specializes in death scenes, and is known as "the man who dies."
Michelle Rodriguez, although that seems to be changing with Battle: Los Angeles and Machete and possibly even The Fast and the Furious series.
Humphrey Bogart is this in almost all of his pre-Maltese Falcon roles, as well as several after including:

Sirocco

,

The Desperate Hours

,

The Two Mrs Carrolls

, and The Treasure of the Sierra Madre. His earlier deaths include, but are not limited to: Dead End, High Sierra, Angels with Dirty Faces,

The Big Shot

,

Kid Galahad

,

The Return Of Dr X

,

The Petrified Forest

, and the dozens of movies in which he played a gangster.
Most of Chow Yun-Fat's Hong Kong and Chinese roles had him dying near the end of the thing, primarily because CYF is good at playing tragic heroes.

Justified in Confucius as the character is portrayed till his dying days.

Quentin Tarantino, in the movies where he appears as an actor. And those are mostly the ones he directed.
Samuel L. Jackson, according to his page.
John Hurt seems to die a lot.

And even when he doesn't die he often lives up to his name.

Johnny Depp has expired in quite a few films, including A Nightmare on Elm Street (his movie debut), Platoon, the aptly titled Deadman, Sweeney Todd: The Demon Barber of Fleet Street, From Hell,

The Brave

(very strongly implied), Public Enemies, The Astronaut's Wife, 21 Jump Street and if you count it, Pirates of the Caribbean: Dead Man's Chest. In Dark Shadows he gets halfway there.

Chiaki Kuriyama

is known both for starring in low-profile horror flicks, and dying dramatically in them. About the only media she does not die in are J-dramas.
Steve Buscemi is king of this trope, when he's not either the Only Sane Man or protected by the Lunatic Loophole. It was once observed that each time he dies in a Coen Brothers movie, his remains get smaller and smaller (as seen when the other characters scatter his character's ashes at the end of The Big Lebowski).
Jeffrey Dean Morgan, in most of his television roles (such as Supernatural, Grey's Anatomy, and -posthumosly - on Weeds), not to mention Watchmen.
Alan Rickman, in Die Hard, Sweeney Todd: The Demon Barber of Fleet Street, Robin Hood: Prince of Thieves, Harry Potter, Tim Burton's Alice in Wonderland (sort of),

Truly Madly Deeply

...
David E. Paetkau is one of the horror genre's whipping boys, having been offed in several horror movies he appeared in, including, most famously, Final Destination 2.
Helena Bonham Carter, most notably in Harry Potter, Sweeney Todd: The Demon Barber of Fleet Street, and Dark Shadows (maybe). Usually, her character had it coming.
Dina Meyer dies an awful lot.
With 7 deaths, Mike Doyle claims that it is easier to die with your eyes open.
Michael Biehn. Frequently in the military. Frequently dies. On the rare occasions when he survives (eg. Aliens or

Navy Seals

) he ends up badly wounded before the final reel.

On a related note, Bill Paxton, who's essentially never played a character that's survived him appearing in anything with Michael Biehn, and holds the distinction of being killed by an Alien, Predator, and The Terminator.[1] Then there's

Navy Seals

, Tombstone... Granted, if Michael Biehn's not in the movie, his characters don't die nearly as often.

Klaus Kinski, especially in his early movies. He was one of the actors who appeared most in the Edgar Wallace series and his characters really never got to see the end of the one they appeared in.
Danielle Harris has, over the course of her career, played characters who have been knifed, strangled, and otherwise bumped off. Dem's the breaks when you're a horror movie star, however.
Joe Pantoliano (probably best known as Cypher from The Matrix) gets killed in most of his major film roles, as well as quite brutally while on The Sopranos.
Gideon Emery. Just... Gideon Emery.
Daniel Radcliffe is being slowly but surely molded into one, as seen in

December Boys

, The Simpsons (granted, his character did have it coming, having suckered Lisa into becoming a vampire and not letting her back out once she starts to have second thoughts), and The Woman in Black.
Terry Gilliam in the Monty Python films (apart from Patsy and an Insert Cameo, all his characters in Monty Python and The Holy Grail die; he's one of the crucified in Life of Brian; and in Monty Python's The Meaning of Life, he is disembowled for a liver donation and is among the people who eat a rotten salmon mousse).
Tom Sizemore bites the bullet in most films he appears in, particularly when they're crime dramas. A short list: True Romance, Heat, Saving Private Ryan, Red Planet, Natural Born Killers and Wyatt Earp among others. Oddly, Sizemore manages to make it out of the rather causality heavy Black Hawk Down unscathed.

I wouldn't call being shot in the neck and having a bullet come within 3 millimeters from your jugular "unscathed".

Jeff Fahey
When she first started out, Queen Latifah seemed to get killed a lot; she was in three movies in quick sucession (Set It Off, The Bone Collector and Sphere) where she was repectively shot, stabbed and killed by jellyfish.
Michael Shanks

is this for TV roles - Stargate SG-1, Smallville, Stargate SG-1, Burn Notice, Stargate SG-1, Andromeda, Stargate SG-1, Sanctuary, plus that Little Red Riding Hood remake...
Jamie Bamber, who has seen about half a dozen of his characters get killed off. Two (Archie Kennedy and Matt Devlin) died in an eerily similar manner (Blood From the Mouth, Heroic Sacrifice), and two more (on Cold Case and Ghost Whisperer) were *already* dead when the show started.
Other
An odd case is Joe Buckley, an employee with Baen Books, who is frequently featured as a cameo within the books only to be killed off within the first few pages.
Lea Salonga always lands roles in Broadway where her character dies. Whether she's Fantine or Eponine on Les Misérables, or Kim in Miss Saigon.
Italian actor Giuseppe "Beppe" Fiorello, brother of far-more-known showman Rosario Fiorello, is infamous for this, so much that he dedicated - with his bro - an entire stand-up sketch to parody and lampshade this trope, when Rosario's holding a dying Beppe in his arms. And they milk death being overly dramatic for all it's worth.
David Bowie could qualify as this if you just considered his musical output. The protagonist in "We Are Hungry Men" is eaten by those men, Ziggy Stardust dies at the hands of his own fans, his businessman in the "Jump They Say" video is Driven to Suicide, and one of his Loads and Loads of Roles in his Rock Opera 1. Outside is a murder victim. One of his first film roles was as a painting come to life—not for long—in the 1969 short The Image. From there his character dies in all of the following films and TV productions: Just a Gigolo, Baal, The Hunger (both the film and the TV anthology inspired by it, as two different characters!), Merry Christmas, Mr. Lawrence, Gunslinger's Revenge, and Mr. Rice's Secret. His one major stage role was the title character in The Elephant Man — he perishes at the end. Amazingly, his two best-known film roles, Thomas in The Man Who Fell to Earth and Jareth in Labyrinth, do survive...but then again, neither of them has anything to live for anymore.
↑ Lance Henriksen (Bishop in Aliens) is the only other person to hold the distinction