YMMV •

Radar

•

Quotes

• (
Funny

•

Heartwarming

•

Awesome

) •
Fridge

•

Characters

•

Fanfic Recs

•

Nightmare Fuel

•
Shout Out

•

Plot

•

Tear Jerker

•
Headscratchers

•
Trivia •

WMG

•

Recap

•
Ho Yay

•
Image Links

•

Memes

•

Haiku

•

Laconic

•
Source

•

Setting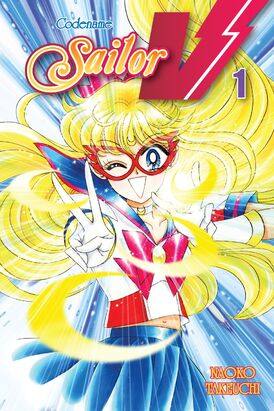 In 1991, Mangaka Naoko Takeuchi, at the time popular for her figure-skating manga The Cherry Project, was offered the chance to do a one shot story about anything she wanted. Being a fan of both Magical Girl and Henshin Hero shows, she created Codename Sailor V, intended to be a humorous one-off in which a girl was given Henshin Hero powers due to her connection to Venus, both the planet and the goddess.
This little one off caught the attention of Toei Animation, who saw potential (and yen signs), and contacted Takeuchi with the view to expanding it into an anime, though one with more characters in the style of a Sentai show. Eventually that series became Sailor Moon, a manga and anime that are far better known.
Codename: Sailor V (or Codename wa Sailor V) is the story of Minako Aino, whom Sailor Moon fans will know as Sailor Venus. While it started as a one-off, it basically morphed into the story of the Fifth Ranger before she joins the Five-Man Band. Minako in many ways is very similar to Usagi, given that Usagi is actually an Expy of Minako. But Sailor V is a generally sillier, goofier series than the Sailor Moon manga; it's closer in feel to the first Sailor Moon anime in it's first season...
However it does get a little darker toward the end, and there is a recurring theme of Minako being unlucky in love. While this is mostly Played for Laughs, on a few occasions it's played with melancholy seriousness, especially in the Grand Finale that leads directly into the storyline of Sailor Moon.
Of course, at the end of the series, Minako awakens her Sailor Venus identity and discards her Sailor V one, learning about her past life and moving on to become the character we all know from Sailor Moon. It also goes a good way to explaining why Sailor Venus, in the manga and in Sailor Moon Crystal, is quite more serious than her civilian self.
It ended in 1997, sometime after the Sailor Moon manga. Though as it only ran sporadically (in Nakayoshi's sister magazine, RunRun), it is much shorter, filling 3 collected volumes (2 in the revised editions), whereas Sailor Moon filled 18 (14 in the revised editions). Despite the popularity of Sailor Moon worldwide, Sailor V was rarely licensed and it wasn't until late 2011 that the series finally received an official translation into English.
Tropes used in Codename: Sailor V include:
---
(Image scanned by owner of this site)