Doctor Strange in The Multiverse o Madness - The Loop
Play Sound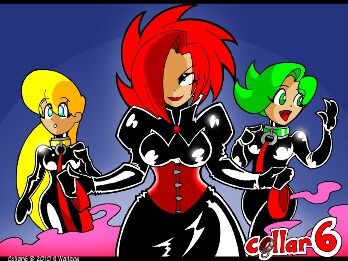 Collar 6 is an Animesque webcomic based around the exploits of a (voluntary) slavegirl named Laura; her "owner", Mistress Sixx; Sixx's rival, Mistress Butterfly, and Sixx's maid, Ginger. With Ginger's recent promotion from maid to a "personal slave", two new maids, named Stella and Claire, have been introduced. Schedule Slip has been far better than with many other webcomics, and most strips try to both advance the story and provide at least one laugh.
While it originated as a technically worksafe, if Fetish Fuel-filled, series, a few pages in the middle (and the page ads) have contained nudity and, so it is now best considered Not Safe for Work.
Also contains a side story, Owned, about a fairly inexperienced male submissive and the fairly inexperienced domme he wakes up to discover he has signed a slave contract, which explores other aspects of the world.
---
Tropes used in Collar 6 include:
Butterfly: How long have you been immobilized now, slut?
Trina: Twelve hours, mistress.
Butterfly: Oh my, I bet you're just dying to have a stretch. [...] I hope you didn't have a lot of water beforehand, either.
↑

who it is implied he knows or lives in the same building as